Friday Box Office Analysis
By Tim Briody
August 28, 2010
BoxOfficeProphets.com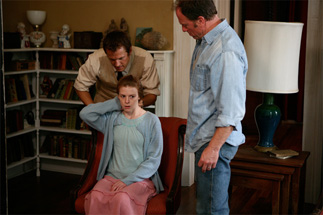 ---
I think the lesson we can all learn here is "never underestimate an exorcism."

The Last Exorcism

Seemingly tossed to the wolves on the final weekend of August, audiences responded to The Last Exorcism by having it earn $9.4 million on Friday. When it comes to exorcism movies, the film I'm reminded of is The Exorcism of Emily Rose, a film that came out nearly five years ago. What seemed like a non-factor at the box office that weekend ended up with an $11.2 million Friday and $30 million weekend. I will always remember this movie, because yours truly wrote the weekend forecast for it and my prediction for the entire weekend was what it ended up making on Friday. Whoops. If you need more evidence about exorcisms, Exorcist: The Beginning opened to $18 million back in August of 2004.

Anyway, Emily Rose had a 2.6 multiplier for its weekend and that's probably where The Last Exorcism will end up. That would mean a $25.1 million weekend.

Takers

The other new release this weekend also surprises with its box office strength, as Takers solidly places second on Friday with $7.5 million. I'm pretty much out of ideas on how to explain this one, other than "let's throw a bunch of young actors out there and see what sticks." Even a spectacularly mediocre weekend multiplier of 2.5 is still an $18.7 million weekend.

Avatar

It's baaaaaaaaaack. With a supremely weak lower portion of the box office, the re-release of Avatar lands in tenth place on Friday with $1.2 million from its 811 venues. This is probably good enough to finish the weekend there with about $4 million.