Weekend Wrap-Up for August 20-22, 2010
Five Openers No Match For Holdovers
By John Hamann
August 22, 2010
BoxOfficeProphets.com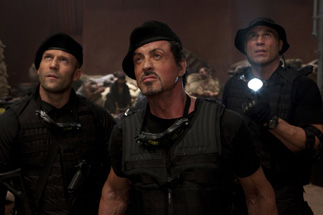 ---
It can only be late August when the crop of new releases equates to just one word: Odd. It was one of those weekends at the box office, where there is new product for every demographic available; yet, for the most part, nothing won the weekend as holdovers dominated. New films this weekend included Nanny McPhee Returns with Emma Thompson reprising her British nanny role (with complexion and dental issues); The Switch, another Jennifer Aniston rom-com; Lottery Ticket, the African American comedy with Bow Wow and Ice Cube; Piranha 3D, the latest release with the 3D craze, and Vampires Suck, one of those parody movies that is supposed to be funny but clearly isn't. As an example of a "see what sticks" kind of a weekend, this frame doesn't provide a great example, as nothing quite stuck to the wall.

It's hard to believe that in a late August frame a year ago we had two Best Picture nominees in the top five (Inglourious Basterds and District 9) and a Golden Globe winner for Best Actress in a musical or comedy (Meryl in Julie and Julia). That kind of quality earned the top five films about $88 million, and was definitely "an exception that proved the rule" that late August is a dumping ground at cinemas. This year, we are back to normal, with five films that couldn't compete at any other time of year, and a top five that equal the title of the number one film: Expendables. Regardless of quality, though, we had a top 12 that did some pretty serious business, as a smattering of okay holdovers kept the box office from being eaten by Piranhas.

Weird fact #1 about this weekend's box office: Sly Stallone has his first consecutive weekends at number one since 1998's Antz, and his first live action back-to-back number ones since Cliffhanger was released 17 years ago. Yes, our number one film for the second consecutive weekend is The Expendables, as Stallone and his bevy of aging action stars managed to keep the crown for another weekend. As expected, the win is in name only, as the drop was precipitous for the $82 million film. The Expendables earned $16.5 million in its second frame and dropped 53%; however, with the win, the Lionsgate release is going to earn its production budget back domestically, and is sure to bring in a huge haul overseas – which will be financial gravy for Stallone and his production partners. The Expendables still has an outside chance at earning $100 million domestically, but I would bet this drop is a harbinger of weekends to come. While a third weekend at number one is out of the question, the hold could be okay, which would improve its chances at reaching $100 million. So far, The Expendables has earned a better-than-expected $64.9 million.

Weird fact #2 about this weekend's box office: The directors of our top opener have done five films, and so far, combined, have received nine positive reviews from their films, including this one. Jason Friedberg and Aaron Seltzer, the directors of really bad spoof movies, are back this weekend with Vampires Suck, adding another ridiculously awful film to their resume that includes Date Movie, Epic Movie, Disaster Movie, and Meet the Spartans. At least this one didn't open at number one (two have, believe it or not) as Vampires Suck was only number one the day it opened, Wednesday, and has steadily dipped since. Over the three-day portion of this Suck weekend, Vampires earned $12.2 million. However, since opening in mid-week, this spoof has earned a decent $18.6 million, and with a $20 million production budget, is only a few days away from being profitable for producer New Regency and distributor 20th Century Fox. The directors may make ridiculously bad movies, but they are profitable, as their last four films likely cost about $80 million to make, and have made about $150 million from domestic cinemas alone, and more than twice that with overseas revenue added in.

Weird fact #3 about this weekend's box office: Despite Eat Pray Love finishing fourth on Friday, it takes third spot overall for the frame. While Julia Roberts will be happy that Eat Pray Love managed to bounce back from its fourth place finish on Friday, Sony won't be happy that their supposedly leggy chick flick fell almost as much as The Expendables. Eat Pray Love earned $12 million this weekend, well off of the $23.1 million the novel-based film earned last weekend. The drop came in at 48%, much higher than I expected. On the other had, one could look at last year's Julie and Julia and rationalize the result. The eventual $94 million earner opened to $20.1 million last year and dropped 40% in its second weekend to $12.1 million – so if we consider that the first weekend of Eat Pray Love got the extra $3 million due to Julia Roberts or the wildly popular novel it's based on, it could be settling into the Julie and Julia pattern. We will know for sure next weekend, as Julie and Julia fell only 27% in its third frame. For now, the $60 million Eat Pray Love has taken in $47.1 million stateside, as is going to be another film that does quite well overseas.

Weird fact #4 about this weekend's box office: Despite being ranked as one of the lowest of the five openers heading into the weekend, Lottery Ticket is second best, and finished fourth at the overall weekend box office. Lottery Ticket earned $11.1 million despite being our only opener debuting in fewer than 2,000 venues. While this doesn't hold a candle to a Tyler Perry flick, the urban comedy still did okay, especially given its tiny production budget of only $17 million. While African-American comedies do have a tendency to drop off rather quickly, Lottery Ticket is still going to end up as a win for Warner Bros.

Fifth spot goes to Will Ferrell, Mark Wahlberg and The Other Guys, and there just isn't a weird fact about this one. Now in its third weekend, The Other Guys earned another $10.1 million, and after a 51% plunge last weekend, sees things get a little bit better as it falls 42%. After debuting to excellent reviews and $35.5 million in sales, The Other Guys has been trumped by The Expendables, and now has to work to reach $100 million. Due to busy summer weekdays, The Other Guys should still hit the century mark, as it has a total so far of $88.2 million.

Weird fact #5 about this weekend's box office: At the time of this writing, Piranha 3D has the best reviews of all the films in the top ten this weekend, save one - Inception. Still, it's ahead of Eat Pray Love and Nanny McPhee Returns. Who would have thought that a campy 3D film about man-eating piranhas would have such good reviews? Unfortunately, that has yet to show a return on investment, as Piranha 3D finishes sixth with a take of $10 million. I thought Piranha 3D might find the same audience as Snakes on a Plane ($15.2 million) and then add the 15% 3D mark up to that, but alas, it didn't. What it did find was 39 positive reviews out of a possible 47, and with that, an amazing fresh rating of 83% at RottenTomatoes. We now likely have seen the birth of two major cult classics released back to back this August, as Scott Pilgrim should see that same status by the end of its run. Also, Piranha 3D may not be dead yet, as word-of-mouth could prop it up for a couple of weekends. Piranha 3D cost Dimension Films only $24 million to make, so it could still see a profit before it's done.

Weird fact #6 about this weekend's box office: Despite Nanny McPhee Returns being pegged to win the weekend with about $15 million, it ends up with a little better than half of that. Some analysts had Nanny McPhee Returns at number two overall (or even possibly number one), but the Emma Thompson sequel ended up seventh. First, the numbers: Nanny McPhee 2 (or Returns, or and the Big Bang) earned only $8.3 million, well off the $14.5 million of the original. What happened? It's been four years since the original Nanny opened in 2006, and I have the feeling that this Nanny might have been a little less accessible for the little ones than the first one's easy-to-tell fairy-tale story. Also, the original opened in January, a cold month that didn't have a lot of fun kid's movies opening behind it (The Lion, The Witch and The Wardrobe was NOT fun in my opinion), so with Despicable Me and Toy Story 3 having just left cinemas and back to school shopping in full swing, this might not have been the best weekend for this release. Regardless, Nanny McPhee Returns cost Universal only $35 million to make, and before opening in the US, it had already brought in $62 million in overseas admissions. Any tickets sold in the US are gravy for the studio, so this won't disappoint too much.

The Switch finishes eighth, and Jennifer Aniston is certainly having her ups and downs at the box office. The Switch earned a quiet $8.1 million, very similar to the $8 million that Love Happens opened to last September. Prior to that, she was one of the hotter actresses, appearing in a string of hits that included The Break Up ($39 million opening), Marley and Me ($36.4 million opening, $143 million domestic finish) and He's Just Not That Into You ($27.8 million opening). Since then, though, she's had one film go receive a token limited release (Management), appeared in Love Happens, and then did the awful Bounty Hunter. At least that last film opened well, with a $20.7 million debut. The Switch wasn't an attention getter – it was 52% fresh at RottenTomatoes, and simply didn't draw people.

Ninth spot goes to Inception. The now six-weekend-old thriller earned another $7.7 million and was off only 32%. The $160 million Chris Nolan flick has now earned $261.8 million domestically, and over $300 million overseas.

Scott Pilgrim vs the World manages to hold on to a top ten spot, but only for a weekend. The instant cult classic earned $5 million in its second weekend, and was off 53% from its disappointing debut last weekend. The $60 million price tag on this one is going to hurt Universal, as the gross so far equals only $20.7 million.

Weird fact #7 about this weekend's box office: Despite not having a $20 million plus picture, the top 12 films still did some fairly serious business. The top 12 films earned a palpable $108.9 million but, as mentioned above, last year's totals were just a bit higher, coming in at $111 million. Next weekend looks like a softie. Openers include The Last Exorcism, which looks like The Blair Witch Rip-Off, and Takers, which has my two favorite actors, Paul Walker and Hayden Christensen. On top of that, Avatar is back to take a little bit more of your hard-earned money.