Top Chef Recap
By Kim Hollis and David Mumpower
August 23, 2010
BoxOfficeProphets.com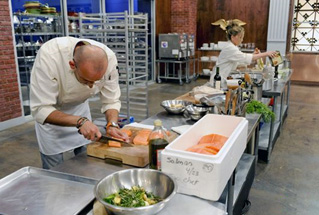 ---
Previously on Top Chef, Kenny was eliminated. You read that right. Kenny was eliminated. The first half of this season has been structured almost exclusively around the battle of supremacy between him and Angelo, which means the fact that one of them has been eliminated is really shocking. In more big news, Alex remains. He's still around because he was on the winning team for restaurant wars last week, contributing…absolutely nothing. You did as much as he did in the kitchen in that challenge. No, we're not kidding. We really mean you, and unless you're Angelo, Ed or Tiffany, you were not participating in the challenge.

Kevin is not ready to let it go yet, either. He begins the episode by lamenting the judges' decision to send Kenny home. Basically, he thinks Alex is the suckiest suck who ever sucked. He's not wrong, though Alex tries to justify his continued existence in the competition somehow (he can't).

To his credit, Angelo speaks highly of Kenny and almost seems to lament what has happened. "I think Kenny was the most fierce competitor here. It just shows regardless of how talented you are, everybody in the competition should fear that they're gonna go home…Restaurant Wars wasn't easy. Not at all."

The guest judge for today's Quickfire is two-time Top Chef Masters contestant Wylie Dufresne. The contestants are given mystery boxes full of ingredients, and are also given the ominous news that as the competition continues, more ingredients will arrive in more mystery boxes. All elements must be incorporated into their dishes. Essentially, they have to conceive of their dish, but they may have to change things on the fly depending on new ingredients that are revealed.

Padma also tells the Chefs that this is a high stakes Quickfire, and the winner will get $10,000. Angelo says that his fiancée lives in Russia (read: mail-order bride) and he needs his money to work out visa issues (read: bribes).

The mystery box includes some fish, some fava beans, and a can with no label (it is later revealed to contain hominy). Alex tries to find someone to share a can opener with him, but no one does. Everyone participating in this season clearly dislikes him, with perhaps the exception of Amanda.

Kevin is paying close attention to the other competitors, and we're not sure if that's to his benefit or detriment. He definitely can detect when people are both at the top of their game as well as when they're struggling, and today he's on top of the fact that Angelo is out of sorts. Angelo is clearly lacking a vision for his dish, and he's aimless as he attempts to compose a cohesive dish.

Soon, a new mystery box arrives and it contains squid and black garlic, the makings of any delicious meal (gag). And with this revelation, can you guess who doesn't have a plan? That's right. Alex. You could spot him the peanut butter, the jelly and the bread, and he still wouldn't know what to make.


Next up in the mystery box comes jicama, which makes Amanda want to barf. At this point, Angelo mentions that the kitchen is so hot that for the first time ever, he has sweated into the food. We think this is disgusting, but looking at all the other chefs, it's obvious he's not the only one. All of them look miserably hot and sweaty, which is just another element of difficulty.

Alex states that his dish is terrible, and Padma and Wylie's faces verify this. He has prepared rockfish with fava bean puree (he sure does like his purees) along with ramp fondue and sautéed squid. He tells the camera "Alex+Quickfire=Bottom" but we're pretty sure this holds true for everything he does (including sex).

Wylie's bottom two are Alex (of course) and Amanda (for using too much oil). On the other side, he loved Tiffanys stew and Kevin's dish. Kevin is all excited because his wife is expecting another baby and his family has an impending move, so the $10,000 from the Quickfire would be very useful. What he should be thinking is that Tiffany probably really needs a gold-plated harpsichord at her wedding, because Wylie chooses her as the winner. She is racking up the cash and the wins lately. From the time there were nine contestants left down to seven left, she won three out of five challenges. That's insane.

We move on to the Elimination Challenge, and the chefs will serve their dishes to officers of the CIA, including Director Leon Panetta. The assignment is to take a well-known dish and disguise it as something else. The diners will guess what it is, but it also needs to taste great. Tonight's winner will get a trip to Paris, and both Ed and Tiffany think that would be an awesome prize, though not because there's any chance they'd go together (their little romance has kind of been forgotten).

Kelly is assigned Kung Pao Chicken as her dish, and she doesn't even know what's in it. She checks the ingredients on a bottle of sauce at the supermarket, and decides to cook a soup. This is pretty impressive, because it doesn't seem that most people are smart enough to do that. Alex tries to give her advice, but Kelly's thought process is basically, "You suck, so why in the world would I listen to you?" (She's right.)

We see that Angelo is using puff pastry to turn Beef Wellington into a pizza sort of thing, and Kevin reminds us that John went home in the debut episode for using that as an ingredient. In can be viewed as too much of a shortcut. Angelo does still seem to be almost agitated. He's off his game, and just not comfortable in the kitchen.

Once they head over to the CIA kitchen to cook, Kelly is having some drama with her rice. She overcooks it because she's not used to using a pressure cooker at this elevation. She's from Colorado, so usually she has to set the timer longer. Tiffany advises her to cook some up on the stovetop, and Kelly settles down and gets to it, saving the dish. One thing that is noteworthy about Kelly is the fact that she always has a keen awareness that the primary goal here is to not be eliminated. If she stays alive, she can win the title of Top Chef. Reality show contestants so rarely have this viewpoint, but it's a great approach to winning a competition.

The CIA officers dig in to Angelo's dish, and Leon Panetta easily identifies it as Beef Wellington. He also says that it was salty and the pastry was a little hard. Eric Ripert (we're so glad he's back) comments that it seems as though Angelo took a shortcut and that the food wasn't very challenging. Looks like Angelo's low point is remaining low.

Next up is Kelly's kung pau chicken soup dish, and it's tougher to identify. Tom Colicchio eventually gets it right. The dish receives a lot of compliments, with one of the CIA men saying it was so good he was too distracted to figure out what it was.

Tiffany serves a deconstructed gyro, and once again Panetta gets it right. Ripert says "it's probably the most elegant gyro I have ever eaten in my life." All of the judges and diners are nodding assent.

Ripert smells Kevin's dish, which is pretty easily identified as Cobb Salad. Although Tom says that it hasn't really been disguised well, he really likes the dish (and says he really loves Cobb Salad in general).

All of a sudden, Panetta is handed a note and tells the group that he has to leave. If this were live TV, we'd be a little freaked out. For the judges' part, they do look concerned, like they're wondering if they need to go hide somewhere. The CIA officers do say that the Director often has to dine and dash, though no one looks comforting.

With that bit of oddness over, the diners eat Amanda's French Onion Soup, which has been turned into…French Onion Soup. One of the CIA officers notes that it was overly sweet, saying it tastes like lemon cough drops. The group thinks the marmalade she uses in the dish is a good idea, but clearly the taste is off.

Alex has made veal parmesan, which immediately causes Tom to say, "Oh my God," and not in a good way. "The veal is as tough as pulling a post in Yemen," Colicchio says. All of the CIA people laugh. Wylie does say it was well disguised, but Eric Ripert says he'd have rather seen less disguise and a better dish.

The final dish is Ed's Chicken Cordon Bleu, which receives high praise even if it isn't well disguised. However, it seems like good taste is more important than creating a fabulous disguise.

At Judges Table, the top three are Kelly, Ed and Tiffany. Ripert says he loved Tiffany's broth and thinks that the rice did a nice job of counteracting the spiciness. Wylie enjoys that Tiffany made a dish that is normally eaten with the hands and turned to something more elegant. For Ed, Ripert tells him that every element was executed perfectly, and Wylie compliments the chicken. The winner, of course, is Tiffany, who now has a honeymoon trip on top of all the money she has won. It's starting to be as surprising when Tiffany wins as it is when Albert Pujols finishes strongly in the MLB MVP race.

The bottom three are Alex, Angelo and Amanda (the three As!). It's pretty easy to figure out where Kevin placed. Really, though, there was no suspense about who would be in the group of potential evictees. We're feeling like Angelo will get a slap on the wrist, which means it's between the other two. Let's be honest, though. Alex is going home. We all know it.

Wylie tells Amanda that her dish could have been more challenging (which is polite). Tom is more blunt, saying that turning soup into soup is incredibly disappointing. He also notes that dish was simply too sweet, so she has also ruined the dish.

As for Angelo, he owns up to having had a really bad day. The judges admit to having had high hopes for his dish, but it just didn't live up to his promise. This is a circumstance where they all know he's one of the strongest chefs still remaining, and their expectations for him exceed those of the other two candidates. It's not enough to send him home, though.

They close out with Alex, and Wylie tells him, "Your disguise was really poor execution." He created a dish that was difficult to identify, but Tom notes that he has had better tasting fried mozzarella at street fairs, and the veal was tough. It sounds like his food was awful.

For the judges' part, the decision to send Alex home seems all too easy. He should have gone home five episodes ago, frankly. At least we don't have to listen to his weirdness and watch him beat superior contestants any longer.

Sorry, Kenny.