Top Chef Recap
By Kim Hollis and David Mumpower
August 16, 2010
BoxOfficeProphets.com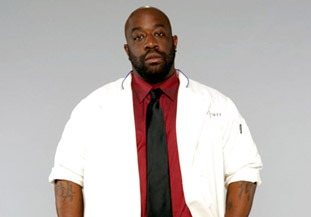 ---
Previously on Top Chef, the winner of The Next Food Network Star was announced! Congratulations Aarti…wait, is Aarti on Top Chef this year? She's probably a better chef than any of the contestants this season.

Anyway, Stephen was voted out and Tiffany dominated. Thank goodness someone is stepping up, because this season is hugely disappointing with regard to chef quality.

As this week's episode begins, Kenny tells us that he needs to unleash the beast. Let's be honest. He needs to do this, because the first half of the season has been crafted as a huge feud between him and Angelo, but he's finished on the bottom three times, in the middle three times and on the top only twice, winning once. He's like a #1 draft pick whose status is yet to match his lofty draft position. It's time to show us something.

Today's Quickfire is a tag team cook-off, and everyone sees the winning team as the one that doesn't get stuck with Alex. The winning team does split $10,000, but immunity is off the table. The chefs draw knives and only two people get to be team captains. Kevin and Ed get to choose teams, and Kevin starts things off with Kenny. Ed goes with his crush, Tiffany, much to the frustration of Angelo, who cannot believe two chefs are picked ahead of him. He gets another blow to his ego when Kevin next takes Kelly. At this point, Ed points to Angelo and says, "Hey, I nailed your girlfriend…er, wait you're on my team." If you're like us, this never gets old.

That means Kevin takes Amanda, and Alex is chosen last. Alex tries to rationalize it, but he should know that no one respects him at this point. He really is the worst chef still remaining…by far.

His team knows it, too, because they try to put him where he will do the least damage in the Quickfire challenge. Nonetheless, he seasons the team's fish far too early and for no apparent reason. It's only when someone else points it out to him that he realizes he shouldn't have done it. We're not sure who would win in a cook-off between Alex and last season's Robin, but we're relatively certain the food would be inedible.

Over on the other side, Kevin and friends are putting their dish together like a well-oiled machine. They seem to instinctively know which direction to take. Kelly looks at the station, reads the whole story, and takes control by finishing the sautéed shrimp over angel hair pasta.

This week's guest judge is Speaker of the House Nancy Pelosi, who claims to be a foodie and does seem to know her stuff. She tastes the dish of Kevin's team, and gives the dish high compliments, saying it reminds her of her home in San Francisco, particularly because of all the fresh elements.

She gives the roasted red snapper of Ed's team a go, and says it's wholesome and delicious, but salty. Although she politely claims that it's a tough decision, Kevin's team takes home the win and $10,000. "Freaking Alex," says Tiffany.

Tonight's Elimination Challenge is, of course, Restaurant Wars. It's the episode that everyone waits for. The chefs stay with the same teams they had for the Quickfire, which does mean that Ed, Tiffany and Angelo are stuck with Alex…and they are not happy about it, especially since each chef is required to conceive and create a dish. The contestants are also told that the guest judge will be critic Frank Bruni, former chief restaurant critic for The New York Times, and a guy with a super tough reputation.

As the chefs are driving in one van to Whole Foods and the other to Restaurant Depot, Kevin overhears Angelo and Ed talking about how they can keep Alex from truly contributing to the night's festivities. Kevin is offended by these comments and succinctly says that they should be working together as a team. We agree, and have to say that we're always confused by the rules of Restaurant Wars and how they frequently allow certain chefs to circumvent the entire process. The show is Top Chef, not Top Maitre d'.

From the very beginning, Ed and Co. seem like the trainwreck team. It's very rare that the team that loses the Quickfire comes back and wins Restaurant Wars, because they allow the loss in the first round to fester and it continues to affect them throughout the elimination.

Team Ed is creating tomato confit soup, a crudo of black bass and yellowtail snapper, striped bass and clams, a slow baked turbo, a sautéed rib eye and a lamb chop and pea puree (this season officially sponsored by peas).

Kevin's group is making chilled corn soup with crab salad, warm beet salad, strip steak, halibut, chocolate ganache torte and crispy goat cheese.

Problems abound for Ed's team, as Angelo berates Alex for his butchering (literally) of the ribs. He takes them away from Ed and simply does it himself. Even Tiffany comments on how organized Kevin and his team are. It makes her very nervous. To be fair, any team with Alex should be nervous.

Of course, the name Ed, Angelo, Alex and Tiffany choose isn't great, either. It's EVOO, which foodies will know means "extra virgin olive oil," but even so, it's awkward and unattractive.

Working the front of the house for their teams are Kelly (for her professionalism) and Alex (because his team imagines he will do the least damage there). Since we now also know that Alex left a bunch of bones in the striped bass, causing Tiffany to have to do all his work again, this is probably the right call. However, he is literally contributing nothing to his team's success or failure. They're cleaning up behind him and re-doing everything he touches.

2121 is the name of Team Kevin's restaurant, named after the address of the Top Chef house. Things continue to move smoothly for them, with Kenny seeming to do a fine job in the executive chef role. They're feeling very good about things, but Angelo notes that it's never good to be overconfident on Top Chef.

Right on cue, we see that Amanda is having trouble with the grill where she will cook the strip steak. She's trying to figure out its "personality", and struggling greatly.

You'd think that after being yelled at and berated by his teammates, that Alex would have some sympathy for the wait staff and treat them like he might hope to be treated. You would be wrong. He proudly proclaims that he is always a total douche (not exactly his words, but close enough) and then proceeds to demonstrate a tremendous level of superdickery to the servers. Like the rest of his team, Alex is disorganized at the front of the house, while Kelly is more reflective of her group's composed cohesion.

With Alex only handling the front of the house, you'd think that things would go perfectly. Instead, when the judges show up, he's nowhere to be found. Mr. I'm Not Cooking Today eventually gets them seated, and stumbles over his words as he describes their menu. It's not his best day. But then again, we're pretty sure he already had that when he won a challenge.

The first course arrives, and tough critic Frank is actually very complimentary of Angelo's cooking. Then, the judges wait…and wait…and wait for their second course. Despite the slowness, Ed's turbot dish receives glowing praise, including Frank's kind words. So far, he has not been mean at all! Ripoff! Of course, we've gotten enough of that with Alex's treatment of the wait staff, so it's not so bad.

With the third dish, Alex calls the lamb chop "pork chop," but it's not so bad since the judges are appreciating the food. Frank throws out his first critique of the day by saying the service was hit and miss, and all the judges agree that Alex didn't do the best job at the front of the house.

We move on to Kevin's team, and Kelly is wearing one of the ugliest flashdance sweaters we've ever seen. She does get the judges seated right away, and they are excited about the menu. They are kind of blah about Kelly's soup dish, and note that Kenny's salad has way too many ingredients. Amanda's steak isn't cooked correctly, but her sauce is solid. Kevin's fish receives high praise, as it is perfectly seasoned. Dessert comes out, and although the judges say that Kelly's chocolate ganache is too sweet, Kenny's goat cheese is generally viewed as the worst dish of the evening. When Padma asks who the executive chef was for the team, Tom immediately replies that it was Kenny, and you can see the disappointment in all their faces.

One other comment made by Frank is that neither team really did much to illustrate the theme of their restaurant. This truly is a problem.

Padma visits the stew room and asks to see Team Ed. Uh oh. Despite their lack of organization and their efforts to keep Alex hidden, they are the winners of Restaurant Wars. Frank says that Alex was awful at the front of the house, but most of the remaining conversation is quite complimentary. One item of note: Tom asks who was responsible for the lamb, and Alex looks over at his teammates for guidance on how to answer. Angelo says that Alex came up with it, but that he and Ed really executed it. Nonetheless, despite this seeming circumventing of the rules, Ed and Co. are top dogs of the evening, and Ed wins the big prize for his excellent turbot dish.

Of course, this means that Kevin and Friends will see one of their number going home, and we're guessing that Kevin is the only one who is truly safe. Kenny comments that the other team had terrible communication and organization, but Gail bitchily replies that when they're dining, they don't really see what goes on at the back of the house. She's been very intense this season. If we didn't already know her and like her, she would have been creating a very bad impression these past several episodes.

Kelly's service is complimented, and Frank tells her that she exudes a charisma; however, her soup was less successful. The judges universally pan Kenny's beet salad, while Kevin's fish is considered divine. Amanda is shocked to learn that her steak was overcooked, and Kenny's cheese is horrid.

At this point, Kenny points out to the judges that Alex did not conceive of his dish, and that he was stuck in the front of the house to hide him. They flat out state that Alex deserves to go home for not playing by the rules, and the judges appear to be considering it.

In the stew room, Kevin screams at Alex, and his teammates defend him for some reason. Their team is very rightfully pissed, and there's not much that Angelo, Ed or Tiffany can say about it.

Ultimately, though, it comes down to who had the worst dishes, and the judges have reason to send home Kelly (for her soup), Amanda (for her steak) and Kenny (for two bad dishes). If you do the math, it sounds like Kenny is the loser. Gail compliments his leadership as executive chef, which makes us wonder for half a second if it might be Amanda instead, but math wins out in the end. Two bad dishes are enough to send Kenny, the beast in the kitchen, home. We loved his personality and his guts in overcoming a lot of adversity in his life, but this is a fair choice if they're not going to go with Alex. He's been on the bottom a few times, and he just didn't produce good food tonight.

Even so, he's right to be bitter that Alex is still there. We are, too.