Weekend Wrap-Up for August 13-15, 2010
Not-So-Expendable Star-Driven Films Propel Box Office
By John Hamann
August 15, 2010
BoxOfficeProphets.com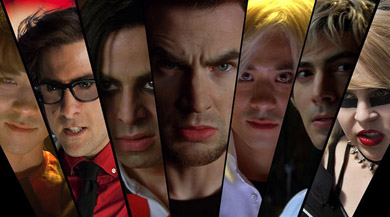 ---
It's a tough weekend for those that yearn for the end of the star-driven film. We had three new openers this weekend, each targeting their own demographic, and each with a lead or leads that can draw audiences. Openers included The Expendables, with Stallone, Rourke, Statham, Li etc.; Eat Pray Love with the somewhat dormant Julia Roberts; the hot Michael Cera flick, Scott Pilgrim vs. The World; and the second weekend of The Other Guys, with Will Ferrell and Mark Wahlberg. Sequels, 3D films and comic book movies may have driven these flicks to a mid-August release date, but each of these "big names above the title" movies have done well in their own right.

There are a few media outlets that have hopped on board the story that big name actors can't open films anymore - or at least not like they used to (I'm looking at you, LA Times). These outlets trot out examples every time a big star has a miss on the big screen, like Matt Damon in the little-seen Green Zone, or De Niro and Pacino in Righteous Kill, or Benicio Del Toro in The Wolfman – the list goes on. What the LA Times (and others) fail to realize is that since the movie industry began, big stars have movies that don't always do great business. It's not the end of cinema as we know it. Instead, it's a blip in an actor's career. John Travolta's career wasn't over after Battlefield Earth ($21 million gross, $80 million budget). Pacino's didn't end with Revolution ($28 million budget, less than $1 million gross). Julia Roberts wasn't done after Michael Collins ($25 million budget, $11 million domestic gross). This weekend is the perfect antidote for newspapers and their "woe is me" attitude toward the death of the star-driven Hollywood production.

Our number one film of this mid-August weekend is The Expendables, starring a bevy of internationally known action stars, including Sylvester Stallone (who also directed), Mickey Rourke, Jason Statham, Jet Li, Terry Crews, Steve Austen, and Dolph Lundgren, who fought Stallone in Rocky IV 25 years ago. With this mostly washed up crew, The Expendables could have easily been a joke, but by sticking to the old action formula and taking an R-rating into movie theaters and not pandering to the audience, Stallone and company have a potentially decent sized hit on their hands. The Expendables took in a better-than-expected $35 million from 3,270 venues. It had a venue average of $10,713 – and was rated R for "strong action and bloody violence throughout, and for some language". This is a rating we hardly ever see anymore, except in awful torture porn movies like the Saw franchise (which stars no one) and The Hills Have Eyes. It is nice to see a group of actors taking a project without worrying what effect it will have on their next project. My mind always goes to The Bourne Ultimatum. Here is a trained killer – who doesn't kill – and the only reason seems to be that the killer doesn't want Universal to blow its PG-13 rating.


Regardless, The Expendables worked, and worked quite well, because it didn't pander to its audience. The reviews were right where they should have been – middling to soft – like a typical late-1980s action film. At RottenTomatoes, 108 reviews were counted and of those, only 48 were fresh, giving the Stallone project a fresh rating of 44%. I think a higher rating would have made me wonder if Stallone was making a film for critics, or for the intended audience. Lionsgate put together a decent trailer, but may have offended some by using the Schwarzenegger and Willis names despite them being only extended cameos in The Expendables. It likely helped opening weekend, but there could be some backlash caused due to word-of-mouth about their slight presence. This one is likely to dive next weekend regardless, so while it is a bit of dirty pool, it likely won't matter too much.

Stallone is the driving force behind this one. He had been pushing the idea of an all-star action flick for years, but had trouble getting the finances together. In the end, Stallone, Millennium Films and Nu Image Films financed the $82 million picture and sold off distribution rights (Lionsgate picked up The Expendables in the US and Canada for $20 million). With this opening, the actioner is going to be a fair sized winner both at home and internationally, as Stallone and his co-stars still have a lot of cache overseas. Take Stallone's Daylight, for example. It earned $33 million domestically and $160 million worldwide. Should The Expendables become a $200 million worldwide hit we will likely see a sequel before Stallone starts receiving his old age pension (he's 63). At the end of the day, its good to see retro bringing in the coin.

Speaking of retro, Julia Roberts is back for only her fourth live action appearance since the end of 2004, this time in Eat Pray Love, the movie based on Liz Gilbert's uber-bestseller. With the combination of the book and Julia, one might think this should be our number one film, but the opening figure fits with the star and the demographic it's after. First, let's look at the numbers. Eat Pray Love opened at 3,082 venues this weekend and brought in $23.7 million. It had a venue average of $7,690, and it landed almost exactly where tracking expected it to. Not counting Valentine's Day or any of the Ocean's 11 or animated films, this is Roberts' biggest opening since America's Sweethearts debuted to $30.1 million way back in 2001. It's in line with other high profile Roberts debuts from the long ago past like Erin Brockovich ($28.1 million opening), and ahead of films like The Mexican ($20.1 million opening) and Notting Hill ($21.8 million opening).

While this is a decent debut, legs may be an issue, as this one received worse reviews than The Expendables. Considering this is based on a beloved book by Gilbert – recommended and adored by Oprah donchaknow - female audiences may serve up a big time backlash on this one in the weekends to come. Of the 121 critics that saw Eat Pray Love, only 47 liked it, giving the Sony flick a dangerous rotten rating of 39%, with many of the haters calling it boring. The writing was on the wall – we knew reviews would be problematic when the embargo held until Wednesday, and a smattering of the negative notices starting coming out. The good news for Sony is that Eat Pray Love is a $60 million film, and despite what could be negative word-of-mouth, this is going to be a winner for the studio in no time. If the reviews are forgotten, it is a winner for Julia Roberts as well. Welcome back?

Finishing third is The Other Guys, the Will Ferrell/Mark Wahlberg winner that opened last weekend to $35.5 million. Some thought The Other Guys might be another leggy Will Ferrell picture (given its 75% fresh rating), but this weekend it played more like a buddy cop action film. The Other Guys earned $18 million in its second frame, and was off a hefty 49%. Despite the drop, Sony is going to have another winner joining The Karate Kid and Eat Pray Love, as this $85 million picture has now earned $70.5 million after only ten days of release. Will Ferrell will likely have his fifth $100 million domestic picture over the last seven years or so if The Other Guys can have a slightly better hold next weekend.

Dropping two spots from its second place finish last weekend is the now five-weekend-old – and hugely successful – Inception. The Chris Nolan flick continues to earn more than $10 million per weekend, as the latest haul for the Warner Bros. flick is $11.4 million, and the Leo DiCaprio flick falls 39%. Amazingly, Inception has now earned $248.6 million, and while its shot at $300 million appears to be going away, the thriller has currently earned more overseas than it has domestically. The $160 million original idea has now earned more than $500 million worldwide, and is really the best news we've had all summer. And like Cameron in Ferris Bueller's Day Off, just let me say, "This ridiculous - I'll go, I'll go, I'll go!."

Fifth goes to Scott Pilgrim vs The World – and if there is any disappointment in the top ten this is it, but not for the usual reasons. Scott Pilgrim had a weekend gross of $10.5 million – which is a little below where tracking had it – but it could have been bigger given that critically, it was the best choice of the weekend. While Eat Pray Love and The Expendables faltered in the critic's department, Scott Pilgrim thrived, to the point where I was thinking the buzz here was much louder for this one than either of the other openers. Pilgrim garnered 156 reviews prior to the weekend, and at RottenTomatoes, a sizzling 123 of those were fresh, giving the teen targeted flick an 80% fresh rating.

Why did this one not open higher? Good question – mainly aimed at the geek, there may have simply not have been enough of a target for this one to get above $15 million. For the king of the geeks Michael Cera, this opening is in line with Nick and Norah's Infinite Playlist, which opened to $11.3 million, and like Pilgrim, was very fresh at 73%. Scott Pilgrim desperately needs legs, as this Universal release cost the studio $60 million to make. This is the type of film that could find those legs, but word-of-mouth will need to spread before school is back in. Please go – the staff at BOP will whine forever if this isn't either a leggy hit, or a huge cult classic.

Landing in sixth is Despicable Me, the animated Universal film that's doing almost as well as Inception. It certainly had a better hold this weekend, as the animated Steve Carell movie dropped only 27%, earning $6.8 million. With all of the other kiddie fare washed away, the six weekend old Despicable Me pretty much has the audience to itself. The Nanny McPhee sequel opens next weekend, so it will at least face a challenge in the demographic. For now, Despicable has earned $222 million domestically, and is just getting started overseas.

Step Up 3D fades heavily this weekend, as a soft opening is followed up by a weak follow-up frame. The Disney release earned $6.6 million in its second weekend, off 58% from its $15.8 million debut last weekend. Still, these things are relatively cheap to make, as this one has a production budget of $30 million, and a gross so far of $29.6 million.

Salt finishes eighth as the Angelina Jolie thriller finally crosses the $100 million mark. Salt earned $6.4 million and was off 42%, but it does cross that century mark on its 23rd day of release. Is there a sequel here? Doubtful, but Sony will make out okay despite a $110 million price-tag on this one. Salt has earned $103.6 million domestically, and about $65 million overseas so far.

Dinner for Schmucks continues its freefall. After dropping 56% last weekend, Schmucks held somewhat better this weekend, but not by much. The $70 million Paramount comedy earned $6.3 million in its third frame, and was off another 39%. So far, the live action Steve Carell has brought in $58.8 million, and this one will likely finish near its budget mark.

Cats & Dogs: The Revenge of Kitty Galore finishes in the ten spot, as this failure is heading for the WalMart $3.99 bin. Cats & Dogs 2 earned $4.1 million in its third frame and was off a too-little-too-late 41%. This $85 million production has now earned a sad $35.1 million.

In other box office news this weekend, Toy Story 3 hit a huge milestone. Despite not making the top ten, Toy Story 3 earned another $2.2 million this weekend, which put it over the $400 million mark. It's only the second Disney release ever to do so. The highest grossing Pixar release has now earned $400.7 million domestically, and over $500 million overseas, as it eyes the $1 billion mark.

Overall this weekend, the box office was up against a weekend last year that boasted the debut of District 9, Neill Blomkamp's eventual Best Picture nominee that opened to $37.4 million over the same weekend last year. District 9 led the top 12 films at the box office to a total of $125 million, a decent haul for the top 12 in mid-August. This year, the top 12 films did even better, bringing in a powerful $133 million. Next weekend brings a "see what sticks" kind of weekend, as we have five wide openers, including Nanny McPhee Returns, The Switch, Lottery Ticket, Vampires Suck, and my own personal fave, Piranha 3D.