Weekend Wrap-Up
Other Guys Take Step Up at the Box Office
By John Hamann
August 8, 2010
BoxOfficeProphets.com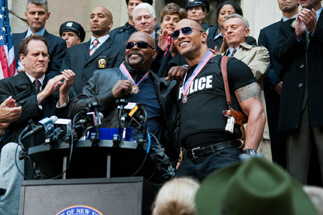 ---
With August upon us, it's time to roll out the buddy comedy. Like Rush Hour 2 and Rush Hour 3 did in 2001 and 2007 respectively, The Other Guys was trying to find the same magic over this early-August weekend. Comedy has not been king so far this summer, as we have been without films like The Hangover or The Proposal, and instead received Get Him to the Greek and Killers. The other wide opener this weekend is Step Up 3D, which mixes some big hitters at the box office: Dance and 3D. Is the franchise too tired to support another film?

We have a new number one film this weekend for the first time in three weeks, as the now four-weekend-old Inception drops only one spot to second. That means our new number one is The Other Guys, the new Will Ferrell/Mark Wahlberg comedy, from director Adam McKay (Anchorman, Talladega Nights). The Other Guys opened to an expected $36.5 million from 3,651 venues, giving it a venue average of $9,751. It looks like the Sony flick will be a good investment, as the comedy cost the studio $85 million, a figure this one will have no problem achieving. Sony has had a quiet summer, but a hot one. Sony released The Karate Kid in June to more than $250 million worldwide against a $40 million budget, and Grown Ups, which has proven to be one of the more successful Adam Sandler comedies. Now successful with Will Ferrell, I bet Sony is going to stick with ex-SNL comedians for all their film projects.

For Will Ferrell, The Other Guys is a big relief for the comedian's career. After a couple of rough outings, Ferrell needed to bounce back in a big way this summer, and it looks like he has. His last movie in release was the well-known but little-seen Land of the Lost, last year's comedy car accident from Universal. Land of the Lost cost about $150 million (all-in) to make, and grossed less than $50 million domestically. It was critically reviled, and if Ferrell had followed it up with a consecutive bomb, studios may have been gun shy to hire the actor. Instead, The Other Guys serves up a hit for Sony, and that's not where the good news ends. This is also one of Ferrell's better reviewed comedies. The Other Guys managed an 80% fresh rating at RottenTomatoes (no, really) – and Ferrell hasn't had a film review this good since the incredibly leggy Elf earned an 84% back in 2003.

For Mark Wahlberg, a win for The Other Guys was almost more important for the Oscar nominee than it was for Will Ferrell. Wahlberg hasn't been in a $100 million plus earner or critically successful picture since The Departed, with his previous success, Invincible, having been released just prior to The Departed in 2006. Since then, Wahlberg has led films like The Lovely Bones (32% fresh, $44 million gross), Max Payne (17% fresh, $41 million gross), The Happening (18% fresh, $65 million gross), We Own the Night (56% fresh, $29 million gross), and Shooter (48% fresh, $47 million gross). Wahlberg is certainly not known for comedy, but his small part in Date Night with Tina Fey and Steve Carell may have helped push audiences toward this one. The Other Guys could conceivably be a leggy August flick, much like Tropic Thunder.

Finishing second this weekend is not Step Up 3D (thank goodness). Instead, it's the summer-saver, Inception. Now in its fourth weekend, the Leo DiCaprio think-fest is cooling a little this weekend, as it grossed $18.6 million, and dropped 32% compared to last weekend's top spot finish. Inception crossed the $200 million mark on Tuesday, giving director Chris Nolan his third $200 million plus release out his last four films. It also passed Batman Begins on Thursday to become the director's second biggest film behind only The Dark Knight. The $160 million Warner Bros. flick has now grossed over $170 million overseas, and has earned $227.7 million domestically.

Third goes to Step Up 3D, the mix of dance and higher ticket prices. Tracking forecasted that Step Up 3D would open above $20 million, but Step Up stepped down, earning $15.5 million from 2,435 venues – 1,800 of those 3D venues. The first Step Up opened in 2006, as the small, $12 million film opened to $20.7 million and went on to earn over $100 million worldwide for Disney. Step Up 2 The Streets was released in 2008, and opened to a smaller $18.9 million. It grossed less domestically than the first, coming in at $58 million, but was much bigger overseas, taking in $92 million, for a $150 million total. The second film was also cheap to make, costing the studio only $17.5 million. With those numbers, how could one not green-light the third film? For Step Up 3D, the odds are higher. Production costs moved up to $40 million – Summit Entertainment was brought in to reduce Disney's risk by taking half the production costs for some of the lucrative overseas markets, so eventually, everyone's going to be pleased by the results.

Sitting in fourth place is Salt, a film that is going to end up as one part forgettable, one part financially successful. Sony's spy flick, starring Angelina Jolie, earned another $11.1 million in its third weekend; however, like last weekend's 46% drop, the plunge is big again at 43%. With its meh-inducing 58% fresh rating and a gross that's going to finish right around its $110 million production costs, Salt is going to end up as a yawn, but foreign grosses and DVD will make it a winner for Sony.

Fifth goes to Dinner For Schmucks, the Paramout/DreamWorks release that got off to an okay $23.5 million open last weekend. While films like Schmucks are funny, they win by losing, putting their characters in heavily uncomfortable situations. That can lead to negative word-of-mouth, and with that, combined with heavy competition from The Other Guys, Dinner With Schmucks got spanked this weekend. Schmucks earned $10.5 million and dropped a nasty-for-comedy 55%, which pretty much eliminates any hope for a $100 million success with this one. Schmucks cost Paramount somewhere between $55 and $70 million, and has a gross so far of $46.7 million.

Another Carell film, Despicable Me, finishes in sixth place, still going strong after five weekends of release. Despicable Me earned another $9.4 million and still held strong, dropping only 39%. The Universal release crossed the $200 million mark on Thursday, and like Inception, is a new idea that has the word-of-mouth and finances to become a franchise. The $69 million dollar film – cheap in today's 3D animated market – has now grossed $209.4 million domestically, and is just getting started overseas.

Seventh is the big 3D miss of the summer, Cats & Dogs: The Revenge of Kitty Galore. After flopping last weekend with a $12.3 million opening, its fortunes didn't improve, as the Warner Bros. miss earned only $6.9 million in its second frame. It was off 44%. The $85 million flick has now earned only $26.4 million.

Charlie St. Cloud fares even worse than Cats & Dogs this weekend, as this dog had few show up for the second weekend of the Zac Efron flick. Charlie fell a scary 62% this weekend, as the $45 million Universal flick earned only $4.7 million. It has a running total of $23.5 million.

Toy Story 3 finished ninth with a gross of $3 million. It was off 41%, and continues to propel itself toward a domestic total of $400 million. So far, the Pixar release has earned $396.3 million on the domestic front, and is already approaching $450 million from overseas cinemas. No wonder Disney and Pixar spent $200 million on this one.

It was a very close race for the final spot in the top ten. Grown Ups, Twilight: Eclipse, The Sorcerer's Apprentice and The Kids Are All Right were all in the mix, with The Kids Are All Right taking the flag. The Annette Bening/Julianne Moore/Mark Ruffalo indie flick from Focus earned $2.6 million this weekend, was off 26%, and now has a domestic take of $14 million.

Overall this weekend, the box office couldn't keep up with last year. A year ago, G.I. Joe opened to $54.7 million, and the difference between that and The Other Guys is about the difference in the overall box office. Last year, the top 12 films brought in $132 million. This year, the top 12 earned $122.8 million. Next weekend should bring another interesting frame. Julia Roberts opens Eat Pray Love for Sony, The Expendables opens for Lionsgate, and the wildcard just may be Scott Pilgrim vs The World – as the Michael Cera flick currently sits with an 88% fresh rating at RottenTomatoes.