Weekend Wrap-Up
Original Inception Dreams Up Three-Peat
By John Hamann
August 1, 2010
BoxOfficeProphets.com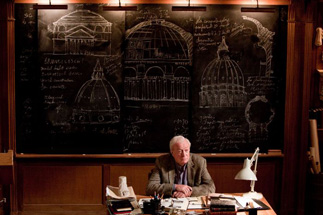 ---
When was the last time a non-sequel, non-3D film ruled the box office for three consecutive weekends? Since we can toss both Alice in Wonderland and Avatar, we have to go all the way back to summer 2008 – the middle of August - for Ben Stiller's Tropic Thunder (how's that for a water cooler trivia question?). Inception rolled past three new releases this weekend: the unnecessary sequel Cats & Dogs: Revenge of Kitty Galore, Dinner for Schmucks, a discomfort-comedy, and Charlie St. Cloud, starring my favorite idiot, Zac Efron, who turned down a quick-win career-saver with the Footloose remake.

Our number one film - for the third weekend in a row - is Leonardo DiCaprio, Chris Nolan, and the fabulous Inception. After an opening weekend of $62.8 million, and a fantastic follow up gross of $42.7 million (a drop of only 32%), my faith in the North American movie-goer was redeemed. There's more good news for the $160 million Warner Bros. flick this weekend, as Inception earned another $27.5 million, giving it a solid hold as it drops 36%. Inception also has seen some stellar mid-week figures. The dreamy thriller earned a remarkable $37 million from Monday-to-Thursday following its opening, and another $23 million from Monday-to-Thursday last week. Inception has now powered to $193.3 million, and will cross the $200 million mark some time next week. Inception is now DiCaprio's biggest film – following Titanic, of course.

I wrote above how Inception was the first non-sequel, non-3D flick since Tropic Thunder to three-peat, but they are very different films, in concept as well as box office. Tropic Thunder opened much smaller, at $25.8 million, and dropped to $16.3 million in its second weekend. Its third weekend was only $11.5 million. The previous original three-peater, Disturbia, did even smaller business in 2007. The film that really launched Shia LaBeouf opened to $22.2 million, fell 41% to $13 million, and then led the box office with a tiny gross of $9 million in its third frame. The trend usually shows that films three-peat only over extremely slow box office periods, but Inception is different. 2006's Night at the Museum, released over the busy Christmas frame, is really the best comparison. Night grossed $30.4 million over its first frame, and increased on its opening score by 21% (obviously over Christmas week) to $36.8 million over its second, but still managed a strong third weekend at $23.7 million. It was also an effects-driven film; however, it was aimed at a much younger audience than that of Inception.

Dinner for Schmucks lands in a surprise second spot this weekend, as it finishes closer to the last live action Steve Carell flick, Date Night, than expected. Schmucks earned $23.3 million from 2,911 venues, giving it an average of $8,004. The Paramount/DreamWorks entry was actually the number one film on Friday night, but gave way to Inception as the weekend continued – openers are usually stronger on opening day than holdovers, but then tend to fall back as the weekend continues.

For Steve Carell, the last few months have proven to be the turning point in his career. April brought Date Night, the 20th Century Fox comedy that co-starred Tina Fey. That $55 million film opened to $25.2 million and had great legs for an adult comedy, so far earning $98.5 million domestically, and another $53 million overseas. Carell is also having a great summer with Despicable Me, where he plays the evil (and quite funny) Gru. Despicable Me is a big hit for Universal, which doesn't make a lot of kids flicks. Recent news has Carell stepping down from his role on NBC's The Office to spend more time with his family, and make more studio fare. With these results, Carell is proving to be a good investment, as Schmucks, like Date Night, cost Paramount only $55 million to make, a number this one is likely to have within a couple of weeks.

Third spot goes to Angelina Jolie's Salt. After a strong $36 million debut last weekend, Salt did the expected this weekend, falling almost 50%. Salt earned $19.3 million in its second frame, which is a decent score, but the drop off comes in at 47%, a number I'm sure Sony wishes was better. There's not a lot to take away from the Jolie thriller, unlike Inception, and word-of-mouth is almost non-existent. Look for Salt to finish with just over $100 million. So far, the $110 million spy thriller has earned $70.8 million.

In a real surprise, Despicable Me takes down a 3D opener in the Cats & Dogs sequel, as the Steve Carell animated flick finishes fourth, down only one spot from the previous frame. While it managed to stay ahead of Cats & Dogs, the competition is evident, as Despicable earns $15.5 million and is off 34%, higher than last weekend's drop of only 28%. Universal's fairly cheap ($69 million) 3D entry has now earned a lovely $190.3 million, and is the second example in the top five of a good new idea dominating the box office. Despicable Me is a lock for $200 million, and could see $225 million, depending on how it performs in August.

Finishing a surprisingly low fifth this weekend is Cats & Dogs: The Revenge of Kitty Galore, a truly unnecessary sequel looking to cash in on the 3D craze. Cats & Dogs 2 opened to an amount much smaller than that of the original, as it took in $12.5 million from a ridiculous 3,705 venues (Hollywood Reporter said 2,130 of those venues carried a least one 3D screen). It had a highly questionable venue average of $3,381. The original Cats and Dogs opened way back in July 2001, but I guess a sequel wasn't needed or wanted until nine years after the fact. The cast changed almost completely, with Tobey Maguire replaced by James Marsden (there's a step up), and the budget increased from $60 million for the original to $85 million for the sequel. Kitty Galore had an expected RottenTomatoes rating of only 14%, and obviously, audiences caught on – at least this time.

So, you know your $85 million film doesn't have much of a shot at recouping its budget. Why write the check to get it done? Same answer as all the rest of the questionable releases this summer: INTERNATIONAL GROSSES. The first Cats & Dogs, before it was cool to do so, ran up the overseas take to $107 million, clearing the century mark where the domestic take didn't - it topped out at $93 million. I expect the same thing to happen again, and join films like Robin Hood, The A-Team, Prince of Persia and Knight and Day, which got bailed out overseas. The Revenge of Kitty Galore will be lucky to earn $50 million at the US box office, but the $100 million it earns overseas will prop it up financially.

Charlie St. Cloud – with that dreamboat Zac Efron – barf – manages a sixth place finish before it goes poof into obscurity. Charlie took in $12.1 million from 2,718 venues, giving it an average of $4,465. How long will teen girls continue to prop up this guy's movie career? This one cost Universal about $45 million to make, a number I doubt it will see from North America theatres, but again Efron is just as popular overseas, so Universal should make out okay with this one, despite their film being only 24% fresh at RottenTomatoes.

Seventh spot goes to Toy Story 3, as the Pixar juggernaut begins to slow down a bit. Toy Story 3 earned $5 million in its seventh great weekend, and was off 44% compared to last weekend, as 3D screens go to more to Despicable Me and the Cats and Dogs sequel. Still, Toy Story 3 has now earned $389.7 million, and should make it to $400 million, even if takes a few more weekends to do it.

Eighth is Grown Ups, the Adam Sandler (and friends) comedy that has shown some serious legs. Grown Ups took in another $4.5 million, off a bigger 39% due to Dinner for Schmucks providing comedy competition. Even so, Grown Ups has now earned $150.7 million, and is closing in on Sandler's biggest film since Big Daddy, The Longest Yard, which took in $158 million.

Ninth goes to Nic Cage and The Sorcerer's Apprentice, the big Disney miss of the summer. Moving way down from fourth last weekend, the $150 million Disney flick took in $4.3 million this weekend, giving it a plunge of 55%. The Sorcerer's Apprentice is going to have to be huge overseas if Disney has any chance of a return on this one, as the domestic take so far equals only $51.9 million.

Finally in tenth is The Twilight Saga: Eclipse, which hangs around for one last hurrah. The sparkly vampire movie brought in yet another $4 million, falling 45% from last weekend. Its total now sits at $288.1 million, putting it just $8 million short of where the previous film in the series, New Moon finished. It's going to probably slightly surpass that total, which will probably come as a surprise to people who closely watched the film's behavior during its opening five days

Overall this weekend, the box office was able to stay ahead of last year thanks to six films earning more than $10 million. A year ago, Adam Sandler opened Funny People to a disappointing $22.7 million, which led the top 12 to a very low $113.5 million. This year, the top 12 drew $135.2 million. Next weekend brings another comedy, The Other Guys, as Will Ferrell tries to remove Land of the Lost from our collective memories, and the dance sequel Step Up 3-D opens, and no, I don't know why.