Top Chef Recap
By Jason Lee
August 1, 2010
BoxOfficeProphets.com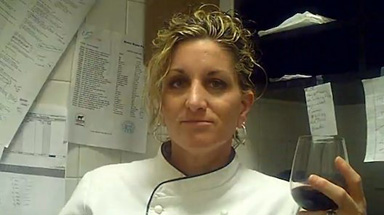 ---
So, here we are again after the near-elimination of Kenny in the Cold War challenge. The episode starts with Kenny still b*tching about how his presence in the bottom two was nothing more than the result of other chefs feeling "threatened" by him. Yeah, well, according to Tom Colicchio's blog, your dish was pretty darn bad and you should just feel lucky that Tamesha turned in a worse dish than yours.

Speaking of Tamesha, Hot-But-Apparently-Straight Angelo is still grieving her loss. He misses her supple boobs. Cause he's not gay.

And speaking of "not gay," the chefs enter the Top Chef kitchen and find Mr. Hot Abs himself, Congressman Aaron Schock. The youngest member of Congress and clearly the hottest (just Google "Aaron Schock abs" and you'll see what I'm talking about...for even more fun, Google "Aaron Schock gay belt" and you'll find just one example of why people doubt his heterosexuality), this Hot-But-Apparently-Straight politician is here to talk about ethics.

You may have heard that lobbyists have a little bit of power in government. Just a little. Well, don't you worry, because politicians have taken steps to ensure that no lobbyist exerts undue influence over any politician. Nope, there won't be any lavish meals served up in the hopes of winning votes, because in Washington, D.C., any catered food must be served on toothpicks.

So, in the spirit of this restriction, the cheftestants must cook a delicious hors d'oeuvre for their Quickfire Challenge. It should deliver the punch of a full dish, but in a small morsel. Oh yeah, and this is a High Stakes Quickfire, with the winner receiving $20,000. I can't quite explain it, but giving a $20,000 reward for making the best non-politician-influencing menu item just feels ironic to me.

With a mere 30 minutes to cook, the cheftestants race (in totally dangerous fashion) to the fridge to find whatever proteins they can. Kelly just focuses on making something that'll stick to the toothpick. Stephen is supremely confident that he can win this challenge (has anyone else noticed that Stephen is always confident heading into every challenge?). Tiffany feels like she's in her comfort zone, Amanda has no ideas in her head, Ed is having a hard time conceptualizing his dish. It's a little rough.

The one dish that's standing out to me is Andrea's buttermilk fried chicken on a buttermilk waffle. It sounds great and looks like an amazing bite of food.

Alas, she's neither in the top nor the bottom. Hot-But-Apparently-Straight Congressman Schock judges the bottom to be Alex (scallops with crispy bacon, too many flavors going on), Ed (his two styles of tuna looked better than it tasted), and Kelly (her scallop with watermelon lacked flavor).

As for the good news, Kevin served up a grilled pork kabob that stayed on Schock's mind. Angelo's cucumber cup with spiced shrimp was "like fireworks in my mouth" (which is Inadvertent Gay Pun #1 from Schock). Stephen had a scallop and beef with crispy potato, which, according to Schock, "had a lot on that stick" (aaaaand, Gay Pun #2).

I predict that Kevin wins this one but Angelo takes immunity and $20,000. I guess those Hot But Apparently Straight Guys stick together.

As for the Elimination Challenge, the cheftestants will be taking part in an old school political tradition: the power lunch. It's where deals are made, bills brokered and votes won. And, of course, good food can make those wheelings and dealings run more smoothly. The chefs will take over a prime political lunch spot, The Palm, and will serve 24 diners. Two chefs each will work with one of The Palm's iconic proteins: lamb, lobster, swordfish, porterhouse steak or salmon. The dishes will NOT compete head to head; everyone will be competing against everyone else.

The chefs draw knives and (surprise surprise!) Stephen is confident that he'll win this challenge since he "does power lunch food all the time."

After a stop at Whole Foods, the cheftestants head back to the kitchen to prep for their dishes. Ed is having a hard time breaking down his lobster, which leads him to have significantly less time to prep than his other competitors. Meanwhile, Amanda has apparently made a HUGE mistake by taking the meat of her porterhouse steak off of the bone. As Kelly explains, this makes it no longer a porterhouse. It's a NY strip, or something.

Back at the house, Ed is starting to doubt himself, but good ol' Tiffany comes to the rescue with some encouragement. This starts a chain of whispered gossip and breathy speculations amongst the house members that Ed and Tiffany are "Hosea and Leah"ing around.

In other news, Alex hasn't decided what he's making for his salmon dish.

The next day, the cheftestants head over to The Palm where they're told that Tom Colicchio will keep an eye on them in the kitchen. The winning chef will get their dish on The Palm's menu, so as if they didn't already have enough pressure on them, Chef Colicchio's presence in the kitchen will ratchet everyone's blood pressure up a few knots.

Alex is still figuring out what to make, but tells the camera that he wants to make a pea puree. So, the first thing he does when he gets to the kitchen is make a pea puree. Amanda starts bugging Kelly by asking to borrow some salt, Tiffany isolates her in a back corner, Andrea asks Kelly for some butter, and Angelo cuts himself...

...and before you know it, Ed can't find his pea puree. He made it the day before but now he can't find it. He seemingly goes around to every chef asking if they've seen his pea puree, but no one knows where it is. Not even Alex. Of course, there's many an eye looking purposefully at the pea puree on Alex's dish.

Gail and Padma will be seated in the dining room at two different tables. Gail has a bunch of NBC journalists, while Padma has a couple of Fox News correspondents. Strangely enough, we see neither MSNBC correspondents nor CNN correspondents at the table. Only Fox News ones have been invited, I guess (damn that liberal media!).

First up, Kelly and Amanda serve their porterhouse dishes. Kelly has a porterhouse with crispy potato, an arugula salad and roasted shallots. Amanda has a duo of NY steak and filet mignon with pommes Parisian. The diners like the flavors in Amanda's dish while Kelly's dish is far too big and far too salty.

Next, Tiffany serves up a swordfish steak with olive-raisin tapenade with broccolini. Andrea has a pan-seared swordfish with risotto-style couscous and a buerre blanc sauce. Based on the feedback at the table, Tiffany's fish is overdone, while Andrea's dish has too much vanilla flavor.

Stephen has a pan-seared salmon with a warm veggie salad, and alongside, Alex puts down an Applewood-smoked salmon with black forbidden rice with an ENGLISH PEA PUREE. The diners (get this) love the sweetness of the pea puree with his salmon, while Stephen's dish is a little heavy and messy.

Next up, we have Angelo with a butter-poached lobster with a salad of jicama and asian pear. Ed also has a butter-poached lobster with a balantine of eggplant caviar. The Fox News folks don't like Angelo's foam, and while Ed has a beautiful presentation, the eggplant and peas were weak.

Lastly, Kenny serves a peppered lamb with fig pistachio bread pudding and a vanilla demi-glace. Against that, Kevin has a double-cut lamb chop with olive and goat cheese rissole. Kenny's sauce is a little strange and Kevin's lamb is totally overcooked.
So to me, it sounds like Stephen, Kevin and Kelly are on the bottom - but who knows? Meanwhile, back in the kitchen, there's still a whole lot of speculation going on about the missing pea puree. It seems like everyone pretty much feels that Alex stole it from Ed, though nothing gets said to Alex's face. Personally, I don't buy that Alex stole the pea puree. For one thing, there's no way he could have known if that pea puree was any good! Imagine if the pea puree had been bad and Alex got sent home because of it. I think that at this stage in the competition, you cannot risk your own fate based on something that someone else made. It would just be too stupid.

Padma calls in Alex, Tiffany and Ed. Yup, they have the night's best dishes. Tiffany is crazy relieved, wiping away tears of happiness. She thought she was on the bottom due to her fish being overcooked. Gail assures her that even though it was indeed overcooked, it wasn't dried out. The other components of dish added enough moisture that the dish was a success. Tiffany smiles brightly.

Not much is said to Ed, except that his dish was great, even if he felt challenged in the kitchen.

As for Alex, he's surprised to be in the top because he wasn't sure what he was going to cook until that morning. Art assures him that his fish was cooked perfectly, and that his pea puree was FANTASTIC. "I wanted a whole bowl of it," says Art. Ed scowls and Tiffany looks pissed off.

My sister bemoans, "I hope Alex doesn't win, otherwise, he'll be murdered by Ed." Ooops. Someone get out the axe because ALEX WINS THE CHALLENGE. Wow. I predict that Alex will pay for this win over the next couple of episodes.

The three chefs head back into the Stew Room, and when they inform everyone else that Alex has won, he receives only tepid applause. Kenny calls Alex's win "total BS" because he says that there's no way that Alex could have finished that pea puree at The Palm.

But it matters not. On the bottom we have Kelly, Andrea and Kevin.

Gail didn't like whatever was in Kevin's tomatoes. "All I got was heat," she says. "It hit me like a ton of bricks." She further questions whether Kevin even tasted his dish. "Didn't you think it was too much spice?" she asks. Tom didn't like that his lamb wasn't seared properly, while Art saw his sloppy cleaning of his lamb bones as an indication of a lack of care.

With Andrea, she admits that she doesn't really like swordfish. "I don't cook it often," she says. Art argues that this feeling was reflected in her dish, also criticizing her couscous as "goopy and overcooked." Tom thought that there was way too much vanilla flavor in the dish.

Kelly had attempted to pay homage to classic steakhouse flavors and starts discussing the intention of her dish. Tom looks at her strangely and asks, "Do you know why you're here?"

"I think maybe it was a little too salty," she says.

"OH YEAH," Padma exclaims.

Tom agrees that the overuse of salt lead to her being in the bottom, with Gail chiming in by saying that layer after layer of her dish was too salty. "It was a slap in the face," she says.

To me, the harping on Kelly's salt level means that she'll be going home. It almost sounds as if the dish was inedible due to the salt content. If that's right, then Kelly should be packing her knives shortly.

The final three are called back out. They were supposed to deliver a power lunch but they left the diners wanting a power nap. Kevin's lamb was way overcooked, Kelly ruined her dish by oversalting it, and Andrea gave them a dish that was unfocused and heavy on vanilla.

And in a monumental twist, ANDREA is going home. I can't believe it. I didn't think the judges hated her dish; I certainly thought that Kevin and Kelly made bigger mistakes. I'm not sure I understand the judges' decision.

I think Kevin and Kelly feel the same way. They immediately double over in shock and relief. Kelly begins to cry and Andrea gives her a big hug. She understands (even if we do not) why she deserved to go home and she's accepting her fate with a smile. I really admire how she's taking it. She's not looking at elimination as an indication that the judges hate her or her food. She just knows that she didn't deserve to stay in the competition after that dish.

In her final interview, Andrea says that her mistakes were more mental than anything else. She respects the judges but doesn't need four people to tell her that she can cook. She knows she can cook. She didn't play the game well today. She certainly didn't want to go home this early, but she can't change it and will move on.

And the competition will move on without her. We certainly didn't lose a contender for the title for Top Chef, but I'll miss having her kooky personality around.