Friday Box Office Analysis
By Tim Briody
July 31, 2010
BoxOfficeProphets.com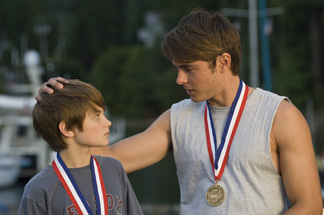 ---
[tm:4781_]Dinner for Schmucks[/tm]

For the first time in three weeks, we've got a new movie at the top spot, if only for a day. The [bp:7561_]Steve Carell[/bp]/[bp:4264_]Paul Rudd[/bp] comedy Dinner for Schmucks earned $8.4 million on Friday, good enough to beat [tm:4904_]Inception[/tm] for first place. It most likely won't be there when the full weekend estimates arrive but it's going to give the Jay Roach film a pretty decent weekend. For comparison of their recent films, April's Date Night had a 2.75 weekend multiplier, and Rudd's Role Models had a 2.86, while I Love You, Man earned a 2.82. Using a 2.8 for Dinner for Schmucks, that would give it a $23.5 million weekend.

[tm:5025_]Charlie St. Cloud[/tm]

Zac Efron's latest drama earned a decent $5.6 million on Friday. It's not 17 Again ($9.4 million opening day last year) but considering how terrible this looks, this isn't a bad opening day at all. I'm not excited about its prospects over the rest of the weekend, so give it $14.6 million, a figure that could have easily been much worse.

Cats and Dogs: The Revenge of Kitty Galore

The completely unnecessary and way-overdue-even-if-it-was-necessary Cats and Dogs sequel opens in sixth on Friday with $4.2 million. Looking back to 2001, Cats and Dogs opened on July 4th (a Wednesday) and earned $35.7 million in its first five days. That will not happen here as it opened behind [tm:4826_]Despicable Me[/tm], which is now in its fourth weekend. It should do okay (relative to the genre) on the weekend, and earn about $13 million.

Notable Holdovers

Inception is knocked out of first place on Friday by Dinner for Schmucks, but still earns $8.1 million, holding decently as it's down 39% from last Friday. It should blow away Dinner for Schmucks in the weekend multiplier department (last weekend's was a 3.26) and therefore reclaim its throne for a third consecutive weekend when the weekend estimates are in. Give it a third weekend of $26.4 million.

[tm:4912_]Salt[/tm] falls 53.5% from last Friday to $5.9 million. Even Jolie's action hits had a tendency to fall pretty hard in their second weekends. Salt is no exception and now has an uphill battle to hit $100 million. Give it a second weekend of $18.2 million.