Weekend Wrap-Up for July 23-25, 2010
Leo and Inception have more oomph than Angelina and Salt
By Kim Hollis
July 25, 2010
BoxOfficeProphets.com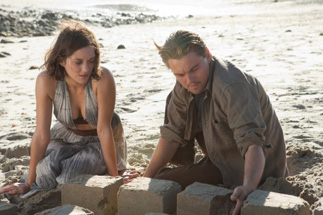 ---
With decent reviews and a strong A-List star, Sony was hoping that its decently reviewed Salt would be able to take the weekend crown away from last week's big winner, Inception. Instead, what we saw was a decent but not superlative box office performance from the Angelina Jolie spy film, opening the door for Chris Nolan, Leonardo DiCaprio and the gang to hang on to the #1 position for a second weekend in a row. Also new in theaters was the Walden Media/Fox kid flick Ramona and Beezus, but it obviously was never going to pose a significant threat.

Yes, the number one movie of the weekend is Inception, the mind-trippy action-effects extravaganza from writer/director Christopher Nolan. After winning the top spot last weekend with a terrific $62.8 million, Inception held remarkably well for a big blockbuster type of film, dropping only 31% to $43.5 million for its second frame. The movie's success can clearly be attributed to the excellent reviews (it is currently 86% fresh at Rotten Tomatoes) as well as the glowing word-of-mouth from moviegoers. It's obvious that this is a movie people have been talking about, because there are a number of mysteries and intricacies in the story that make it almost a necessity to discuss with friends. Also, a lot of people will have wanted to get out to see the film to avoid spoilers for this very same reason. The amount of talk surrounding Inception is making it more and more difficult to avoid seeing comments about the movie's ending, as well as other elements. Finally, there is likely to have been a decent amount of repeat business, since a number of people have commented that it is the kind of movie that begs to be seen twice or more to completely absorb all the deep layers.

Thus far, Inception has brought in a remarkable $146.7 million at the domestic box office, which means that not only is it holding well in its weekend showings, but it is also seeing a lot of attendance on the weekdays. So far, it has made between $8.5 and $10.2 million on all of its weekdays, and the weekend would seem to indicate that it's not going to be slowing down just yet. Given that its main new competition next weekend for the adult audience is the comedic Dinner for Schmucks, it should be able to continue its top notch performance for a little while longer.

That means second place goes to Salt, the Angelina Jolie spy film from Sony. Expectations were somewhat high for the movie, and it wound up coming in at the lower end of tracking. The weekend total was $36.5 million, good for a venue average of $10,105 (lower than Inception's 11,473 in weekend two). It did play out as an adult-targeted film should, as its total on Friday was $12.7 million, which means that its three-day multiplier (weekend total divided by Friday gross) was 2.87.

Why didn't the film manage to win the weekend? For one thing, the reviews for Salt are somewhat middling. Its current rating at Rotten Tomatoes is 56%, with the exact same percentage on the Top Critics' side. Additionally, although competition rarely plays a big part for new releases, it has to be fair to assume that a lot of the adult audience was syphoned off by Inception's stellar second weekend. If people are choosing between films aimed at the same demographic, they're more likely to select the one that's getting all the discussion and intrigue. While Jolie isn't necessarily a tough sell in an action flick (Wanted and Tomb Raider have both been big openers for her), Salt was somewhat less effects-driven and looked a little heavier on the drama. Also, she's wearing a big frumpy coat in a lot of the previews, and who wants to see her wearing that? The budget for Salt is reported to be around $130 million, and it looks like the film will struggle to earn that amount domestically, though it should approach that number if it behaves like other films of the genre.

Third place goes to a family film, but it's not Ramona and Beezus. Instead, it's Despicable Me, which had a wonderful hold in its third frame. The 3D animated story about a villain, his minions, and his adoptive family earned another $24.1 million, falling only 26% from its second weekend. Universal Pictures has to be very pleased about the way Despicable Me has performed, as it has now earned a terrific $161.7 million against a tight budget of $69 million. It's a testament to what good reviews and word-of-mouth will do for a film, not to mention the fact that it's an original idea for families, offering something new and unique in a world full of sequels and book-based films. It probably also doesn't hurt any that Steve Carell toplines the film, and we'll continue to see his drawing power next weekend in Dinner for Schmucks, a movie that looks great to some and horrific to others.

Two Disney properties are in fourth and fifth place, though they are at very, very opposite ends of the spectrum. The Sorcerer's Apprentice is the fourth place finisher, though it doesn't beat out Toy Story 3 by very much at all. The Sorcerer's Apprentice, which had been positioned as a franchise starter for the Mouse House and producer Jerry Bruckheimer, tumbled 45% from its already slight debut to $9.7 million. Its total so far is $42.6 million, which means it's not even going to approach its hefty $150 million budget. The honest evaluation is that it was tough to buy Jay Baruchel as "the apprentice", and possibly even more difficult to accept Nicolas Cage as the mighty sorcerer. Also, with the similarly themed Percy Jackson having already recently been in theaters, audiences might be maxed out on magic when it's not coming from Harry Potter and friends.

Toy Story 3 is just behind The Sorcerer's Apprentice with a sixth weekend total of $9 million and a tiny drop of only 25%. The #1 movie of 2010 and the Pixar franchise has now earned $379.5 million, and Disney will certainly do whatever it can to ensure that it reaches that all-magical $400 million mark, even if it means re-releasing the film in theaters at a point later in the year.

Sixth place goes to Ramona and Beezus, the new family-friendly film from Fox and Walden Media, the production company that has been responsible for such hits as The Lion, the Witch and the Wardrobe, Bridge to Terabithia, and Journey to the Center of the Earth, as well as disasters like City of Ember and The Seeker: The Dark Is Rising. Ramona and Beezus, based on a well-loved series of children's books by author Beverly Cleary, earned a middling $8 million on the weekend, but given its tiny budget of $15 million, it's not going to be tough for this movie to wind up in the black for the studio. Worst case scenario is that it becomes a mild family hit on DVD, and they can do some straight-to-video sequels, too, since the books are full of potential ideas.

Grown Ups continues to hold well as it sits in seventh place. The movie where Adam Sandler gathered all his buddies for a silly ensemble comedy earned $7.6 million this weekend, off only 23%, the best hold in the top ten. Grown Ups has now earned $142.4 million, which means that it has passed Click on the list of Sandler's top performing films. Considering that the comedy has only a 10% fresh rating at Rotten Tomatoes, that's a pretty impressive accomplishment. It has easily earned back its budget and then some, which means that we're going to see more movies in the vein of Couples Retreat and Grown Ups in the next couple of years. They might not be great, but they definitely rake in the cash.

The bottom of the top ten is rounded out with three movies that fell pretty precipitously from last week's totals. The Twilight Saga: Eclipse continues to hang on to a top ten spot with a $7 million total, falling 48% from last week. Its current total is $279.7 million, which puts it about $17 million short of New Moon's final total. It is well ahead of New Moon's pace, reaching this total about 11 days quicker, but New Moon did have the benefit of December weekdays. Ninth goes to The Last Airbender, which pretty much bottomed out after its opening weekend. The film was down another 46% to $4.2 million, and has a current total of $123.3 million. It's not going to beat its budget domestically, but international receipts should make it a worthwhile endeavor for Paramount - though they still will likely think twice before employing M. Night Shyamalan again. Finally in tenth is Predators, the sequel to the horror/action series. It was down another 59% to $2.8 million, and has a running total of $45.6 million, which means it's exceeded its budget and will be pure profit from here on out, including video.

Overall, the 2010 box office performed quite nicely against 2009's top 12, when Jerry Bruckheimer's G-Force was top of the heap and The Ugly Truth had a solid showing. This year, the top 12 earned $156.8 million, up 11% from last year's $141.5 million. Next weekend, we have the aforementioned Dinner for Schmucks, Cats and Dogs: The Revenge of Kitty Galore (why? Just why?) and Charlie St. Cloud, starring the dreamy Zac Efron.