Weekend Forecast for July 23-25, 2010
By Reagen Sulewski
July 23, 2010
BoxOfficeProphets.com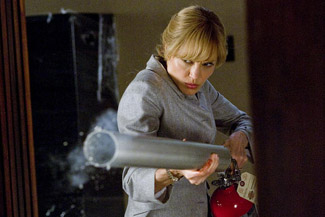 ---
The second half of summer may not be throwing up the same gaudy numbers as May and June's box office, but it's making up for it with quality. I mean, if we start counting the second half after July 1st. Oh no, not before.

Salt arrives in theatres with what seems like a easily made comparison - likely eagerly invited by its producers – a female Jason Bourne. Angelina Jolie stars as Evelyn Salt, a CIA agent implicated as a Russian spy by a defector (a premise helpfully made more plausible by a recent real-life spy scandal). This, of course, sends her into flight in order to prove her innocence, largely by kicking people in the face and crashing vehicles into things. Hey, whatever works.

Jolie is about the only female action star taken seriously today (play someone other than Alice and we'll talk, Milla Jovovich), at least to the point of being able to be a lead. See: Wanted, Mr. & Mrs. Smith, Tomb Raider, etc. Okay, most of her examples aren't good films, but they continue to draw people in, which is kind of the ultimate test of star power when you think about it. And in something of a interesting twist that shows her standing as an action star, this film was initially intended to star Tom Cruise in her role.

In any case, we have Salt, which seemed fairly generic through the first two minutes of its initial trailer until one crucial little line: "Do you think everyone is who they say they are?" Consider my interest piqued. A sort of Mission: Impossible-esque latex mask rip towards the end, obscured by quick cutting, also adds to the intrigue of the trailer. Is it potentially just a great job of editing covering up an average thriller? Potentially. Its writer has a mixed resume, with the Thomas Crown remake and Ultraviolet on it, two films rather diametrically opposed in quality. Reviews are mostly positive but not glowing, which probably precludes this from being revelatory in any real sense. But a solid action movie? There we might have something. Look for this to win the weekend with around $55 million.

Swingingly wildly around in tone, we have Ramona and Beezus, based on the much beloved Beverly Cleary series of books about a precocious girl and her sister. Disney Stepford Child Selena Gomez plays the older sibling while Joey King, who despite being only 11 already has 19 film credits to her name, plays the central, younger sister, famously called a pest.

In addition to the two child leads, there's a surprisingly strong adult cast, I'm sure largely because of the reputation of the material and how basically everyone read these books growing up. John Corbett, Bridget Moynahan, Ginnifer Goodwin, Josh Duhamel and Sandra Oh all make appearances in the film as various authority figures, though really the film is about the relationship between the sisters, and any childless adults going to this film will be placed on some sort of watch list.

Ramona and Beezus is a Walden Media production, a studio that's had a wildly inconsistent performance in bringing classic kid's lit to the big screen, with successes like The Lion, The Witch and the Wardrobe, Charlotte's Web and Holes, and major misses in How to Eat Fried Worms, City of Ember and Prince Caspian. I'd put this closer to Charlotte's Web in potential than anything, though with the major female focus of the books, you're not going to find a lot of boys urging their parents to take them to this. I'd expect about a $12 million weekend.

Inception set off a bit of a firestorm in the movie world last weekend by actually being original and stuff, something we're not used to in the summer, when sequels and adaptations are the rule. If only we could have Chris Nolan save every summer. At any rate, an original premise and critical acclaim aren't always enough to guarantee a big opening weekend or strong legs for a movie, although $62 million for Inception is a very solid start and it may hit the $100 million mark by close of business Thursday, Friday for sure.

If nothing else, people are curious about this film now, which could inspire some lookiloos, in the same way but not to the same degree as Avatar, the last big budget epic to truly promise something different. This won't translate into a repeat at the top unless Salt misses wildly, but around $39 million for a second weekend isn't anything to shake a stick at here.

Despicable Me held onto the second spot with $32 million, a solid if unspectacular holdover. It should still remain the top family option this weekend despite the entry of Ramona and Beezus, particularly because of its crossover appeal to both boys and adults (sorry, Cleary fans, that's the way it is). I'd even go so far as to predict a slight turnaround in its fortunes, dropping to only $22 million this weekend.

That's in part due to the fact that The Sorcerer's Apprentice is no longer a shiny object competing for family film eyes. Not that it did so very effectively in the first place, with an under $18 million debut, an unmitigated disaster with the film's $150 million budget, and a blitz of advertising.

It's a rare crazy-looking Nic Cage film that audiences actually avoided, as opposed to embracing for some crazy reason (I'm looking at you, Ghost Rider), and as unfair as this potentially is, I'd lay a lot of the blame at Jay Baruchel's feet, who is perhaps too nerdy to even take seriously as a nerd. Disney's attempt to force a new Harry Potterish franchise wasn't well thought out either, and this ended more like an Eragon, except with big name salaries to pay. Give it $10 million for its encore.

Twlight: Eclipse continued its rapid exit from box office relevance with an almost 60% drop last weekend. It still has over $260 million in the bank, but at this rate, the $296 million of New Moon may already be out of reach. It's a franchise that's still wildly (and bafflingly) profitable and a fixed end to it helps, but it's a phenomenon that has seemingly peaked. It should see about $5 million this weekend.

It seems unlikely at this point that Toy Story 3 will be caught as the highest grossing film of 2010 – anything's possible of course, but with a probable final total just north of $400 million, there's no obvious contender to overtake it (the highest grossing Harry Potter film, for example, would be almost $100 million shy). It's a credit once again to Pixar's amazing unbroken streak of excellence in both quality and earning power, that's basically umatched in the film world. For this weekend, Toy Story 3 remains relevant with about $7 million.