Weekend Wrap-Up for July 16-18, 2010
Inception Has Glowing Reception
By Kim Hollis and David Mumpower
July 18, 2010
BoxOfficeProphets.com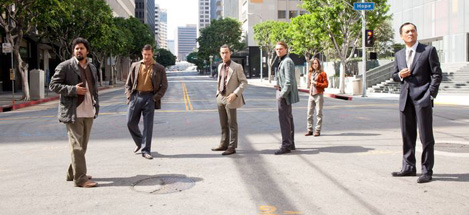 ---
Inception was the huge story this weekend at the box office and the film's performance somehow managed to live up to its hype. Despite some unreasonable expectations placed on it as the de facto sequel to the third most popular domestic release of all time, The Dark Knight, Inception managed to pull off some very impressive box office feats of its own.

$60.4 million is the estimate given to the number one movie of the weekend, Inception. Whether this proves to be as overly optimistic as Depicable Me's way high estimate remains to be seen. What we know at the moment is that 68 films have opened north of $60 million and Inception is projected to be one of them. How impressive a feat is that? Keep in mind that the body of mega-blockbuster debuts occur with the cinematic release of an existing property such as a popular novel (Harry Potter/Twilight) or comic book (Spider-Man/Batman) or television series (The Simpsons/Transformers) or a sequel (most of the 25 biggest openings of all time).

If you are wondering how rare it is for a completely original property with a totally new premise to debut to $60 million, the answer is shocking. Only a dozen new ideas have managed to open to this level of box office. The best debut for a new property is also the biggest film of all time, Avatar; its $77.0 million opening weekend is only the 32nd largest of all time yet the most lucrative for an unestablished property. Among the remaining 11 films, five are Pixar releases, thereby quantifying why their consistent ability to open a movie to this range is particularly impressive. Each time they create a new entity, they are again rewriting the record book in terms of new ideas turning into new blockbusters. Kung Fu Panda also qualifies under this umbrella for DreamWorks Animation.

Removing animated releases further narrows the list down to Avatar plus four other live action titles (The Day After Tomorrow, 2012, Bruce Almighty and Hancock). You will note that two of those are monument porn blockbusters. Only Avatar, Bruce Almighty, Hancock and Signs have previously achieved this level of box office sans any of the ordinary advantages a movie needs to achieve a $60 million debut.

Note that 300 technically does not qualify due to its being based on a graphic novel, but given that the comic in question was relatively obscure outside of its industry, it may not qualify technically but it does under the spirit of my point. Similarly, The Passion of the Christ is clearly based on events of the Bible and that's why I listed Avatar instead of it as the record setter. So, that's the list. There are four, five or six new and original live action movie properties that have debuted to $60 million. The fact that Inception is projected to join this list is a box office triumph even though you will have some people express disappointment in various circles.

How did Warner Bros. accomplish such an impressive debut for an unknown property? Obviously, "from the director of The Dark Knight" helps a lot with the marketing. A sublime cast frontlined by Leonardo DiCaprio doesn't hurt. More than anything else, what I believe aided the film in finding its audience on opening weekend is that Inception was advertised as the Matrix sequel North American audiences wanted rather than the ones they got. The complex physics demonstrated in the action sequences in the trailer all but screams Matrix, and the tantalizing proposition of a Matrix-flavored premise from the "Wanna see a magic trick?" guy drove ticket sales.

What happens next with the project is up for debate. Anyone who has seen Inception already (and if you haven't, go see it or I will personally drive to your home and spit in your food) recognizes that it's a challenging film wrought with complexity that will prove divisive to viewers. The younger crowd looking for new ideas to stroke their cerebral cortex is going to champion this while the body of the older crowd is going to wish the movie didn't talk so much. The reviews and Cinemascore seem to reflect this division as the film is 84% fresh at Rotten Tomatoes (76% among top critics), which is great for an action film but not reflective of a game changer. Similarly, the Cinemascore of B+ is less than I had hoped and also shows that a lot of people find Inception too verbose. I am of the opinion that it will have strong legs and cross $200 million, but that result is far from guaranteed based on available empirical data. Whatever the final result for this project, I believe that Inception is going to become the jumping off point for a lot of brilliant new cinematic ideas over the next few years. Other filmmakers inevitably will attempt to put their own spin on Nolan's sublime implemention of meticulously layered action sequences.

Despicable Me falls from first to second place this weekend, declining a modest 42% in the process. Remarkably, the $32.7 million estimate for its second frame is what had been expected of it on opening weekend. We mentioned above the $60 million list that Despicable Me had been projected to join according to early weekend estimates before it fell quite a bit short. Its $56.4 million actual debut makes it the 16th largest opening weekend for an entirely new property. With $118.4 million already in the bank, Universal has bought a blockbuster thanks to the genius usage of Minions in every possible media outlet. I also have to believe that a Universal Studios ride isn't too far behind. Minions are the new Toy Story Space Aliens.

Third place goes to The Sorcerer's Apprentice, producer Jerry Bruckheimer's latest attempt to violate a beloved childhood memory. Loosely based on the Micky Mouse Sorcerer's Apprentice segment in Disney's animated film Fantasia, which was in turn based on a ballad by Johann Wolfgang von Goethe, the movie was directed by National Treasure's Jon Turtletaub, who went with his go-to guy in the starring role. Yes, Nicolas Cage, whose career includes the highs of The Rock and the aforementioned National Treasure movies as well as the lows of The Wicker Man and Windtalkers, had the starring role. Co-stars included the marvelous Alfred Molina and as the apprentice, Jay Baruchel, who is having a pretty good year thanks to She's Out of My League and his voice work in How to Train Your Dragon.

Bruckheimer has frequently had the Midas touch when it comes to spinning single films into big hits - Pirates of the Caribbean, Bad Boys, Armageddon, The Rock and Crimson Tide were all made under his banner. Recently, though, Prince of Persia: The Sands of Time had only a so-so performance, opening to $30.1 million and accumulating under $90 million to date. The downward trend continues with The Sorcerer's Apprentice, as it opens with $17.3 million over three days and $24.5 million since its debut on Wednesday. Considering that the film had a $150 million budget, this first weekend is...lacking.

What went wrong here? Although the movie looked fun enough, there wasn't really a great hook to draw people into theaters to see it. Cage can attract moviegoers when he's in the right role, but he simply looked ridiculous here. And despite the fact that Baruchel is likable enough, he's not a draw. Had Shia LaBeouf been in the same role, we might be singing a different tune today. Walt Disney Pictures is going to be quite disappointed in The Sorcerer's Apprentice's debut, and may think twice before they attempt to mine their own library for ideas. Oh, wait. Alice in Wonderland made a boatload of money. Never mind. Bring on Tim Burton's Sleeping Beauty.

Next up in fourth place is The Twilight Saga: Eclipse, which is back into freefall after evening out somewhat last weekend. Eclipse dropped 57% to $13.5 million, and has a running total so far of $264.9 million. Even so, it is still trending ahead of where The Twilight Saga: New Moon was after 19 days. That film had earned $255.4 million in the same amount of time, though there is admittedly a difference in calendar configuration for the two films. It will have a bit of work to do to maintain that lead in the coming weeks, since New Moon did show some better holds once it got into the Christmas season.

Toy Story 3 finishes in fifth place, not too far behind Eclipse. The current highest grosser of 2010 (and of all Pixar films to date) earned an additional $11.7 million, falling 44% from last week (one of the stronger holds in the top ten, actually). Thus far, the glorious finish to the Toy Story series has taken in $362.7 million domestically, and is just getting started overseas.

Sixth and seventh place go to Grown Ups and The Last Airbender, the goofy family film from Adam Sandler and M. Night Shyamalan's latest critical bomb. Grown Ups has the best hold in the top ten, dropping 37% to $10 million. The critically reviled but basically harmless film has earned $129.3 million so far, which means that Grown Ups has now passed Sandler's 50 First Dates and has Click's box office total in its sights. The Last Airbender has a better hold than last week, but still falls 55% to $7.5 million. The Paramount film has a total so far of $114.8 million, which is more than seemed likely when reviews destroyed it.

Rounding out the top ten are Predators, Knight and Day and The Karate Kid. After opening solidly last weekend, Predators takes a precipitous drop in this frame. The sequel/reboot from producer Robert Rodriguez earned $6.8 million and fell a drastic 73%. The total so far for Predators is $40.1 million, which is enough to match its budget. Ninth goes to Knight and Day, which drops 52% to $3.7 million. The Tom Cruise/Cameron Diaz action-romance has now earned $69.2 million. And finally, The Karate Kid takes the ten spot, bringing in an additional $2.2 million and falling 59%. The remake of the beloved '80s film is up to $169.2 domestically. If you're wondering, this amount is good enough to beat the original, even when adjusted for inflation.

Overall, the box office is up nicely versus last year, when Harry Potter and the Half-Blood Prince debuted. This year, the top 12 grossed $168 million, 10% more than 2009's top 12 of $152.1 million. Next weekend brings the adult-targeted Salt, starring Angelina Jolie, and the kid-friendly Ramona and Beezus, featuring one of the Disney Channel stars.