Friday Box Office Analysis
By Tim Briody
July 17, 2010
BoxOfficeProphets.com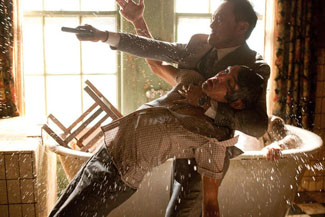 ---
The reception for Inception is without exception.

[tm:4904_]Inception[/tm]

With high awareness, tracking off the charts and rapturous word-of-mouth from those who have seen it, Christoper Nolan's Inception is one of the more intriguing box office stories in a while. After all, the last film he made, an indie darling called The Dark Knight, made a mere $533 million.

The Friday box office take for Inception is $21.3 million, with about $3 million from midnight sneaks. This certainly feels low given the pedigree of those involved but what we have here is a brand new property that is not entirely mainstream and confusing to describe given the advertising. I still don't completely understand it having re-watched all the trailers and TV spots on YouTube.

This opening is a testament to the drawing power that "from the director of The Dark Knight" has. With IMAX also in play here, Inception is lined up for a solid weekend and then some incredible legs over the remainder of the summer. The key point here is the ridiculously positive word-of-mouth it has gotten. Out of everyone I know who has seen Inception, no one has had a single bad word to say about it. Its box office over the next few weeks will definitely be something to watch as The Twitter Effect takes hold. Removing the midnight take from multiplier calculations, expect something above average for the genre, perhaps around 3.3. IMAX certainly keeps this within the realm of possibility. This would mean a weekend of $63.4 million for Inception.

[tm:4829_]The Sorcerer's Apprentice[/tm]

Opening Wednesday, The Sorcerer's Apprentice was an immediate disappointment, earning $3.8 million. The slight consolation is that it earned another $3.2 million on Thursday, giving it $7 million in its first two days. Friday doesn't really improve much on that opening, however, as it earned $5.4 million. Clearly, most parents aren't interested in bringing their kids for this ride on the nostalgia train. Give it a weekend of $15.6 million, and $22.6 million over 5 days.

Notable Holdovers

[tm:4826_]Despicable Me[/tm] falls a rather high 53% from last Friday to $10.1 million. It had a surprisingly low multiplier last weekend (and was overestimated by a few million), but it will have crossed $100 million by the time you read this, thanks to some solid weekday earnings. It's the go to choice for families right now. It should rebound pretty nicely over the rest of the weekend, so look for a second frame of $32.3 million.

Meanwhile, [tm:4972_]Predators[/tm] collapses 79% from last Friday to $2.1 million. Yup, that happened. Call it $6 million for the weekend.