Top Chef Recap
By David Mumpower and Kim Hollis
July 14, 2010
BoxOfficeProphets.com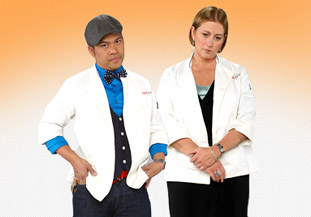 ---
Previously on Top Chef...wait, does Jason do "previously on Top Chef?" Either way, we're slaves to convention, and this is the way we're comfortable doing it. What's important here is that your regular host, Jason Lee, is off performing at the world championships of his sport, which means that you're stuck with us until he comes back and shows off his gold medals. Note that this is not sarcasm. He is in fact a world-class athlete in a relatively unheralded but challenging event. Thus, you're stuck with us doing Top Chef recaps for the next couple of episodes. Conveniently, we like food enough that we eat it several times a day, so everything should work out all right.

Before we get started, we want to make one general comment about the current season of Top Chef. Obviously, the producers of the show would have been greatly challenged to assemble a similar level of talent to last season's final five contestants. Jen was one of the strongest contestants in the show's history, yet she was clearly outperformed by all three finalists - and there aren't enough superlatives in the dictionary to describe the abilities of the Voltaggio brothers. Rather than try and fail to live up to those standards, Top Chef: Washington, D.C. has instead been character driven, by which we mean that they've brought in a bunch of bitchy, dislikable egomaniacs desperate for any scrap of celebrity they can acquire through their Top Chef appearance. If you can't tell by our tone, we're less than enthusiastic about what is proving to be the Real Housechefs of Washington, D.C.

We start tonight's episode with Arnold, who is still celebrating the previous week's Elimination Challenge win. We were a little unsure about him at first, but we were impressed by the fact that he'd primarily been working the front of the house in his recent career, but managed a solid victory against some badass chefs like Kenny and Angelo.

Today's Quickfire Challenge is a great one. Tom Colicchio and Padma Lakshmi have been breeding Top Chef: The Next Generation's hosts, with Tom having an eight-month-old and Padma's baby being three-months-old. They instruct the chefs to create an adult dish that will satisfy their palates, as well as a pureed baby version. Padma announces that the Quickfire is a high stakes challenge, with both Tom and Padma picking a winner that will get $10,000. At this point we see the difference between the various contestants. Arnold wants to help his charity, orphanages in Thailand that work with children infected with HIV. Alex wants to spend it on hookers and blow. Since money will awarded, there will be no immunity.

As the contestants describe their planned dishes, Kenny takes a moment to talk about himself on a more personal level. It's pretty clear that Top Chef is trying to make him the relatable everyman this season, and his cause is furthered when he talks about being a single father because he was widowed when his wife died in a car accident. We presume there will be a Lifetime Movie about it any day now.

The novel contestant this year is Lynne, for two reasons. The first is that she is a teacher at the Culinary Institute of America. Because of this, you figure she's one of the toughest contestants since it's likely that she trains people like the ones we see on the show. She's also 51, which is tough since this show generally is a showcase for younger chefs.

Of course, the real story this season, is Angelo, who won the first three challenges on the show, establishing himself as the clear frontrunner. Along the way, he also has developed a feud with Kenny, as every great hero needs a villain. Angelo actually sandbagged an elimination challenge in a sloppy attempt to get Kenny voted out. This was in Episode 2 of a 14 episode season. He's just that brash. Angelo reminds us of previous winner Hung, except Hung at least had the excuse of being very young. At the age of 34, Angelo just seems like a jerk.

Just as time runs out, Kevin is unable to complete his dish. He's terribly disappointed, because he has a baby on the way himself and really wanted to excel in the challenge. Also troublesome is Tom's obvious disgust when he sees that Kevin couldn't finish the dish.

As far as disappointing dishes, Tom mentions that Timothy overcooked his lamb (for the adults). At this point, Timothy appears to be a middling contestant, and possibly near the bottom, with regards to this year's contenders. Also, there will be no hookers for Alex, as his puree is just too herbaceous and watery. Padma's recent pregnancy has her being much more picky than in previous seasons, and anything less than appetizing seems to agitate her more than it had in the past. She confirms that Kevin is in the bottom group, with a pool of blood that grosses her out. Then, she mentions Kelly's dish, which was flavorless - not a good thing for a chef. Also, Padma found a lemon seed in Kelly's baby food, an unpardonable dish.

At the top are Lynne, who had a well-flavored dish that also broke down nicely for baby food. Tom also likes Tamesha's dishes, which had a baby puree with texture and really tasty licorice oil. Tamesha had commented that she had some experience cooking for a younger sibling, and it translated to this competition. Padma chooses Angelo, who uses something called fenugreek, which, we won't lie, we had to google. Apparently, fenugreek significantly increases the volume of breast milk, making it a genius move on his part. She also likes Kenny's dish, which incorporated bulgar wheat and translated nicely to baby food. Kenny's disgust at Angelo being at the top with him quickly dissipates when Kenny is selected as one of the two winners, along with Tamesha (chosen by Padma and Tom, respectively).

The contestants move quickly on to the Elimination Challenge, which has them designing healthy dishes that would fit well on the menu o the Hilton Hotel. The winning dish will appear on the menu of the D.C. hotel. This challenge is highly unusual in that it is a tiered, tournament-style competition. The contestants are divided into pairs, and they have to start by creating a breakfast dish. Two teams will be safe after that round, and the remaining teams go on to the "lunch" portion of the contest. Again, two contestants will be chosen as "safe" once lunch is complete. Finally, three teams will cook for their lives for the dinner portion of the competition, and one team will be eliminated. That's right. Two people are going home on tonight's episode. Frankly, this seems like a good thing as the contestants are rough enough this season that the show could afford to get rid of some lower level folks.

Immediately upon teaming up, the different contestants seem to start thinking about how their partner has been doing so far in the competition. Those who are linked with people who have been on the bottom, such as Tiffany is with Timothy, are paranoid from the beginning. This also makes her highly motivated and correctly insecure, making this turn of events a mixed blessing.

Remember earlier when we mentioned the greatness of the chefs from Season 6? Well, the chefs from this season walk into the kitchen to find two chefs from last season, Mike Isabella and Bryan Voltaggio, the loser of the two brothers in the finale. Also, Spike Mendelsohn , most recently seen trying to peddle himself as "Spike - like Madonna" on Iron Chef America, is present. Best of all, we have regular judge Eric Ripert, whose presence this season has been the strongest aspect of the show. As arguably the most respected chef in the Western hemisphere, his opinions are informed and his critiques are valid, yet he still manages to be oddly sweet and encouraging no matter how disappointed he is in a particular dish.

The challenge is constructed in such a way that as each round progresses, the contestants who still have to compete become more and more freaked out about whether they can win the next round or be voted out in the end. The breakfast round has Alex and Ed presenting a prosciutto potato cake, egg with lemon pancake and bellini cocktail. These two guys had a huge problem with plating, failing to add one of their ingredients and later on realizing that they also neglected to put cake on one or more of the plates. For what it's worth, Alex specifically blames Ed, fairly or not.

Angelo and Tamesha make an egg, bacon and cheddar broth. Tamesha comments that she has actually eaten a similar meal at Volt, Bryan's restaurant, and is confident she has cooked it just as he would. Immediately, the editing proves her cruelly wrong, as Bryan comments that the egg is overdone (and so do several of the other judges).

Arnold and Lynne's dish is a tortilla espanola with chorizo and bacon, along with an olive-pear salad and papas bravas. You can tell they're in a little bit of trouble when the hotel representative queries them on if they would plate it better if they had put more thought into it. The food isn't bad, but it's not overly impresive, either.

Next up are Kenny and Kevin, who have made a poached egg on herb brioche, prosciutto, manchego and Spanish olive tapenade. The dish is poorly received, with Spike saying it has no texture and Tom commenting that too much is going on. Then we have Amanda & Stephen with their poached egg, pancetta, potato rosti and grape ragout with hollandaise. Everyone seems to like their bacon. If we've learned nothing else from Top Chef, it's that the best dish you can prepare is Bacony bacon with a side of bacon.

Andrea and Kelly have made a bacon, cheddar and wheat waffle, poached egg and mango and a lime and mint yogurt smoothie. Overall, the dish has some problems, from the waffle being too heavy to the smoothie being too sweet. Tiffany and Timothy bring out a crab cake eggs benedict and asparagus and bacon potato hash in hollandaise. The judges generally like the dish, but feel it doesn't even really need the hash.

The winners of the breakfast round seem pretty apparent based on judges' comments, and they haven't led us astray at all. Amanda and Stephen and Tiffany and Timothy are safe from elimination. Kenny and Angelo are all fired up that their teams didn't win, and they're determined to take the lunch rounds. Everyone still competing has a 20% chance of going home, so the stakes are actually higher than they were in the Quickfire.

For lunch, Alex and Ed make sea scallops with ricotta gnudi and broccoli rabe. Gnudi is not a movie about an overachieving Notre Dame gnome football player, but is instead a kind of gnocchi. Also, last time we checked, this show was not called Top Scallop (someone had to say it). The judges enjoy the dish with only a couple of slight, possibly inconsequential criticisms.

Then we have Angelo and Tamesha with slivers of beef and jicama-asian pear salad with mint, cilantro and kimchi vinaigrette. Again, the dish seems to go over well, and the comments about any potential issues are minor. Arnold and Lynne are next, with tuna cannelloni with forbidden rice salad and tomato vinaigrette. The judges say this dish is refreshing, but think it would be difficult to execute in the hotel setting.

Kenny and Kevin have a chickpea pappardelle pasta with grilled chicken and tahini sauce. The problem with this dish is that the chicken gets lost, but Mike Isabella likes the flavor profile and the hummus. Andrea and Kelly create a crispy skin red snapper and panzanella salad with mustard vinaigrette. The worry with their dish is that Eric is a fish expert, and their concerns are well-founded. This is the least successful dish of the evening. Padma comments that if she had gotten this dish at La Bernadin, she would have sent it back, and Eric says he would never have sent it in the first place. Tom is offended that the women used a bag of beans.

Padma announces the lunch winners, and Angelo and Tamesha and Alex and Ed are off the hook. The fact that Alex and Ed win is very significant, because it's apparent from the first several episodes of this season that they are by far the inferior team. They didn't even taste portions of their dish.

The remaining chefs now have a 33% chance of going home with the dinner round. Angelo again takes this opportunity to inform people that he doesn't like Kenny and he hopes Kenny is eliminated. Also, Kenny will not be invited to any party that he throws from now until the end of time.

With all six contestants all but tasting elimination, tensions are at the highest point we can ever remember on the show, and we include finales. Lynne and Arnold turn on each other, as he is surprised by her bitchiness and she begins to teach him like a naive, inexperienced student. Andrea and Kelly have a similar tiff, but quickly realize they'll need to pull together if they want to survive. Kenny's approach is to take control of everything and cut Kevin out of the process completely.

Kenny is optimistic about their prospects, too, as he thinks their braised beef short rib with squash and potato will win over the judges. Kevin states that because the various components of the dish are so familiar to most people, it makes for a good hotel menu item. The judges praise their jus but seem to feel that overall the dish just didn't have enough oomph.

Andrea and Kelly are certain that their dish is awesome and say that there is no way they should be sent home for it. They also have a braised beef short rib, along with polenta, shitake mushrooms and cirtrus gremolata. Spike compliments their rib flavoring, and Mike Isabella says that both teams have nailed the short ribs in his mind. He also notes that Andrea and Kelly's polenta is a bit stiff.

The final dish of the evening is Lynne and Arnold's pineapple red curry mussels with squid ink pasta and focaccia. Arnold figures it's a make him or break him dish. All of the judges agree that the pasta is not cooked enough, but Spike believes that this particular dish made more sense conceptually than the others.

At this point, there are positives and negatives about all three dishes. Anyone could be going home tonight, as far as we can tell. The thing is, there has been a huge rivalry built up so far between Angelo and Kenny, so we're finding it really tough to believe that Kenny could be headed home tonight. As a result, we feel it has to be between the two other teams.

Judges Table has guest judge Nora announcing that the winning team of the evening is Kelly and Andrea, because their flavors stood out over the other dishes. Hmmm. Looks like we were wrong with our anticipated bottom two. There is a 50% chance that Kenny is headed home tonight, and we just can't believe it. Kelly and Andrea get to have their dinner dish on the Hilton Hotel menu, and also win a trip each, one to Venice, and the other to Barcelona. They're both totally psyched, of course. (If they somehow managed to take the trips together, they could be double winners!)

Padma addresses the losers and asks them if they were happy with the outcome. Lynne says that she believes the flavor was good, but thinks the pasta may have been undercooked (which the judges agree with). Arnold looks at her like she's throwing him under the bus and says that he believes the food was cooked perfectly. Clearly, they're at odds with each other, but Arnold is fully standing behind his dish. Lynne is more uncertain.

Tom tells Kevin and Kenny that the glaze seemed to be lacking in comparison to Kelly and Andrea. Comparatively, their dish had too much meat and not enough sauce - which is a problem when you made the same dish as another team. When Tom asks the pair why they should stay, Kevin states that their dish was specifically targeted to the hotel guest, and that it tasted great. Both Kevin and Kenny completely stand by their dish and present a united front.

For Lynne and Arnold's part, they can't seem to agree on whether the dish was the best option they could have presented. While Arnold is enthusiastic about what they've done, Lynne seems resigned to her fate as one of two chefs about to be eliminated. Along with their undercooked pasta, there seems to be some question as to whether this type of dish would appeal to a typical hotel guest, and this is Lynne and Arnold's undoing. They are in fact eliminated, whether it's because their dish was worse than Kenny and Kevin's or because they didn't work well together or whether it was simply due to the fact that the show is better if Kenny stays. We'll miss Arnold because he was upbeat and positive, but Lynne was morose and grim pretty much throughout the show. We would have expected more from a instructor from the Culinary Institute, frankly.