Weekend Wrap-Up for July 9-11, 2010
Despicable Me Is Huge
By John Hamann
July 11, 2010
BoxOfficeProphets.com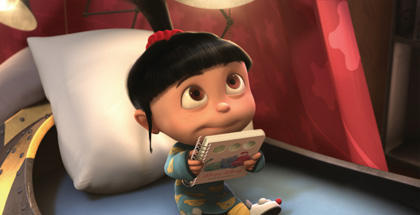 ---
After a blowout win in the last frame for The Twilight Saga: Eclipse, we theoretically had a much closer race at the box office this weekend. New openers were competing for a completely different demographic. The first, Despicable Me, is another animated 3D film aimed at kids and families, and the other, Predators, is a violent, R-rated sci-fi sequel. On the flipside of the movie showdown was a fight for a seasonal foothold between summer-struggling major studios, Universal and Fox, who have been light on the hits during the silly season.

It's one of those strange weekends, one of those frames where just when you think you've got it all figured out, boom, the box office surprises. Heading into the weekend, tracking was calling for a $30-35 million opening for Despicable Me, Universal's shot at the 3D animation market. That sounded about right, too. Despicable Me was a non-sequel, with no built-in audience, relying only on a solid marketing plan and the voice of Steve Carell. Predators was tracking at only $20 million, which must have made the suits at Fox somewhat nervous, as Predators could be a strong reboot to a sullied franchise. I had last weekend's openers, Eclipse and The Last Airbender, being nuked from space with hefty drops approaching the 60% level. I had Toy Story 3 softening with the onslaught of Despicable Me, and I had Grown Ups heading for the top ten exit. I was wrong on all counts, save one - we can always count on the implosion of an M. Night Shyamalan flick.

Our number one film of the weekend is Despicable Me, the new Universal flick that was supposed to open to around $30 million. Once again, tracking firms will have new help wanted ads out by Monday, as their numbers were simply obliterated, faster than one can whine that figuring out family movies is hard. Despicable Me doubled expectations (no, we're not talking 10%), earning a very powerful $60.1 million from only 3,476 venues, about 1,500 of those 3D screens. The result gives the Despicable one a venue average of $17,285, which is fantastic news for theater owners. The weekend take gives Universal their biggest gross since Fast & Furious opened 15 months ago (in April 2009) to $71 million, which was also a big surprise. Despicable Me is the biggest family film ever for Universal, unless we consider Bruce Almighty ($68 million opening) or The Lost World: Jurassic Park ($72.1 million opening) to be family films. Throw in the Bourne Ultimatum ($69.2 million opening) and Hulk ($62.1 million opening), and we have a list of the only Universal films ever to open bigger than the supposed-to-be-small Despicable Me. "Wow" is the word you are reaching for.

How did the non-sequel animated movie, breakout so well? Simply put, Despicable MeIt is a solid movie, with an opening enhanced by a fantastic marketing plan. The first teaser trailer showed up at theaters a year ago, when Harry Potter and the Half-Blood Prince debuted. It bounced around as several different incarnations, before being attached to How to Train Your Dragon when that film opened in March of this year. Since then, Universal has made an effort to get it in front of Toy Story 3 and Shrek Forever After. It's important to remember that a 3D release will have some 3D trailers, and Despicable Me is no exception. Having your trailer attached to Alice in Wonderland, Toy Story 3 and the latest Harry Potter puts it in front of more than a billion dollars in ticket sales. Universal also made a very good movie. At RottenTomatoes, 120 reviews were counted, and of those, 96 were fresh, giving it an 80% fresh rating. The "top critics" scores were even better at 88%, and those reviews would have been seen by a much wider audience. Despicable Me now has a wide open playing field in which to work, as the Cats & Dogs sequel doesn't open until July 30th, and even that won't be much of a worthy opponent for Gru and his Henchmen.

Despicable Me gives Universal a much-needed shot in the arm, as they have been struggling domestically so far this summer, and struggling in general for more than a year. Summer releases so far for Universal include MacGruber, which failed to earn more than $10 million, Robin Hood, which barely managed to earn $100 million, and Get Him to the Greek, which failed to match the domestic total that its predecessor, Forgetting Sarah Marshall, put up in April 2008. It also helps soothe the memories of a summer ago, when the studio had bombs that included Land of the Lost, Bruno, and Funny People. With Little Fockers in December and a Nanny McPhee movie still to come this summer, Universal may have turned their fortunes around with a family film, of all things. Despicable Me cost Universal only $69 million to make, a figure this one will have earned by mid-week.

Finishing second this weekend is The Twilight Saga: Eclipse, last weekend's big winner. After an odd July 4th frame where Eclipse earned more on its first day ($68.5 million) than it did over its first three-day weekend ($64.8 million), I expected a huge plunge for this one in the 65% plus area, as it seemed like Eclipse has peaked after its first Saturday. In the end, Twilight: Eclipse manages a second weekend gross of $33.5 million, giving it a not bad drop of 49%. Let's face it. The decline could have been a lot worse, so it's at least better than expectations. After 12 days, the second film in the franchise, New Moon, had earned $235.7 million. Twilight: Eclipse has a remarkably similar $237 million. The difference is in the budget, as the second film cost Summit $50 million to make, where the third cost $68 million. Whatever the case, Summit can fund an entire slate of movies off the international grosses alone from this series.

Third spot in the chart goes to the 20th Century Fox sequel, Predators. Expected to be a $20 million opener, Predators is another big success this weekend, as it also defied the soft tracking scores. Predators ended up opening to a larger-than-expected $25.3 million, from only 2,669 venues. That gives it an excellent average of $9,479, and more good news for theater owners. This franchise is a bit of an odd duck, as it really is the third film in the franchise, but the second film was released 20 years ago - and flopped badly. Since then, there have been two Alien vs. Predator films, both of which were successful. The first AVP opened to just short of $40 million, and earned $80 million domestic, but was huge overseas, giving AVP a worldwide gross of $172 million against a $70 million budget. While the opening for Predators couldn't match the first weekend of AVP, it wasn't expected to. What Fox needed here was a decent-sized hit, so that the franchise could mature again into something bigger. Fox brought on Robert Rodriguez (Sin City, Spy Kids) to produce, as he can deliver a decent action film on the cheap. And it was decent, earning a 65% fresh rating at RottenTomatoes, and from what I've heard, fans of the franchise like it as well. It was also made at bargain prices. Predators cost Fox only $38 million to make, so this is going to be a huge win for the studio.

Fourth goes to Toy Story 3, which refuses to stop. The Disney/Pixar three-quel, despite stiff new competition from the evil Gru and the 3D Despicable Me, continued to charge forward, earning $22 million and dipping a not bad 27%. The animated toy fest not only had a decent weekend, it also had a fantastic week, as it earned $12.8 million on Monday, July 5th, which was $1.3 million more than it earned on the previous Saturday. It earned just short of $30 million from Monday-to-Thursday this week, and crossed the $300 million mark on that big Monday, its 18th day. It becomes the sixth fastest film to reach $300 million, and now has $340.2 million in the domestic kitty. A $400 million domestic total for Toy Story 3 is definitely not out of the question, and the Pixar creation has already earned $165 million overseas. It also surpassed Alice in Wonderland yesterday to become the top grossing film of 2010 in terms of domestic box office. Huge isn't the word for it.

Fifth goes to last weekend's number two film, The Last Airbender, but like the last few M Night Shyamalan flicks, the bottom has dropped out in the second weekend. After a winning three-day gross of $40.3 million over the holiday frame, Airbender got hammered this weekend, grossing only $17.2 million and dropping a severe 57%. It's at least better than The Happening, Night's last film. That one opened to $30 million before dropping 66% to $10 million in its second frame. The $150 million Last Airbender somehow managed to cross the $100 million mark on Sunday, and now has a domestic gross of $100.2 million. I guess Shyamalan will continue to get work.

Adam Sandler's Grown Ups falls to sixth this weekend, but that's where the bad news ends. Now in its third weekend, the comedy somehow sees a relatively tiny drop of only 14% (this is Adam Sandler, right?) as Grown Ups earns a very respectable $16,4 million. Grown Ups now has a legitimate shot at finishing as one of the higher-earning Sandler films – it may not catch the $163 million that Big Daddy and The Waterboy earned, but will at least finish as his biggest since The Longest Yard, which had a domestic total of $158 million. So far, Grown Ups has earned $111.3 million.

The bloated Fox release Knight and Day lands in seventh, and also has a better frame than last weekend, when it fell 48% following its soft opening. The Tom Cruise flick earned $7.9 million, and a better drop to 25% is really just lipstick on a pig. Knight and Day cost Fox and its partners $117 million to make, and has a domestic gross so far of only $61.9 million. This better be World Cup big overseas.

The Karate Kid is eighth, as the now five-weekend-old Sony flick loses some steam. The Jaden Smith/Jackie Chan flick took in another $5.7 million and dropped 29%. The Karate Kid has now earned more than four times its production budget domestically, and has a running total of $164.6 million.

Ninth goes to The A-Team, as the Fox product just wants the misery to end. This weekend, the $110 million A-Team earned $1.8 million and was off 44%. This is another big picture that needs big business overseas if it hopes to stay in the black. Predators may have worked for the studio, but Knight and Day and The A-Team are knocking the studio down this summer.

Finally in tenth is Cyrus, the art house comedy starring big names like Jonah Hill, John C. Reilly, Marisa Tomei and the lovely Catherine Keener. Now out to 200 venues, Cyrus earned $1.4 million, and was up from last weekend by 78% when it was playing in only 77 venues. Cyrus, with its $7 million production budget, has now earned $3.5 million.

With a remarkable six films earning more than $15 million this weekend, we end up with a very lucrative frame compared to last year, especially since Despicable Me and Predators brought in about $40 million more than tracking indicated. This year's top 12 comes in at $192.6 million, putting it well ahead of last year, when Bruno disappointed. Last year's top 12 earned $155.4 million, which means that 2010 wins by 24%.

Next weekend throws us a serious curveball, as Inception opens (and The Sorcerer's Apprentice, but who cares about that one?). Inception has been called a masterpiece, but looks way too thought-provoking for traditional summer audiences. It comes from the great Chris Nolan, who gave us the biggest opener ever in The Dark Knight. Let's see if Inception becomes one of those great films that doesn't do great business.