Weekend Wrap-Up for July 2-4, 2010
Total Eclipse of the Box Office
By Kim Hollis and David Mumpower
July 4, 2010
BoxOfficeProphets.com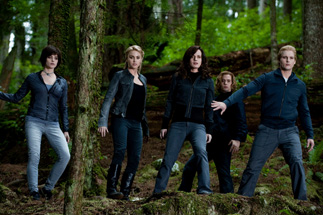 ---
All eyes were on vampires, lycanthropes and ambivalent teen girls this week as the latest Stephenie Meyer adaptation, The Twilight Saga: Eclipse entered theaters. What has transpired has been a bumpy ride for box office analysts as the film's performance has been all over the place. Midnight exhibitions of the latest adventures of blood-sucking Edward, shirt-removing Jacob and icon-of-angst Bella Swan were record setting. The franchise had earned $30 million before creatures of the night had returned to their coffins that evening.

Within 24 hours, Eclipse had accrued $68.5 million, giving the Twilight franchise the two biggest single days of box office ever. New Moon still held the record by $2.3 million, but its performance occurred on a Friday whereas Eclipse opened on Wednesday. In its own way, Eclipse had the more impressive opening day and expectations were raised for the next four days. Alas, Eclipse has faded a bit since then. After a respectable but unimpressive $24.2 million on Thursday, Eclipse had $92.7 million in the bank before the weekend started. Surprisingly, that total represents more than half of what the Summit Entertainment release has earned after five days.

The number one film in North America this weekend is of course The Twilight Saga: Eclipse. The margin of victory is less significant than anticipated, though. Eclipse earned an estimated $69.0 million over the three-day weekend period. If that number holds, this is the worst opening of the three Stephenie Meyer films to date. Yes, it is misleading in that early adopter demand was met before the start of the weekend. Yet, it is still fair to say that Eclipse's five-day performance is a bit of a disappointment. Consider that New Moon earned $164.7 million over its first five days in theaters with two of the included days being a Monday and Tuesday. Eclipse has been released during a lucrative box office period yet managed "only" $161.7 million.

Does this mean that the Twilight brand has been diminished in some way? Absolutely not. The Harry Potter franchise experienced the same fate when Harry Potter and the Goblet of Fire, a November release, debuted to $102.3 million, still a record for that series. Then, Harry Potter and the Order of the Phoenix, a July release, managed "only" $77.1 million in its debut. Pertinent information about this is that Order of the Phoenix had a final domestic tally of $292.0 million, thereby edging Goblet of Fire's $290.0 million.

We should also keep in mind that there is another important comparison model for this scenario. As we chronicled earlier in the week here at BOP, Spider-Man 2 followed the same release pattern as Eclipse and it also faced the same July 4th on Sunday calendar configuration. That film had an opening weekend of $88.2 million, which seems to be inferior to the original's then-record $114.8 million debut. Spider-Man 2 had a five day tally of $152.4 million, however, which exceeds the $135.8 million the original managed. It also bears noting that Spider-Man 3 had an opening weekend of $151.1 million, yet its final domestic box office of $336.5 million falls short of Spider-Man 2's 373.5 million.

If all the data makes your eyes glaze over, reduce the above to this. Early behavior over the July 4th holiday is in no way indicative of final performance for a title. Spider-Man 2 went on to run very well due to its exceptional word-of-mouth. Eclipse certainly does not have that pedigree, but its 63% fresh rating among top critics at Rotten Tomatoes might as well be an Academy Award for Best Picture compared to New Moon. If you want an opinion on the future of Eclipse, ours is that the movie will be heavily frontloaded and eventually fall short of New Moon's $296.6 million. For the moment, there is no data that demonstrates this irrefutably, though. What we do know is that Eclipse has earned back its budget (and then some) in only five days of release. It is the third consecutive Twilight blockbuster and once again makes Summit Entertainment look brilliant for acquiring the franchise on the cheap.

Despite horrific reviews and word-of-mouth, The Last Airbender does manage to muscle its way into second place with a solid $40.6 million from Friday-to-Sunday. Its total since its Thursday opening is $57 million. Clearly, the M. Night Shyamalan flick had plenty of built-in audience from the kids' show that continues to air in reruns even now. Since Twilight is obviously targeted solidly at females, Paramount had the young male demographic all to itself. The fact that the ads were touting the film's 3-D couldn't have hurt, either (at least not until people saw it and denigrated it).

The studio is probably going to have to be happy with just one good week and then a steep drop-off to follow. The Last Airbender was absolutely shredded by reviewers, earning only an 8% fresh rating (and a similar 7% from Top Critics). Even worse, audiences agree. Opening weekend crowds "awarded" The Last Airbender a pathetic C Cinemascore, which is generally a terrible sign for word-of-mouth. In theory, the dedicated viewers who make an effort to see a movie in its opening weekend are more enthusiastic. People are simply saying "blah" to The Last Airbender. Or even "Why, God, why?"

What does this mean for Shyamalan, who wrote and directed the film? Well, the good news is that The Last Airbender did have a stronger opening than The Happening, and in fact will probably surpass that movie's domestic total by Friday or so. Even so, studios are not going to be overly enthusiastic to hand over the reins to Shyamalan for properties that could possibly become franchises. If The Last Airbender falls next weekend like its word-of-mouth indicates it should, Paramount will certainly think twice about a sequel. $150 million is just too steep a price tag for the risk.

Third place goes to Toy Story 3, which saw its numbers drop due to competition from July 4th family activities. The rapturously reviewed Pixar film added another $30.2 million to its coffers, a drop of 49% (which is actually tied for strongest amongst all of the holdovers, believe it or not). Thus far, Toy Story 3 has earned $289 million and will pass the mighty $300 million mark within the next couple of days. It's hard to envision a scenario where Toy Story 3 does not beat Alice in Wonderland's total of $334 million to become the biggest grosser of 2010 releases, and the only movies that have a chance to challenge it are Harry Potter and the Deathly Hallows Part I (and it would have to show a significant increase over Half-Blood Prince's $300 million to do so) or something odd, like December's big 3-D effects extravaganza Tron (which is a sequel to a cult classic more than anything). If we're talking about money earned in 2010, though, it's not going to approach Avatar, which just kept earning and earning and earning.

Toy Story 3 is also all but certain to become Pixar's biggest release ever, beating Finding Nemo's $339.7 million. The Academy Awards buzz is already starting for the instant animated classic, particularly since the first half of 2010 has been awfully low on potential candidates for Best Picture, as Entertainment Weekly detailed in their latest issue.

The star-power-driven tandem of Grown Ups and Knight & Day rounds out the top five this week. Last weekend's new releases experienced similar fates over the holiday weekend. Sony's Grown Ups fell 54% from its solid $40.5 million debut to an estimated $18.5 million. This is a better hold than Adam Sandler experienced with his most recent release, Funny People, a movie that fell 65% in its second frame and was already in single digits by that point. It is right in line with other Sandler movies that opened to a similar scale such as Click (50.2%), The Longest Yard (45.2%), 50 First Dates (48.7%), and You Don't Mess with the Zohan (57.5%). With a running total of $77.1 million, Grown Ups is a slam dunk to become Sandler's 11th (!) $100 million blockbuster.

Meanwhile, Tom Cruise is angling for his 16th $100 million winner (17th if you count his cameo in Austin Powers in Goldmember, which we clearly do not) and he will have to keep on trying. The spy thriller that reunites him with Vanilla Sky co-star Cameron Diaz fell 49% this weekend from $20.1 million to $10.2 million. After a dozen days in release, the Fox release has a running tally of only $45.5 million against a production budget of $117 million. It will fall far short of the $100.6 million that Cruise and Diaz managed together in their prior union. The good (ish) news here is that both stars are popular abroad with the film's international receipts thus far almost mirroring its North American tally. It may yet prove to be a profitable project, albeit nowhere near what was anticipated for the project.

Sixth and seventh go to two '80s remakes that have been oddly linked since their release on June 11th, The Karate Kid and The A-Team. As has been the case throughout their theatrical runs, The Karate Kid easily outperformed The A-Team, earning a decent $8 million. This is a 49% drop, but again, this number is good enough to tie Toy Story 3 and Knight and Day as the best hold in the top ten. So far, the Jaden Smith/Jackie Chan kung fu movie has earned $151.5 million, well ahead of its $40 million budget. As for The A-Team, it fell 51% to $3 million, bringing its overall domestic total to $69.1 million. Its profitability situation is quite different than The Karate Kid's since the budget for The A-Team was a bloated $110 million. The film is probably going to be okay once international receipts and home video are added in, but a franchise starter this is not.

The bottom of the top ten this holiday weekend is comprised of a couple of lingering products and a limited release. Get Him to the Greek, the spin-off from Forgetting Sarah Marshall, fell 62% to $1.2 million, the first time during its five weekends in release that it is off more than 50%. It has a running total of $57.4 million against a modest production budget of $40 million. This was a good decision by Universal.

On the other hand, Shrek Forever After continues to hang on despite being well past its expiration date. We appear to be at the end of the road for the ultra-rich ogre, though. An estimated $799,000 this weekend means that the DreamWorks Animation project is down 74% from last weekend. Stuck at $232.5 million, it has cemented its status as the least lucrative Shrek release, but the situation could have been a lot worse had the film not found new life after opening weekend. Even as a project with a $165 million budget, it is going to finish in the black, but the Shrek brand has been lessened quite a bit by the last two movies. A break of several years is sorely needed.

Finally, Cyrus rounds out the top 10 as the Fox Searchlight tale of social awkwardness earns $770,256 from only 77 exhibitions. This is a per-location average of $9,974, trailing only the new releases in the top ten. Cyrus has current box office of $1.5 million after three weeks in release. The quirky project starring Catherine Keener, John C. Reilly, Marisa Tomei, and Jonah Hill is proving to be a pleasant surprise on the arthouse circuit.

Overall, the July 4th weekend in 2010 has beaten the same holiday weekend in 2009 by 18.5%. What we can learn from this is that vampires and airbenders have it all over dinosaurs and John Dillinger. This year, the top 12 earned $184.3 million, while last year's group of films took in $155.5 million. Next weekend brings the so far 100% fresh at Rotten Tomatoes Despicable Me, an animated film from Universal starring Steve Carell, and Predators, the Robert Rodriguez-produced reboot/sequel to the action-horror franchise.