Daily Box Office Analysis for July 1, 2010
By Kim Hollis (Team Edward) and David Mumpower
July 2, 2010
BoxOfficeProphets.com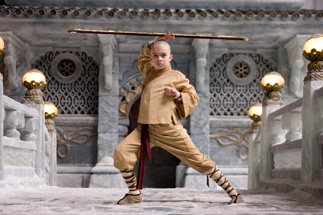 ---
A (very) surprising number of people wanted their air bent yesterday at the cineplex. Despite some of the worst reviews of 2010, a god-awful year in terms of movie reviews, The Last Airbender debuted to $16.3 million, including $3 million from midnight sneaks. This is a hearty, almost G.I. Joe-ish number, considering that die hard fans of the series left the theater asking how it could be legal for M. Night Shyamalan to rape their fond memories of the television show. We're not exaggerating for effect, either. Cinemascores indicate that early adopters for the movie gave it a lowly C rating. This is like when Regis Philbin describes something as "pretty good." In other words, we believe word-of-mouth is going to destroy this feature in short order, a la Friday the 13th, Sex and the City 2, or, most fittingly, The Happening.

What is reinforced by this opening day result is that Shyamalan's name above the title continues to mean something to customers who remember the glory of The Sixth Sense and Signs and choose not to focus on everything that's happened since. Actually, when we look back on Signs, it may prove to be the new axis of evil. As Mel Gibson gets caught on tape, Shyamalan's films continue to disappoint, and Joaquin Phoenix is off doing whatever you'd describe his various acts of performance art as being.

In terms of what we expect from Friday box office, don't be surprised if the total barely matches or falls short of Thursday's number. Working in its potential is holiday inflation from those U.S. filmgoers who use Friday as a floating holiday. However, it's going to lack the $3 million in midnight sneaks. The Last Airbender could be the rarest of rare Thursday one day wonder. We're not expecting that to happen, but can't dismiss the possibility.

The other big news from Thursday's box office is that The Twilight Saga: Eclipse (theoretically) fell from $68.5 million to $24.2 million. As we warned yesterday, this is misleading. In reality, the film fell from $38.5 million in its Wednesday non-sneaks debut, a decline of 38%. This is an acceptable day two performance for a mid-week release. Yes, it is sexier to describe Eclipse as falling a whopping 65%, but BOP chooses to deal in real numbers. What has happened with Eclipse is that it started with $30 million in overnight sneaks, then earned $38.5 million and $24.2 million in its first two days. It will have broken $100 million by the time you read this today, and should see a solid uptick from Thursday to Friday. In terms of overall weekend behavior, the July 4th Sunday should come into play, and we'll discuss that in more detail in tomorrow's update.