What's Next
By Michael Lynderey
June 28, 2010
BoxOfficeProphets.com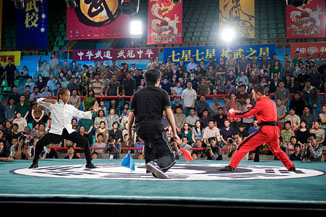 ---
As The Karate Kid proceeds to gobble up the box office, I've been mightily disappointed that the past two weeks saw not a single new Jaden Smith vehicle announced, except for some vague rumblings about the obligatory reboot of the Karate sequel (how do these characters manage to get themselves involved in the exact same situation over and over again?).

To give Smith credit, it is he who brings me to this week's first topic of discussion - that of the breakout rising stars that every summer movie season is expected to spotlight. As every good pre-new decade year should do, the summer of 2009 introduced a barrage of stars (Chris Pine, Zoe Saldana, Bradley Cooper, Zach Galifianakis, Betty White) who were then immediately cast into a multitude of upcoming roles. On the other hand, the summer of 2010 has offered few breakouts, at least so far - threatening to turn this column into a sort of What's Not Next.

But, as we're at the year's mid-point, it seems appropriate to review - and overanalyze - what fruits each of the summer's offerings has borne, and what they might mean for the future of cinema:

Iron Man 2 ($306 million) - Disappointment to those expecting a Dark Knight repeat, but a sturdy enough total number and decent-if-not-glowing reviews ought to mean they'll get to work on the third film sooner than later, and try to end with a bang. Wouldn't expect it earlier than 2013, though (The Avengers is taking up all of Tony Stark's time in '12). As for the stars: Downey is riding high still, with a plethora of quirky blockbusters on the way (Sherlock Holmes 2, that Wizard of Oz prequel), while Cheadle, Paltrow and Johansson may go back to small films. Mickey Rourke, for his part, looks apt to continue delivering high-profile character work in action films (The Expendables seems slightly inspiring).

Shrek Forever After ($229 million) - The sub-$250 million total here ought to keep that "Final Chapter" promise very much intact (no "New Beginning" or "Shrek Lives!" in this series' future, I think). But the Puss in Boots movie is still headed our way in November 2011, and other spin-offs aren't out of the question. The real fate to ponder here is that of Mike Myers, who may not be seen, or heard, on screen for quite a few years more. Inglourious Basterds-type supporting work may be his key back. Another Austin Powers film would not be.

Toy Story 3 ($226 million) - It's increasingly likely that Pixar will trump Alice in Wonderland and rule as king of the box office year. But what does Toy Story 3 leave for the future? None of the actors are breakout star material at this point, and a Toy Story Fourever (in 3D!) seems to be out of the question. Inspiring Pixar to focus on sequels could have been this film's legacy, but they've been heading in that direction anyway, in between Cars 2 and the Monsters, Inc. follow-up. So if Toy Story 3 isn't even going to be the cause of any unhealthy cinematic trends, what was the point of making it, anyway?

The Karate Kid ($135 million) - The aforementioned Jaden Smith will surely headline another film by 2011's end, and Jackie Chan will get to remake The Spy Next Door a couple more times, but the real winner (or loser) here is the 1980s: inspired by the possibly nostalgia-fueled boffo box office on this one, reboot-friendly titles will be ravenously snapped up and put under the knife. Oh yeah, and we'll surely get that sequel, whether we want one or not ($70 million opening, next time?).

Robin Hood ($103 million) - All things considered, Robin Hood has somehow ended up besting every single other summer action movie, save for Iron Man 2. That said, studios will probably take caution when headlining these pricey Ridley Scott-Russell Crowe collaborations, and historical epics aren't going to see much of a revival. As for Cate Blanchett, she'll go back to her natural habitat: December, where the only expectation for her films will be that they deliver Oscar nominations rather than box office - and that's something she's never had a problem scoring.

Sex and the City 2 ($93 million) - That's still a respectable number, when you think about it, but I'd expect the series to be just about finished, at least on the big screen (though rumblings about high school-set prequels are afoot, because who wouldn't want to see that?). At the moment, Parker, Cattrall, Nixon, and Davis have no solid follow-up projects, at least on the big screen. Make of that what you will.

Prince of Persia: the Sands of Time ($86 million) - Despite hefty oversees grosses, it doesn't look like PoP will make for much of a franchise, and Jake Gyllenhaal appears to be safely retreating to films that are considerably less action-oriented (Love and Other Drugs?). His co-star, Gemma Arterton, did double duty on fantasy epics this year (see also Clash of the Titans), but she's got no more of those lined up so far. Basically, it looks like everyone's learned their lesson.

The A-Team ($62 million) - While the prospect of The A-Team 2 is pretty much off the table, the cast won't suffer the consequences: Bradley Cooper's got The Dark Fields and The Hangover 2 lined up for 2011, and Liam Neeson will never face the unemployment line. District 9's Sharlto Copley has no solid upcoming projects quite yet, but it's not like they're going to blame the box office failure here on him, right? Right?

Get Him to the Greek ($54 million) - That number certainly isn't staggering, but it's going to keep Jonah Hill and Russell Brand afloat. It's their next projects that'll tell the tale: Brand will headline the Arthur remake, and Hill will cover next summer's Adventures in Babysitting reboot (while I can't be positive - it's entirely possible, if not certain, that they've got some non-reboot projects lined up, too).

Letters to Juliet ($49 million) - Amanda Seyfried really proved herself with this one, and it looks like she's picking a more unconventional path than her co-occupationist, Katherine Heigl; up next for Seyfried: a possibly R-rated version of Red Riding Hood, scheduled for April 2011 and presumably deferring from the typical romantic comedy format.

Killers ($44 million) - Bad reviews and a middling result were the order of the day here, but that won't be fatal for either Heigl or Ashton Kutcher: she's teaming up with Josh Duhamel in romantic drama Life as We Know It, scheduled for October, while Kutcher'll be matched with Natalie Portman in an Ivan Reitman comedy early next year. So, they've both found other partners and moved on.

Marmaduke ($30 million) - While this talking canine epic certainly won't help anyone involved (especially not William H. Macy), it surely won't kill the generally lucrative pet misadventure genre, and a straight-to-video Marmaduke 2 is definitely not out of the question (in case anyone is hoping for one). As for the box office, people were clearly just holding out for Cats & Dogs 2.

Jonah Hex ($9 million) - In between Wall Street 2 and Men in Black III, Josh Brolin will survive, and John Malkovich will have a home wherever villains are needed. It's Megan Fox whose fate is in question: her one completed film, Passion Play, doesn't sound much like a wide release, and with Transformers 3 having excised itself of her presence, she's got no sure things lined up. As for poor old Jonah Hex himself, just getting a film adaptation to his name must have been a win.

MacGruber ($8 million) - That MacGyver remake is looking more and more appealing by the day. And when will we see the next SNL film, I wonder? Couldn't be any later than 2050.