Weekend Wrap-Up
Sandler Strong, Cruise Not Against Toy Story 3
By John Hamann
June 27, 2010
BoxOfficeProphets.com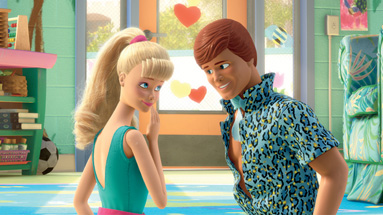 ---
It looked like it was going to be a huge weekend at the box office – there was an action flick with Tom Cruise and Cameron Diaz versus a lowbrow comedy starring Adam Sandler and Kevin James. Knight and Day, the Cruise/Diaz flick, should have been good for $60 million or so over three days, and Grown Ups, the comedy with a bevy of Saturday Night Live alums plus Paul Blart himself, could have broken out for $45 to $50 million. Along with those two new films, we also had the second weekend for Toy Story 3, where it followed the frame in which it broke the record for June openings with a $110 million debut. If you've caught on to my could haves and would haves, you know something missed this weekend, and I'll tell you now that this failure didn't involve Toys or Grown Ups.

Our number one film of the weekend is again the glorious Toy Story 3, as again Pixar thankfully brings quality back to the summer box office. After a stunning $110 million opening frame where the toys beat expectations by as much $10 million, I was expecting some heavy pushback on the numbers over the sophomore session. Why? Toy Story 2 fell 52% over its second frame a dozen years ago, moving from a $57.4 million opening to a $27.8 million follow-up. Now, that was way back in 1999, a time when no film had opened to $90 million, let alone $110 million. Shrek 3 fell 56% in 2007 over its second frame, moving from a Toy Story 3-ish number ($121.6 million) to $53 million in its second weekend. While these are good examples, this is no longer the world we live in, with the advent of 3D technology, and the price increase that follows it. Alice in Wonderland, despite debuting with a huge $116 million, kept its second weekend drop low, at 46%. Shrek Forever After, which admittedly opened to a much lower $70 million, and fell only 39% in its second frame, thanks to 3D, and of course the Memorial Day Weekend. Though we are still infants in the new box office world of 3D, the early trend is indicating decent legs into the second frame for family 3D movies, regardless of the girth of the opening frame.

So, after its terrific $110 million opening weekend, Toy Story 3 earned another $59 million this frame, and shows Disney and Pixar the long term bounty this film will achieve. The weekend-to-weekend drop comes in at a decent 47%, and has to be thought of as a big win for all involved. Disney and Pixar will be giving up some of those valued 3D screens over the next few weekends, as the next frame brings the live action The Last Airbender (when Toy Story 3 will likely have a $45 million weekend), which will then be followed by Universal's Despicable Me on July 9th (when Toy Story 3 will likely have a $30 million frame). I don't think The Last Airbender is any concern for Toy Story 3, as when Clash of the Titans opened to $61 million, the two-weekend-old How to Train Your Dragon fell only 34%. Despicable Me will likely be a different opponent, as the audience, regardless of 3D, will be the same as Toy Story 3, and therefore have an impact.

Toy Story 3 crossed the $200 million mark on Saturday, its ninth day of release, a day faster than the larger opening Shrek the Third did in 2007. Toy Story 3 joins the first Spider-Man and Spider-Man 3, along with Pirates of the Caribbean: At World's End, as the films that have earned $200 million in nine days. Four films have earned $200 million in eight days, and The Dark Knight and Transformers: Revenge of the Fallen did it in five days. Toy Story 3 will easily make $300 million domestic, and appears able to become a $350-$375 million film without a lot of effort, but let's wait and see the impacts of the upcoming 3D releases. After ten days, Toy Story 3 has accumulated a fantastic $226.6 million, and is just getting started overseas.

Finishing in a somewhat surprising second is Grown Ups, the new film from Adam Sandler and friends. Sandler is busy trying to make his fanbase forget his last two acting choices, the adult Funny People and the juvenile Bedtime Stories. With Grown Ups, Sandler chooses a quasi-family film, and surrounds himself with his old cohorts, many of them from his Saturday Night Live days and early film work. The move definitely paid off, as Grown Ups earned $41 million from 3,534 venues. It had an average of $11,602. As is typical for Sandler, this flick did not work with the critics, as it came it at only 8% fresh at RottenTomatoes with only eight positive reviews (Armond White, natch) out of a possible 103. Somewhat surprisingly, that's even lower than Little Nicky, but I don't think Sandler fans will care.

This opening is right in Sandler's wheelhouse, or at least the wheelhouse that came before Funny People ($23 million opening) and Bedtime Stories ($27.5 million opening). It is more in tune with You Don't Mess with the Zohan ($38.5 million opening) and I Now Pronounce You Chuck and Larry ($34.2 million opening, also with Kevin James), and in line with a few of his biggest, The Longest Yard ($47 million), Big Daddy ($41 million) and Click ($40 million). Despite 20 years passing since the start of Sandler's career, his fanbase is still following him when he makes certain movies, and in my opinion there is something admirable about that. With star power definitely waning in Hollywood (see Knight and Day), Sandler can still make big money for a studio, as this one likely cost $70 million, and should make at least $100 million domestically for Sony, followed by another $100 million overseas.

Third goes Knight and Day, the expensive action flick with Tom Cruise and Cameron Diaz that opened softly on Wednesday tried to get the jump on the weekend. Fox will likely rethink that strategy in the future, as Knight and Day opened mid-week to only $3.8 million. Thursday became an important day for this one, as a 50% drop from that Wednesday figure would have spelled doom. Thursday came in at about $3.5 million, or about 9% off that opening day, which wasn't all that bad. The Friday figure was an accumulation of the Wednesday and Thursday figure, coming in at $6.4 million, and while this is a better number, it was still less than half of what Grown Ups did on Friday night ($14.4 million). The weekend figure comes in at $20.5 million, right about where tracking had it last week, prior to Fox scheduling hasty preview screenings last weekend. It was too, little too late, and now Fox has a domestic bomb on its hands (although foreign sales will mitigate the losses). Knight and Day cost $120 million to produce, with likely an additional $80 to $100 million in p&a costs. After five days the Cruise/Diaz action-comedy has a disappointing $27.8 million.

Knight and Day wasn't a huge critical success, but wasn't a train wreck either. The Cruise/Diaz spectacle was 52% fresh at RottenTomatoes, not bad for a summer action flick. The marketing was good up until about a week ago, but as BOP's Reagen Sulewski said mid-week, it lost its way when Fox decided to sell this one as a romantic actioner, instead of sticking with the original comic formula. However, with the amount of marketing this one had – good or bad - people knew it was opening.

That, somewhat unfortunately, leads us back to Tom Cruise. Fighting public perception for the last couple of years, Cruise has become a bit of a joke, and made the good choice to laugh at himself via the Les Grossman character. Obviously, the Grossman experiment didn't bring folks into Knight and Day, as it opens lower than Valkyrie, which debuted over Christmas in 2008 to $21 million. Does Tom Cruise deserve this? I don't think so. He hasn't had a single movie (except Lions for Lambs) open below $20 million since Jerry Maguire back in 1996. Cruise has become more of an overseas star (like Russell Crowe – bad image but big box office), which is making his films continue to work. Even the $35 million Lions for Lambs follows this example, as it grossed an extremely poor $15 million domestically, but still found another $50 million overseas, which made that film a financial success. Knight and Day, with that huge $120 million production budget, will still be a win for Fox, but it won't come on this side of the ocean. I don't know how Cruise loses the stigma he currently carries, but there is still money to be made off his back.

Fourth goes to The Karate Kid, as Sony's profits off this one continue to multiply. The Karate Kid earned another $15.4 million this weekend, and was off 48% from the previous frame. The Smith family picture cost Sony only $40 million to produce, and had managed three times that amount by Thursday, its 14th day of release. The Karate Kid now looks likely to finish as a $175 million picture (or more), and that's just domestically. I'm expecting even a bigger number when this sees wider release overseas as the summer progresses. So far, the Jaden Smith/Jackie Chan vehicle has earned $135.6 million.

Fifth is The A-Team, another 20th Century Fox disappointment. In its third weekend, The A-Team earned $6 million, which amounts to a bigger plunge – 58% - than it saw last weekend, when it was following its opening frame. The A-Team cost Fox $110 million to make, and has a current gross so far of $62.8 million. It's looking like it will finish with about $75 million on the domestic side, but even more than that will come from overseas.

Get Him To The Greek takes a tumble this weekend, likely due to the arrival of fellow comedy Grown Ups. Greek earned $3 million in its fourth frame, and falls a nasty 51%. The $40 million Universal release has now earned $54.5 million, but will finish very near Forgetting Sarah Marshall, which ended with $63 million.

Seventh goes to Shrek Forever After, the leggier than expected $165 million effort from Paramount and DreamWorks. Now in its sixth weekend, Shrek 4 was trying to recover from a 65% plunge last weekend, and comes away with a gross of $2.9 million and a drop of 49%. It was no secret that Forever After was going to die following the debut of Toy Story 3. It now finds itself with a domestic gross of $229.3 million, and an overseas take that is approaching $100 million, but really is just getting started.

Prince of Persia finishes eighth, and doesn't have as good of a weekend as it had in the previous frame when it fell only 14%. This weekend, the Jake Gyllenhaal action flick earned $2.8 million and fell 50%. The domestic total for this one has reached $86.2 million, but it's the foreign gross that's bailing this $200 million picture out. Prince of Persia has already taken in over $210 million overseas.

The Lionsgate release Killers is ninth, as it must have sold tickets to the blind and deaf club. Killers earned another $2 million in its fourth weekend, and should be celebrated for staying in the top ten for 24 days. The Ashton Kutcher flick fell 60% and now has a running total of $44 million.

Jonah Hex is the dummy in the top ten, as the $50 million Warner Bros. flick does a MacGruber. After its slick $5 million opening last weekend, Hex falls 70% this weekend, earning $1.6 million. Unfortunately, Hex will outgross MacGruber, as that one earned $8 million total, Jonah Hex may earn $12 million. Give it $9.1 million so far.

Overall, the 2010 side of the box office formula had little chance of keeping up with last year. One year ago, Michael Bay (sounds a lot like MacGruber) unleashed Transformers: Revenge of the Fallen on the unaware, and it somehow managed to open to $109 million (try not to relive it). That took the top 12 films to about $193 million, a number that becomes pretty tough to reach when dealing with a Sandler movie and a Tom Cruise flop. Thanks to Toy Story 3, the top 12 still did okay, taking in $159.7 million, but it was well off of last year. Next weekend brings Twilight back to movie theatres, so I suggest you go camping, watch the World Cup or try curling, unless you really like throngs of teenagers who are not nearly as polite as the Harry Potter crowd.