Friday Box Office Analysis
By Kim Hollis
June 26, 2010
BoxOfficeProphets.com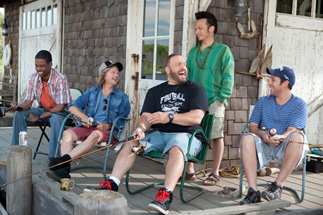 ---
Adam Sandler? Still got it. Tom Cruise? Not so much.

Grown Ups

A movie that feels a lot like Couples Retreat but with a more family-centric vibe, Grown Ups has a fabulous Friday as it starts with $14.4 million. I think what we can all take from this is that when it comes to pure comedy, Adam Sandler is one of the most consistent performers in the business. Even the worst-looking dreck (i.e. Grown Ups) still can manage to pull in an audience. I'm kind of okay with it, though, because I think that Sandler is one of the nicest guys in the business. It's so easy to root for him.

For the weekend, Grown Ups is looking at a total around $39.6 million (and since it's got a family vibe, it may even do a bit better). If it does get that close, the studio is likely to estimate it at $40 million or a little more.

Knight and Day

After bringing in $7.3 in its first two days (Wednesday and Thursday), Knight and Day starts looking a *little* bit better as it comes in with a Friday total of $6.4 million. Given the star power of Tom Cruise, particularly given that he's alongside Cameron Diaz, expectations were surely higher for this action-comedy. The honest evaluation is that people really are still having a hard time getting past Cruise's crazy antics that have diminished his image. It's still a solid movie-going option for adults, and should have come in with a Friday-to-Sunday total of $18.5 million. The good news for 20th Century Fox is that they'll at least be able to say they've got a $25 million running total if that number does hold.

Notable Holdovers

Let's be honest. There's only one holdover worth talking about this weekend, even if two movies did open on June 18th. Toy Story 3 *will* be past the $200 million mark today. It earned $18.1 million on Friday, a 56% drop from last week. I think we established last weekend that there was in fact some fanboy rush on Friday, so this drop isn't terribly surprising. Things should even out pretty significantly on Saturday and Sunday, and Toy Story 3's second weekend should be about $60 million.

As for Jonah Hex, well, let's just say that it made a paltry $500,000 on Friday, fell 74% and will probably be thrilled with $1.5 million in weekend two before it totally falls into oblivion.