Weekend Forecast for June 25-27, 2010
By Reagen Sulewski
June 23, 2010
BoxOfficeProphets.com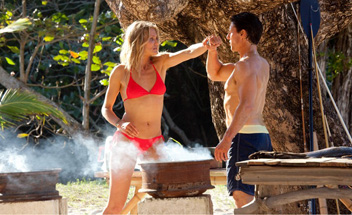 ---
The weekend after a possible turnaround for the summer box office, the studios turn to star power for what looks like a classic summer matchup of action versus comedy.

Knight and Day gets the jump on the weekend with a Wednesday release, and also has on the surface the best pedigree, although it might have seemed a lot stronger six or seven years ago. Tom Cruise and Cameron Diaz star as a secret agent on the run and a woman caught up in his run from the CIA respectively. While this sounds like boilerplate stuff, the film has a bit more fun with the concept, playing into the way Cruise is perceived now.

Cruise looks legitimately deranged in the trailers for the film, which, let's face it, is how you've seen him ever since the couch-jumping incident. After years of fighting that image, he's given in, probably in part because of how well he was received for his turn as Les Grossman in Tropic Thunder. So a charismatic CIA agent with an unhealthy and unexplained obsession with a random woman? Seems about right.

As much fun as that concept is, the producers didn't have a lot of confidence in it. Although some of the ads still use a little of this idea, some recent ads have abandoned this in favor of treating it as a more typical action movie with a straight-up romantic element. That's a big mistake, in my opinion, as that's what actually makes this film notable, but it could also speak to the idea that audiences usually one like one genre of film at a time. Mr. & Mrs. Smith and True Lies would seem to put paid to the idea that you can't mix action and comedy, but confusing audiences about what exactly they'll get from a film is never a good idea.

Ultimately, I think they'll regret changing tactics on the ad campaign, as it had a lot of things going for it, including a globe-trotting setting, a couple of bankable stars and decent if not spectacular reviews. This uncertainty will keep it from winning the weekend, though it'll still have a solid five day total of around $60 million, $35 million of that coming on the weekend.

This leaves the door wide open for Grown Ups, the Ocean's 11 of Adam Sandler comedies. Sandler leads a cast that includes Chris Rock, Kevin James, Rob Schneider and David Spade as high school friends who reunite on a Fourth of July weekend to mourn the death of their basketball coach, and to also face off against a team that embarrassed them so many years ago. Then, of course, hijinks ensue.

This is one of the first Sandler-style comedies to really deal with the notion that all these guys are getting older and can't keep going to the frat-boy well forever for laughs. Their own journeys into parenthood feature strongly into this film, and it's a fairly savvy tack to take to appeal to more family audiences. It can't be worse than Old Dogs or Wild Hogs, for instance.

Sandler had kind of been written off as not having a lot of relevance in the box office until the dire-looking You Don't Mess With the Zohan shocked almost everyone with a $38 million opening (and a suspiciously exact $100 million domestic total). Kevin James actually has the largest recent hit with the inexplicably popular Paul Blart: Mall Cop. Meanwhile, Rock has been somewhat inactive lately, though this spring's Death at a Funeral provided some modest success (Schneider and Spade are here as a favor by Sandler, one assumes). In this case, the audiences for the different comics overlap for the large part, but including a bunch of them together should bring in some stragglers. It's sort of similar to the way that Robert Duvall would be brought in for Jerry Bruckheimer movies to provide some gravitas, and yes, I just compared Rob Schneider to Robert Duvall. I'll be struck by lighting any minute now.

Reviews are pretty horrible as of this moment, but it's not like that's ever mattered to Sandler's fans, and opening at around 3,200 venues, Grown Ups should see an opening weekend of around $47 million.

This means the weekend almost certainly belongs again to Toy Story 3. Pixar's latest opened to a record for the studio, at just a little over $110 million, and is showing no signs of stopping mid-week. With near rapturous reviews (Dear Armond White: go screw yourself, you hack), it seems a solid bet to hold onto a lot of those viewers, even as massive openings like that are difficult to follow up on. It should get to at least $200 million by the end of this weekend with a $68 million effort.

Only two other holdovers have a chance to put up significant numbers; The Karate Kid and The A-Team both put up as strong of numbers as you would expect for their second weekends, at $30 million and $14 million apiece. This is especially impressive for The A-Team, considering its disposable nature and lackluster reviews. Karate Kid, though, remains the surprise of the summer, and is chugging towards at least a $175 million total. These two films should add $17 million and $8 million each in their third weekends.

One other film to watch this weekend – can Jonah Hex outdo MacGruber as biggest bomb of the summer? It's got a little over a $1 million advantage to start but could easily make that up in one weekend by dropping 70% or more.