Weekend Wrap-Up
Toy Story 3 Dominates Box Office; Hex Flops
By John Hamann
June 20, 2010
BoxOfficeProphets.com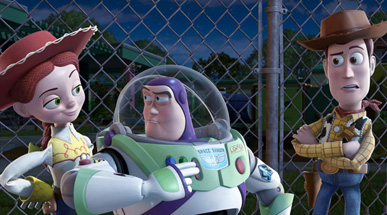 ---
After a weekend where the remake of The Karate Kid blew away expectations with a $55 million opening, Toy Story 3 delivered at the box office, too. Expected to debut around the $100 million mark, Toy Story 3 came in ahead of that number, opening to a wonderful $109 million. This result brings a summer completely out of its doldrums, as the top five earned more than $160 million. Meanwhile, back on the ranch, Jonah Hex reminded us what the last six weeks have been like, as it bombed badly, failing to register more than $6 million.

Understand this phrase: Without Toy Story, there would be no Pixar. It's true. In 1995, Disney's Jeffrey Katzenberg approached John Lasseter about making a feature film around Pixar's short film, Tin Toy, which eventually became Toy Story, the first feature film to use 100% CGI. Disney and Pixar started a three-film partnership, with Pixar taking cash and 10% of any of the film's profit. The original Toy Story was made for $30 million, earning $192 million domestically and $362 million worldwide. A star was born, and we are left with the only production company that can open a film based on their brand alone. A Bug's Life followed three years later, earning $363 million worldwide in 1998 dollars. A year later, Toy Story 2 was released. The second Toy Story flick opened to $57 million over three days, with more than $80 million earned in the five-day Thanksgiving weekend in 1999. It was a top five film until January 2000, and finished with a $246 million domestic gross and a worldwide gross just short of $500 million – remember, that's in 1999 dollars. The $246 million domestic gross would be $380 million today.

Ten years later, Pixar is back with Toy Story 3 – the kind of film that doesn't carry the question "will it work, or not?" Instead, it carries the question, "how big will it be?" Tracking was looking for a $100 million opening, BOP's Reagen Sulewski was looking for a $111 million opening, and I was looking for a $150 million opening. Like usual, Reagen was closest, as Toy Story 3 opens to a dramatic $109 million from 4,058 venues, over 2,000 of those 3D screens. It becomes Pixar's biggest debut, as The Incredibles had held the Pixar record at $70.5 million for seven years. This obliterates the old Pixar high watermark by $40 million. Toy Story 3 is now apt to bring $400 million into box office coffers for the summer. It may also help to save it, as things so far in summer 2010 have not been great. The summer was off 6.5% versus last year thus far, and the overall box office needed a big hit. It got it, particularly with this weekend facing off against a soft one from last year when The Proposal opened to $33 million and the top 12 earned $144 million (slightly more than what this weekend's top two films earned). Besides being Pixar's biggest debut, Toy Story 3 is also the biggest opening for the month of June, just getting by Transformers: Revenge of the Fallen, which started with $108 million.

Why so big other than that awesome pedigree? 3-D and marketing. Tom Hanks, Tim Allen, and Michael Keaton (yes, Batman plays Ken) were big time media whores for the last two weeks (but in a good way). How hard could it be to promote a film like this, versus something like, say, Jonah Hex?

Reviews, like the last two films, were wonderful, but there's always going to be some silly spoil sports. The first two films went through the RottenTomatoes system with a 100% perfect rating, and not a negative review in the lot. This time, Toy Story 3 has a 99% fresh rating, as two reviewers out there found something to not like. One of the two, Armand White of the New York Press, just likes to go against the grain. He liked Jonah Hex but didn't like Toy Story 3. Go figure. Regardless of the negatives, Toy Story 3 is likely our first entry in the Oscar sweepstakes, as the year has been extremely quiet in regards to good films.

Finishing second is The Karate Kid, last weekend's breakout success, and the film that set the table for Toy Story 3. The Karate Kid held fairly well, despite the major competition coming from the Pixar release. The Jaden Smith/Jackie Chan flick earned another $28.7 million this weekend and was off an okay 48% (considering the big number in top spot). At this point, it doesn't look like this Karate Kid is going to play like a sequel, if it were, we would be seeing a much higher percentage drop this weekend. I expect this one to improve on the drop next weekend, as their is no new kid competition, and Grown Ups is a long shot for a family film. The Karate Kid has already passed the $100 million mark, which it earned on Sunday, its tenth day of release. With a budget of only $40 million, this one will likely being seeing real profit after next weekend, as it has a running total now at $106 million, and could approach the $200 million domestic plateau if a good hold is seen next weekend. Any international money – and there's no reason not to think it won't be huge, given the international setting, is going to be pure gravy for the folks at Sony, after some P&A costs are dealt with.

Third spot goes to The A-Team, and after a drubbing last weekend where expectations were badly missed, The A-Team has an okay second frame. Liam Neeson, Bradley Copper and friends had a second weekend take of $13.8 million, keeping the drop at a not bad 46%. Unfortunately, with the budget around $100 million, something pretty special would have to happen to reach that amount domestically. However, Fox retained some of the worldwide rights to The A-Team, so should be able to salvage something out of this one come DVD time. Currently, The A-Team has a running total of $50 million.

Fourth goes to Get Him To The Greek, the Jonah Hill/Russell Brand comedy from producer Judd Apatow. Greek, in its third weekend, had another decent hold, dropping 38% and earning $6.1 million. The Universal picture has now reached its production budget in terms of domestic gross, as the $40 million picture has earned $47.9 million domestically.

Because of the new 3D competition from Toy Story and losing 660 venues, Shrek Forever After drops to fifth place and sees a steep drop of 65%. After finishing with a $15.8 million gross last weekend, Shrek Forever After earned $5.5 million. Still, Shrek 4 should end up with an open-to-domestic finish multiplier of about 3.5, not bad for a sequel opening at $70 million. So far, the Paramount/DreamWorks film has earned $222.9 million domestically.

Prince of Persia is sixth and has a much better hold than its 54% slip last weekend. Now in its fourth weekend, the high adventure flick earned $5.3 million and dips only 19%. It has a domestic running total of $80.5 million, and a foreign total approaching $200 million.

Jonah Hex flops into seventh, as the Josh Brolin comic book adaptation is dead on arrival. There's nothing for Warner Bros. to be happy about here, as what could have been a successful franchise opens to a nasty $5.1 million. Hex was out to only 2,825 venues, and had an ugly opening weekend venue average of only $1,800. This one has been plagued with problems from the start, with directors dropping out, the studios demanding re-shoots, and more on the set problems. One never knows – this could be a decent movie once the extended cut is released on DVD; however, right now, Jonah Hex is only 15% fresh at RottenTomatoes. The review aggregate site held reviews until Thursday morning, so while Hex wasn't embargoed by the studio, they certainly worked hard to keep the negativity surrounding this one out of the mainstream. The other odd thing about Jonah Hex is the budget information. I've seen the film costing $35 million, $47 million and over $80 million. Which one is correct we will likely never know. What I do know is that Jonah Hex belonged in May where everything flopped – this is good riddance to bad garbage, as this one will likely be gone by next weekend. At least my new friend, Armond White found something to like.

Eighth goes to Lionsgate's Killers, the "comedy" that opened to $15.8 million three weekends ago. After dropping 50% last week, it improved slightly, earning $4.8 million for a dip of 40%. It now has a cume of $39 million, against a $75 million budget that got whittled down to about $40 million.

Ninth is Iron Man 2, which holds on for yet one more weekend in the top ten. The good comic book movie in the top ten earned $2.7 million, a drop of 41% from last weekend. Iron Man 2 has a running domestic total of $304 million, and almost as much in foreign receipts.

Rounding out the top ten this weekend is Marmaduke, a movie that comes off looking like the creature from Splice. The $50 million family comedy that flopped earned $2.6 million and dropped 56%. It has a total so far of $27.9 million.

Overall, the box office is up, up, up. The top 12 this weekend earned a powerful $187.4 million thanks to Toy Story 3 and The Karate Kid, and gives the box office its second-highest three-day total of the year, behind only January 1st-3rd, when Avatar was enjoying its second frame. As mentioned above, the top 12 last year was led by Sandra Bullock and The Proposal, with the top 12 registering $144 million. Next weekend is the Tom Cruise litmus test. Cruise stars in Knight and Day, which opens next weekend against Adam Sandler's Grown Ups. If the press thinks Cruise is a nutball, why don't they interview Rob Schneider?