What's Next
By Michael Lynderey
June 14, 2010
BoxOfficeProphets.com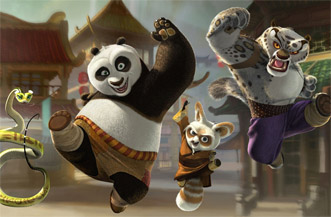 ---
Studio executives may have taken time off from greenlighting sequels to fire up the barbecue for Memorial Day, but they were back in full force last week - and the results of their return are documented below.

Now, I don't much want to write about the new Cleopatra film, having not actually caught up on the last Cleopatra film, and being totally disinterested in the usual barrage of rumors and speculation that Angelina Jolie will play the title role. Much more terrifying is Tom Cruise's recent threat to expand his Tropic Thunder character, movie mogul Les Grossman, into feature length - but hey, we were faced with the prospect of a Zoolander II just a few months ago, and it doesn't look like they're making that - so there is hope.

Looking more on the bright, summery side: Captain America has been having some fun adding character actors to its roster (Stanley Tucci, Neal McDonough, Tommy Lee Jones), and a few other upcoming Marvel Comics films are inspiring some particularly uninspired rumor-mongering about their potential cast (James McAvoy = Professor X in X-Men 5 is about all that's official at the moment). There was also some nonsense about Guillermo del Toro dropping out of directing one or both of the Hobbit films, but my interest in that particular franchise ended just as the credits for Return of the King did. And while those Hobbits have misplaced their helmer, directors have been getting hired left and right lately for other sequels; namely, Hitman 2 (why?), Journey to the Center of the Earth 2 (oh, dear lord, why?), Clash of the Titans 2 (please, no, no, no) and Final Destination 5 (harumph).

Moving on to 2012 movies - the Battleship game adaptation has now fled from May 25th to May 18th of that year, apparently preferring Madagascar III to Men In Black III when it comes to its choice of which needless three-quel it wants to face up against. On a more urgent note, it looks like wrestler Triple H is getting his own star vehicle, but I sure as sherlock am not going to write about it (but yes, yes, it's one of those movies where he has to supervise a bunch of noisy kids and fight off the gangsters and feed the pet goat...).

Speaking of reprising old plots, Sandra Bullock and Ryan Reynolds are now looking to reteam in a follow-up to The Proposal - not a sequel, but a film that would have them matched up as a U.S. marshal and his prisoner, on the run together while chased by thoroughly unthreatening gangsters. Dedicated movie watchers will know that this very plot has already produced several of the worst movies of recent months (Killers, The Bounty Hunter, Did You Hear About the Morgans?). In fact, it's a little hard to see how Reynolds and Bullock could hope to top the inanity of Bounty Hunter, the total and complete antipathy for comedy of the Morgans, or the absolutely offensive, incomprehensible plot twist delivered at the end of Killers. But it's certainly worth a try.

Now, as for those sequels - I wanted to cram in as many as I could here, because the next "What's Next" column will almost certainly be a special edition, dedicated to listing each and every one of the 73 Jaden Smith vehicles that are going to be announced throughout the next two weeks. So, here goes:

Alvin & the Chipmunks: Chip-Wrecked - No, "Chip-Wrecked" is not the actual subtitle for the next Chipmunks film. I just made it up to make the movie look bad. I admit it. As such, if you put "Chip-Wrecked" into the search engine of your choice, you will certainly not find many news reports announcing that "Chip-Wrecked" will be the subtitle for the next Chipmunks film.

The Bourne Legacy - That's not the title for the DVD box set of all three Bourne films (making-of-documentary included). Rather, it's the next sequel, which Tony Gilroy (writer of Bournes 1 through 3) has just been enlisted to script. I must be just about the only person on the planet who doesn't much like these movies, so all the enthusiasm I've expressed so far about this project has in fact been feigned.

Kung Fu Panda: The Kaboom of Doom - This one's now been bumped up from June 3rd to the much more lucrative Memorial Day slot of May 27th, where it will easily trounce the Hangover sequel - and become May 2011's highest grossing film, rather than June's. It's in 3D, the better to meticulously inspect each of the title character's many chins.

The Muppets - The latest entry in this never-ending horror series (well, it's at least as scary as Critters), to be presided by Jason Segel in the capacity of both screenwriter and star, has just been scheduled for Christmas Day, 2011 - a month in which it will face off against fellow sequels Mission: Impossible IV and Chipmunks-are-Possible III. Oh yeah, and Sherlock Holmes 2, which has just penciled itself in for December 16th. So, what I'm really trying to say: if you want to make like the Kranks and take off for the holidays, December 2011 may very well be just the right time to do exactly that.

Scream 4 - Casting is really ramping up for this one, with Emma Roberts, Hayden Panettiere and Rory Culkin joining returning stars Campbell, Arquette, and Cox-Arquette. Try and guess the killer. I think he's in there somewhere.

Transformers 3 - Megan Fox has been replaced by a British model, but the bigger news is that the film will now officially be in 3D. Obviously, T3 did not survive the latest "Convert or Die" edict.

The Twilight Saga: Breaking Dawn - It's official. Breaking Dawn will be split in half, leaving two disembodied parts, each in desperate search of that elusive $300 million gross. I did not really understand this decision until I looked the Twilight franchise up and saw that, in fact, Breaking Dawn is actually the very last book in the series, and would thus under normal circumstances have been the last Twilight film! And we just couldn't allow that. Not even in 3D.