Weekend Wrap-Up for June 11-13, 2010
Karate Kid Kicks the Competition
By John Hamann
June 13, 2010
BoxOfficeProphets.com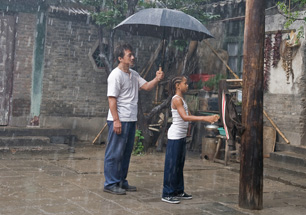 ---
After a weekend in the last frame that brought a new form of ineptitude at the box office, eyes were fixed on the battle of the '80s remakes, as a re-imagining of The Karate Kid faced off against an update of the TV series The A-Team. After a weekend where the average opening from four new releases was an ugly $13 million, and the average drop-off from six holdovers was an even worse 50%, the box office was desperate for a shot in the arm. It got it this weekend - but maybe not in the form you thought - as The Karate Kid drop-kicked The A-Team.

The number one film of the weekend is The Karate Kid, as Jaden Smith and Jackie Chan make The A-Team look foolish (which it is). The Karate Kid becomes the first breakout hit of the summer, as Sony's Smith-driven remake blows expectations out of the water with a fantastic $56 million opening weekend. Tracking had the Sony flick opening between $30 and $35 million, 26 years after the original debuted on June 22, 1984. The remake debuted on 3,633 venues for Sony, and carried a remarkably strong average of $15,288. The opening for the kung fu flick embarrasses the debuts of some much bigger films this summer, including the $200 million budgeted Prince of Persia ($30 million opening), the $100 million budgeted Sex and the City 2 ($31 million), and the $200 million Robin Hood ($36 million). The Karate Kid was made for only $40 million, and becomes a huge one-weekend-winner for Sony, earning more than the production budget in the first three days. This was never a film built for opening weekend, so with likely legs to come, this is going to be huge earner for the studio, maybe their biggest of the summer (although I think the studio's Eat Pray Love with Julia Roberts will likely be huge). $200 million domestic should be on the table for this one.

So other than fond memories of the original, why did The Karate Kid break out in such a huge way? There a number of reasons, with the biggest likely being the fact that there is little family fare out there other than the forgettable Shrek Forever After, and Marmaduke, which did a faceplant last weekend. Seeing the opportunity, Sony marketed the heck out of this one to all demographics, and that, along with decent reviews, got folks out this weekend. Reviews started softly, but picked up steam heading toward release. The Karate Kid ended up with 78 positive reviews at RottenTomatoes out of a possible 115, giving the flick a healthy 68% fresh rating, which makes it only the second film of the summer to open to more than $20 million and have a fresh rating beyond 50% (the other being Iron Man 2). The other driving factors toward success here include the Smiths, as while Jaden starred in the flick, Will and Jada Smith produced The Karate Kid. The Smith name is becoming even bigger in Hollywood, as the kids now act and the parents produce. Will Smith doesn't have an upcoming acting credit until Men in Black III is released in July 2012, but has the power to get the entire family on Oprah to promote The Karate Kid.

For Sony, The Karate Kid is surprisingly their first foray into the summer box office onslaught in 2010. Last weekend, the studio's highest ranking film was The Bounty Hunter, which finished 24th with a $200,000 gross, as it opened back in mid-March. Sony has had a quiet year so far, with only three films released prior to The Karate Kid, all of which were financially successful. The $26 million Legion opened in January to $17.5 million, finishing with a $40 million domestic gross and $65 million worldwide. March's The Bounty Hunter was next, which has earned over $130 million around the globe so far. Finally, the studio released Death at a Funeral with Chris Rock, and that one served up $42 million domestically against a $21 million production budget. Next up for Sony is the Adam Sandler flick Grown Ups, set for release in late June, before taking the month of July off. The Karate Kid continues a winning streak for the studio, one that doesn't appear to be ending until the summer is out.

While The Karate Kid blew away expectations, The A-Team went the other way, under-performing badly against expectations, and really, all involved should have seen the writing on the wall. First the details: The A-Team earned $26 million from 3,535 venues, which gives it a so-so venue average of $7,357. The A-Team cost Fox and partners $100 million to make; however, that number may be reduced to $95 million due to tax credits. Tracking had the opening weekend coming in around $35 million, so the opening comes in almost $10 million short of expectations. This means Fox likely leaves about $30 million on the table with The A-Team throughout its run.

The A-Team was never going to be huge, no matter if you had a decent cast (which they did), and moved away from the ridiculous plots that the TV show served up. As a TV show, The A-Team lives as a "good" program only in our memories. The NBC product ran for only five years, and of that, was only a top ten show for three of them (which is why we didn't see a lot of syndication). Week in and week out, the show was silly at best, with tons of violence and no death (despite this being a group of mercenaries). Reviews didn't help the movie much, as only 62 of 117 were fresh, leaving the A-Team with a blah rating of 53% (mainstream critics liked it even less, at 48% fresh). This movie opened with a thud, with no want-to-see factor whatsoever. I also didn't think it helped that Liam Neeson as Hannibal Smith was an odd choice, as you can always hear that Irish accent, and Neeson came off looking like George Peppard – as a wax figurine.

Prior remakes of TV shows also didn't predict an opening beyond $40 million. Other recent TV opening weekends stack up like this: Get Smart at $38.7 million, SWAT at $37.1 million, Charlie's Angels at $40.1 million, and Mission: Impossible – with Tom Cruise – at $45.4 million. Not including sequels of TV films like Mission: Impossible 2, or re-imagined franchises like Star Trek, the biggest TV opening The Simpson Movie's $74 million, followed by $57 million for Sex and the City. Simply put, The A-Team was never going to be a $200 million earner like The Karate Kid now has a chance of being.

Finishing third is Shrek Forever After, ruler of the box office the last three weekends by default (no one else showed up). Shrek 4 earned another $15.8 million, and somehow continues its strong run with a drop of only 38%. That "somehow" is called 3D, as Shrek Forever After has been able to enjoy a month long run with zero competition in the 3D market, holding the big auditoriums, and giving folks a chance to recycle a sexy pair of shades. I'm like a kid waiting for the candy store to open as I wait to see Shrek's plunge next weekend, when Pixar's Toy Story 3 steals all those 3D cinemas. Will the drop be 60%? More? It could be – How to Train Your Dragon dipped 62% when Shrek 4 came on the scene. Shrek Forever After crossed the $200 million mark on Saturday, its 23rd day of release. The first Shrek took 33 days to hit that mark, Shrek 2 took 11 days, and Shrek 3 took ten days. With a running total of $210 million domestic, Shrek Forever After will be a winner for Paramount and DreamWorks, but not the sort of winner that the first three films in this series were.

Fourth goes to Get Him to the Greek, last weekend's opener from producer Judd Apatow. Greek earned $10.1 million and dropped an expected 43%. Get Him to the Greek is a spin-off of Apatow's Forgetting Sarah Marshall (the Russell Brand character is the same in both films), and it's amazing how the two films are performing so similarly. Sarah Marshall, like Greek, opened to $17 million. In its second weekend, Sarah Marshall dipped 38% to $11 million. Sarah finished with about $63 million against a budget of $30 million. Greek cost $10 million more, and will likely finish with a slightly smaller amount. So far, Get Him to the Greek has earned $36.5 million.

Fifth goes to Killers, the expensive Lionsgate production starring Katherine Heigl and Ashton Kutcher. I thought Killers would go further into the sink than it did, but it managed to keep its nose above a 50% plunge. Killers earned $8.2 million and was off 48%. The dip should be more here, as this one was 13% fresh at RottenTomatoes. The $75 million production now has a running total of $30.7 million.

Marmaduke manages to hold on to sixth spot this weekend, despite dropping $5 million off its opening weekend. The soft opener ($11.6 million) from Fox held about the same as the other openers this weekend as it fell 48%, earning $6 million. Marmaduke needed a better hold if its was going to recoup its $50 million production budget (or more) stateside. Currently, it has a total of $22.3 million after ten days of release.

Prince of Persia drops to seventh this weekend, as the big budget Disney flick struggles domestically, but is winning overseas. Prince earned another $6.6 million this weekend, and dipped a severe 53%. It now appears that Prince of Persia will not earn $100 million stateside, but has already taken in over $160 million overseas, so while we likely won't be seeing a sequel, Disney won't lose their shirt on this one. Give it $72.3 million domestically so far.

Eighth goes to Sex and the City 2, which has seen its fortunes drop off even worse than that of Prince of Persia. After dropping 60% last weekend, Sex and the City 2 slid another 55% this weekend, earning only $5.5 million. This is another movie that's getting bailed out overseas – it's earned over $100 million over there. Domestically, Carrie and company have now earned $84.7 million against a $100 million production budget, so once again, dung makes money.

Ninth goes to Iron Man 2, as Tony Stark and the gang celebrate their sixth weekend in release, and the eve of Iron Man 2 becoming the second $300 million grosser of the year. Iron Man 2 earned another $4.6 million and was off 43%. The $200 million Paramount release is approaching $600 million worldwide.

Tenth is Splice, as Robin Hood has been banished from the box office kingdom. The disappointing Splice earned $2.9 million in its second weekend, and was off a hefty 61% from its opening frame. This $30 million flick is going to hurt Joel Silver, as it has a gross so far of only $13.1 million.

Overall this weekend, we finally have good news thanks almost solely to The Karate Kid. Last year, over the June 12th -14th frame, The Hangover earned $32.8 million and Up $30.8 million, finishing in the top two spots for the second consecutive weekend. The weekend was notable for Imagine That – it tanked with a $5.5 million opening. The top 12 last year came in at $132 million. This year, the top 12 earned a healthier $146 million.

Next weekend brings Toy Story 3 and Jonah Hex, but we both know which one we are watching. Toy Story 3 has a legitimate shot of out-opening Alice in Wonderland, which opened to $116 million, and Shrek the Third, which opened to $121.6 million. Toy Story 3 should be a top five opener of all time – it's opening at 3,900 venues, many of those 3D, and has some extremely positive reviews so far. Check back next weekend to see how it turns out.