Weekend Wrap-Up for June 4-6, 2010
Shrek Defines Slow Summer Start With Three-peat
By John Hamann
June 6, 2010
BoxOfficeProphets.com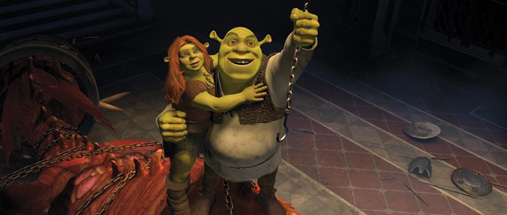 ---
One might think that Shrek Forever After's disappointing opening three weekends ago would have sent it on an express trip to the box office basement. However, with two completely forgettable titles opening last weekend (Sex and the City 2, Prince of Persia), and none of this weekend's four openers taking in more than $20 million, Shrek's path to another number one finish was a fait accompli. Openers this weekend included the horror flick Splice (a film I thought might break out this weekend, but did the opposite); Get Him to the Greek from uber-producer Judd Apatow; Killers with the despicable Ashton Kutcher and Katherine Heigl; and Marmaduke, a film that should have been left in the funny papers.

Our number one film of the weekend is, for some strange reason, Shrek Forever After, Paramount and DreamWorks' attempt at cashing in on a well-remembered franchise. Shrek 4 earned another $25.3 million, off a not bad 42% compared to the Memorial Day Weekend. Despite its so-so reviews and audience reception, Shrek is holding on nicely since opening, as this drop follows Shrek's 39% drop over the three-day portion of the Memorial Day frame last weekend. Shrek Forever After took 16 days to match its $165 million production budget domestically, and now has a total so far of $183 million. It should finish up around the $250 million mark domestically.

So why, after opening to $30 million below initial expectations, is Shrek holding so well? Two answers: 3D, and an utter lack of anything close to competition. The last film to three-peat at the weekend box office was the also-shot-in-3D Alice in Wonderland, which faced some sad sack competition during the first few weekends of its run. After opening to a blistering $116 million, Alice managed to drop 46% in its second weekend despite four newcomers appearing at theaters. Alice's third weekend was remarkably similar – it dropped 46%, and three openers struggled to earn anything more than $20 million. It would seem that having your film shot and shown in 3D makes your film a default "first choice" amongst moviegoers, and also leaves that film on the biggest screens at your local multiplex for many weekends. We've seen this phenomenon quite a bit. The 3D Clash of the Titans was almost a three consecutive weekend winner, missing number one for its third weekend by only $4 million, and we saw Avatar repeat at number one for seven weekends. 3D is proving to be the dominating force in box office today, through openings (see Alice in Wonderland) and legs (see just about any flick, good or bad, shot via the 3D process).

Finishing second is the first of our four openers, Get Him to The Greek, starring Jonah Hill and Russell Brand. From producer Judd Apatow, Greek earned an okay $17.4 million from a muted 2,697 venues, and had a venue average of $6,460. It cost Universal and partners only $40 million to make, so will likely become a very profitable film for the studio. Get Him To The Greek is already drawing obvious comparisons to Apatow's Forgetting Sarah Marshall since it is a spin-off from that film, but it goes even further than that, as Sarah Marshall's opening ($17.7 million) is similar to that of Greek. That film was also very profitable for Universal, as it cost $30 million to make, and grossed $107 million worldwide.

It's no secret that Universal was desperate for a hit. The studio's last six films have been domestic disappointments, with only critically ravaged flicks like The Wolf Man and Robin Hood opening over $30 million (and then folding quickly after opening). What has worked for Universal in the last year is comedy, as It's Complicated and Couples Retreat were both hits. It's Complicated opened to $22 million in in December last year, and went on to earn $112.7 million domestically, or over five times its opening gross. It earned a similar amount overseas. Couples Retreat opened to $34.3 million, finished with $109 million and earned another $60 million overseas. For producer Judd Apatow, Get Him to The Greek may help eliminate the bad taste left by Funny People, last summer's Adam Sandler dramedy that failed to earn more than $50 million.

Ashton Kutcher and Katherine Heigl manage a fourth place finish for Killers, a Lionsgate entry that has the danger label "Not Screened For Critics" (there should be a law that says that statement MUST be on the movie poster). Killers opened to the low end of expectations, but I would say anything over $10 million should be good news for these two actors. Killers earned $16.1 million over its first three days from 2,859 venues. It had an average of $5,631. Sadly, this was Lionsgate's most expensive production ever, at $75 million, but like Summit's Letters to Juliet, they wisely sold off foreign rights to reduce their exposure to risk, likely after they saw how bad this lame donkey looked.

This was a film with problems, even though the actual production went off without a hitch. Ashton Kutcher has seen two of his last three films go straight-to-video (Personal Effects and Spread), and the other was a small part in the much hated Valentine's Day. Prior to that, he had teamed up with a hot actress in Cameron Diaz for What Happened in Vegas, another much hated film that at least did $80 million at the domestic box office. Katherine Heigl may have had more success on the big screen of late, but has become known for being something of a, well, an ungrateful bitch (trust me, Google it). She has been known to dump on projects that have made her successful, like Knocked Up, which spawned her movie career, and Grey's Anatomy, which spawned her overall career. I would have to be beaten to see anything she's in. Finally, we have the film itself. Despite not being screened for critics, RottenTomatoes has already gathered 37 reviews for this one, of which only two are positive. If you are still playing at home, that's a rotten rating of 5%, and this one is just getting started. Killers is a rip off of True Lies and To Catch a Thief, and you are much better off renting either of those.

Fourth spot goes to Prince of Persia: Sands of Time, and one might think the ranking for the Jake Gyllenhaal video game adaption is good news for its box office prospects, but that's just not true. The $200 million Prince of Persia earned $13.9 million in its second weekend, and drops a troubling 54% compared to its Memorial Day opening. The Disney flick will not be likely to earn $100 million stateside, but will make a small mint overseas. Both Prince of Persia and Robin Hood would not be profitable films whatsoever without huge earnings coming from overseas markets. All of a sudden, the proportion of earnings for these films is going to be 30% from North America and 70% from overseas, where only a few years ago the opposite would have been true. Prince of Persia: Sands of Time now has a domestic total of only $59.5 million.

Sex and the City 2 goes into the appropriate bin marked "garbage," as it slips from a second place finish last weekend, to fifth this weekend. Carrie Bradshaw and friends earned only $12.7 million, off a wonderful 59% from the three-day portion of the Memorial Day weekend. Because of its less-than-stellar opening, and debuting on Thursday instead of Friday, the drop is better than the 63% plunge the original had. After 11 days, this $100 million production has earned $73.4 million – the original had already surpassed $100 million over the same amount of time. This one will be lucky to earn $100 million before it's through.

Sixth spot goes to Marmaduke, the $50 million failure from 20th Century Fox. Marley & Me this one isn't, as it opened to only $11.3 million this weekend from 3,213 venues. It had an ugly average of $3,517. This feels like a big summer movie, but for the life of me, I can't remember a single TV ad, or seeing the trailer in theatres. Sure, I'm not the market for Marmaduke, but one would think something would trickle through to my demographic. I think it's fair to say that kids today would have no idea who or what Marmaduke is, unless they read the funnies in a traditional newspaper. Mom and Dad obviously saw the reviews and knew better than to take the family to this one. Marmaduke had reviews much like Killers, with only six fresh reviews out of a possible 56, giving this an 11% fresh rating. With The Karate Kid showing up next weekend, I'd say Marmaduke is done, as the 3D Shrek continues to dominate the family audience.

Iron Man 2 drops three spots to seventh in its fifth weekend. The superhero film earned another $7.8 million this weekend, as it makes a play for $300 million in domestic sales. The Robert Downey Jr flick was off 53%, and now has a domestic total of $291.3 million. It's earned a similar amount overseas, but I'm still feeling that Paramount has left a large amount of money on the table with Iron Man 2.

Eighth spot goes to the disappointing Splice, a film that I thought had a chance to break out, given its creepy trailer. It certainly did not, as the Joel Silver pickup took in only $7.5 million from 2,450 venues. It had a venue average of $3,041. Warner Bros. was only distributing Splice – Joel Silver picked up the Canadian production last year at the Sundance Film Festival and released it under the Dark Castle film banner. For actor Adrien Brody, this is another tough result in a long list of rough outings following his Oscar win for The Pianist in 2002. Since the Oscar win, Brody has appeared in 11 films, nine of which have not earned more than $22 million. Splice could have been big – it was 72% fresh at RottenTomatoes, and had a decent marketing campaign. The good news for Brody is that his next film is Predators, which should at least open to more than $22 million.

Ninth this weekend goes to Robin Hood, the Russell Crowe flick that won't go away fast enough. This weekend, Robin Hood earned $5.1 million and was off 51% from the previous frame. Universal's take on the classic story has now earned $94.3 million stateside, and is approaching $200 million from overseas theatres.

Tenth is Letters to Juliet, as we say goodbye to one of the few refreshing ideas released so far this summer. Letters, which stars ingenue Amanda Seyfried, earned another $3 million to bring its total up to $43.3 million. This small film cost Summit $30 million to make, but reduced their risk by selling foreign rights.

Overall this weekend, the box office this year compared to last year is simply getting hammered. This is another losing weekend as the four openers this year were up against the the first weekend of The Hangover and the second frame for Up, which together led the top 12 at the box office to $160.8 million. This year, the top 12 films could muster only $121.6 million, well back of last year's totals. Next weekend will be even more interesting, as we have two films that could hit or miss. Openers are both rehashes from the '80s, as The A Team debuts for Fox, and The Karate Kid opens for Sony.