Friday Box Office Analysis
By Tim Briody
June 5, 2010
BoxOfficeProphets.com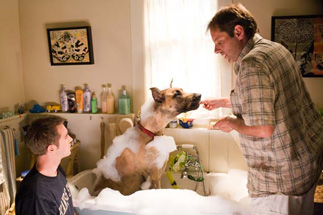 ---
It's another disappointing week all around as none of the openers impress and [tm:2300_]Shrek Forever After[/tm] gets a somewhat unlikely third week at the top.

Get Him to the Greek

With Russell Brand reprising his Forgetting Sarah Marshall character (though how many people really know that?), Get Him to the Greek earned $6.2 million on Friday, tops among the weekend openers. Forgetting Sarah Marshall earned $6 million on its opening night in April 2008 and had a $17.7 million weekend. Another Hangover (which opened a year ago this weekend) this is not. Get Him to the Greek is the top comedy option by far and should come in second on the weekend with $17.3 million.

[tm:5009_]Killers[/tm]

The unscreened-for-critics Killers, starring [bp:46_]Ashton Kutcher[/bp] and Katherine Heigl, managed $5.6 million on Friday, a testament to the drawing power the leads have earned over the last couple of years. That one snuck up on you, didn't it? It's essentially a hot streak killer for both leads, but it's still going to earn a not completely terrible $15.6 million on the weekend.

Marmaduke

With Shrek Forever After (relatively) underperforming, Marmaduke tried to strike while the iron was hot and failed miserably with $3.3 million on Friday. It'll get an impressive kiddie bounce which will salvage the weekend somewhat, but shame on those who thought a one panel comic strip could be extended into an entire movie. Expect a weekend of $12.5 million

Splice

The horror film earned $2.7 million on Friday, and there's really nothing more to say about that. Give it $7.2 million for the weekend

Notable Holdovers

It's a big second Friday plunge for both [tm:4892_]Sex and the City 2[/tm] (66%) and [tm:1105_]Prince of Persia: The Sands of Time[/tm] (60%), though nobody should be surprised by this. The films will battle it out for fourth place on the weekend, as both look to come in with around $12.7 million.