Weekend Wrap-Up for May 28-30, 2010
Sex and the City, Persia Continue Quiet Summer at the Box Office
By John Hamann
May 30, 2010
BoxOfficeProphets.com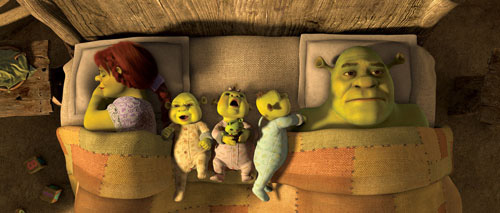 ---
Now into our fourth weekend of summer box office, things are certainly not shaping up as planned. Starting with the okay but definitely not breakout success of Iron Man 2, and followed by domestic losers like Robin Hood, MacGruber, and to a lesser extent Shrek Forever After, May hasn't exactly seen boffo box office. That brings us to Memorial Day Weekend, the frame that has produced $100 million plus openers like Indiana Jones and the Kingdom of the Crystal Skull and Pirates of the Caribbean: At World's End. Things were looking up for this holiday frame: Sex and the City 2 was hoping for a breakout weekend, while Prince of Persia: Sands of Time was looking to start a franchise. In the end, though, it's just another weekend while we wait for Toy Story 3 and Splice.

Finishing first this weekend is not Sex and the City 2 or Price of Persia (uh-oh). Instead, it's Shrek Forever After, last weekend's $70 million opener, the first film ever to achieve a gross that high,and still be considered a disappointment. Shrek 4 finished its second weekend with a three-day gross of $43.3 million, off 39% from its opening weekend.

Shrek films have always opened the weekend prior to Memorial Day, ever since the first Shrek came along in 2001. DreamWorks (and then Paramount) would go for the big opening and then use the holiday weekend to keep box office momentum going. The first film was basically flat from one weekend to the next, with both weekends coming in at about $43 million. Shrek 2 opened to $108 million, and fell only 33% to $72 million over Memorial Day in 2004. Shrek the Third started to show the chinks in Shrek's armour, as the third entry opened bigger at $121.6 million, but fell faster losing 56% of its opening audience over the long weekend. With the lower opening this time out, the drop was not as bad, but still reinforces the trend that the Shrek franchise is on (going, going, gone). Give Shrek a running total of $133 million after two weekends of release.

Our number two film of the weekend is Sex and the City 2, and considering the marketing push behind this one, one might think Carrie Bradshaw and her friends were the second coming of Christ. Sex and the City 2 opened on Thursday for Warner Bros., and through Sunday has grossed an okay $46.3 million. Its Friday-to-Sunday total was $32.1 million. With a budget approaching $100 million (about 40% higher than the first film), Carrie and the girls needed to seriously outdo the opening of the original, and like we have seen over the first month of summer so far, this sequel failed to live up to those expectations. Like Shrek Forever After, Warner Bros. will have to have a serious look at greenlighting future Sex and the City films as dwindling returns over opening weekends could make another of these a curious investment.

The original Sex popped in May 2008, earning a surprisingly large $57 million against the second weekend of a swooning Indiana Jones and the Kingdom of the Crystal Skull. The original worked as a traditional three-day weekend, and opened on Friday with a ludicrous $26.8 million – an amount equal to what Avatar earned on its first day this last December. Its fortunes dwindled over the remaining portion of its opening frame, dropping 35% on Saturday to $17.6 million, and dropped further on Sunday to a figure less than half of its Friday, coming in at $12.5 million. The sequel opened on Thursday (an odd move considering what the original did on Friday), and grossed $14.2 million from 2,125 venues. This was not good news, as it threw under the original's Friday by $12.5 million, and the original's Saturday by $3.4 million. This is the opposite of how a sequel should perform. Usually the sequel hammers the original over opening weekend, but in the end, doesn't have the legs like the first one did. If there was good news, it is that Warner Bros. was employing a five-day strategy for Sex and the City 2, so all was not lost and they still had Friday night grosses to look forward to.

With all the talk of women dressing up for Sex and the City 2 parties and screenings, I thought the Friday number was going to be huge, and at least bigger than its Thursday gross. To my surprise, and likely to an even more surprised Warner Bros., the Friday figure threw under the Thursday figure, coming in at only $13 million, off 9% from its opening day. Warner Bros. would be reaching for the fact that the combined Thursday and Friday were on par with original's Friday, but they are really fooling themselves. The original Sex and the City's plunge over its opening frame following that big opening day gross was likely to repeat itself, but this time based on a much smaller Friday. The result is a Thursday to Sunday gross of $46.3 million, and considering this was a sequel to a $57 million opener, this is going down as another big Summer 2010 disappointment.

What happened? Simply put, they made a very bad movie, and it was no secret how bad it is. RottenTomatoes counted 134 reviews, and of those, only a laughable 21 were positive, which lands Sex and the City 2 with a rotten rating at 16%. The rating from mainstream critics came in at an even worse 9%. All too often we hear that films are critic proof, this one should have been, but wasn't. Why? Reviews not only called the plot tepid and the acting and writing bad, it also called the film borderline racist, crass and obnoxious – something we didn't see from the first film and the TV series. The other problem this Sex ran into was The Great Recession. With so many American homes underwater and people of out work, do we really need to spend $15 dollars to watch a group of rich bitches spend money on nothing? Obviously, moviegoers did not. Sex and the City 2 will make money, especially overseas (the first film finished with almost $300 million in international markets), but this could be a franchise ender, much like Shrek Forever After.

Finishing third is Prince of Persia: Sands of Time, Jerry Bruckheimer's attempt at another Pirates of the Caribbean franchise, but without Johnny Depp. The $150 million Prince of Persia opened to a three-day take of $30.2 million from 3,646 venues. Unfortunately, this is another Summer 2010 release to fall way under expectations, and while it isn't The Country Bears for Disney, it certainly is no Mummy or Pirates of the Caribbean, either. Like Robin Hood, Prince of Persia: Sands of Time was made for an international audience, which will help, but likely won't save it in the end.

Like Sex and the City 2, the core of the trouble with this release is film quality, but the problems go further than that. Let's start with those reviews. RottenTomatoes counted 158 reviews, and of those only 62 were fresh, giving this one a 39% fresh rating at RT. Mainstream critics liked it even less, with the score coming in at only 23% fresh. The next problem (as Reagen Sulewski pointed out in BOP's weekend forecast) was marketing. What were they thinking? Did Disney spend $150 million dollars on a film and have no money shots to get audiences out to their film? When The Mummy opened in 1999, it used its money shot as much as it could in its marketing, and outgrossed Prince of Persia on opening day, despite debuting 11 years earlier, when admission costs were much lower than they are today. With a worldwide launch, that $150 million production costs morphs into a $250-300 million spend when worldwide print and marketing costs are added to the total, a figure Prince will likely never see. Disney had planned on turning this one into a huge franchise, but is left with a film that might recoup its cost - maybe - following the DVD release.

Fourth spot goes to Iron Man 2, which has a better weekend thanks to the holiday and some really questionable openers. Iron Man 2 earned $16 over the three-day portion of the Memorial Day weekend, and was off 39% from the previous frame. After drops of 60% and then 50%, Paramount and Iron Man 2 had to be looking forward to Memorial Day frame, if only to stop the bleeding. Iron Man 2 now has $300 million domestic in its sights, as the $170 million film has a running total of $274.6 million.

Fifth goes to Robin Hood, the Russell Crowe entry that has quickly fizzled on the domestic front, but continues to do okay overseas (where it is being saved from serious flop status). In its third weekend, Robin Hood earned $10.3 million – off 45% despite the help from the holiday. The $200 million Robin Hood is going to struggle to earn $100 million domestically, but will make up the difference it needs overseas. Give it a domestic total of $83 million so far.

Letters to Juliet, one of the few refreshing films in the top ten, finishes sixth in its third frame. Juliet earned $5.9 million this weekend and dipped 34%. This is a solid take considering the debut of Sex and the City 2, which would be pulling the demographic away from Letters to Juliet. The Summit release, which cost $30 million to make (that cost was reduced when foreign rights were sold), has now earned $36.6 million and will end up turning a tidy profit for the upstart Summit.

Fox Searchlight's Just Wright earns $2.2 and drops 49%. The Queen Latifah flick has managed three top ten finishes, but still has a total that sits at only $18.2 million. Just Wright likely cost about $20 million to make, so it won't turn out too badly for the arthouse arm of Fox.

Eighth goes to Date Night, the Tina Fey/Steve Carell flick that debuted back in early April. Eight weeks later, Date Night earns $1.8 million and now has a total of $93.4 million, all against a $55 million budget.

Ninth goes to MacGruber, last weekend's new release that fell on its face. MacGruber earns only $1.5 million in its second frame and falls 63%. The $10 million flick has a total so far of $7.1 million.

Finally in tenth is How to Train Your Dragon, DreamWorks financially *and* critically successful entry in the top ten. Dragon, which debuted way back in March, added another $1 million to its coffers and now has a domestic total of $212.5 million, along with around $240 million overseas. DreamWorks should take note of this film's performance - it's proof that a wonderful story does wonders for bringing in audiences.

Overall, things just don't stack up all that well compared to the same weekend last year - and that's even considering that Memorial Day was the week before on the calendar configuration. The top 12 films in 2009 earned $161 million, while this year, the top 12 earned only $145.8 million. Next weekend, four new releases will flush the crap out of the system. Openers include Killers with Ashton Kutcher, Get Him To The Greek from producer Judd Apatow, the horror flick Splice, and Marmaduke from Fox. Looks like flop city to me, but one never knows.