Top Chef Masters Recap
By Jason Lee
May 26, 2010
BoxOfficeProphets.com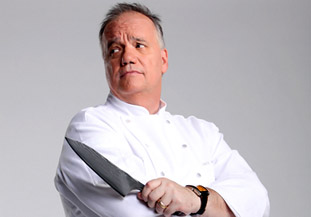 ---
Two episodes of the Champions Round have finished and two women have gone home. I'm praying that today we don't see Susan, our third and final female contestant in Top Chef Masters, pack her knives as well. I'm not a woman-hater by any means, but as a double-minority, I definitely tend to root for underdogs. And like it or not, women tend to be the underdogs on Top Chef (see one Top Chef winner out of seven seasons and no female chefs in last season's Top Chef Masters finale).

Today's Quickfire is disturbingly simple: cook a great dish using legs (chicken legs, lamb legs, frog legs, etc.) The diner will be Jay Rayner (our usual critic) and Jason Lezak, who led the US men's relay team to gold in the 400 meter race in Beijing two years ago. No Simpsons-themed dishes, no housewives to entertain with boozy drinks; just some great legs and a star athlete.

The Masters only have 45 minutes to cook, so once Kelly starts the clock, there's a mad dash for the fridge. Everyone gravitates to a dish that they've done before and done well – Marcus doing a French frog legs dish, Susan doing a crispy skin chicken dish, etc. Tony is struggling to put together a crab dish, but gets annoyed when Susur (for the third episode in a row) infringes on his cooking space.

"You just can't stay away from me," Tony jokes, with a pointed sarcasm.

"You're my lucky charm," Susur gaily replies, not getting the implied message.

In his offstage interview, Tony grumbles about Susur, saying that he would like nothing more than to beat Susur in this Quickfire.

After much rapid-fire cooking, the dishes are ready to be served. POed Tony goes first with a warm crab and potato salad with three types of coriander. Jay faults the inclusion of crab cartilage in the dish and says that it's underdressed (which causes Tony to bitch at the camera yet again - boy, he's in a sour mood today). Jason disagrees, complimenting the flavor.

Susur has an Indonesian roasted leg of lamb with lamb meatballs, pine nuts, and a dry sherry sauce. Jason loves the appearance and flavorful sauce, while Jay calls the meatballs "cute" (to which Susur takes offense).

Susan's dish of cumin, cilantro chicken with pickled tomatoes and quinoa pilaf isn't visually appealing, but gets raves from Jason, who says that the look of the dish didn't excite him, but that it tastes great. Jay compliments the crisp chicken skin.

Jonathan has a capellini pasta dish with king crab leg and jalapeno. Jay wants more crab in the dish ("It's not ABOUT the crab," Jonathan barks at the camera, "it's about the pasta." Boy, we have some crabby old men in the kitchen today, if you'll excuse the pun). Jason agrees that there's too many noodles and not enough crab, but says it's a good dish for an athlete.

Marcus has a confit of frog legs with a curry broth and crab rice. Jason is a little overwhelmed by the richness of the dish, saying that the sauce dominates, but not in a good way. Jay compliments the bold flavors, calling it a complicated plate.

Rick boasted his way through the cooking process, saying that no other Master came close to achieving the type of complexity that his dish achieve. Too bad, however, that the roasted octopus in his egg in a hole dish was so chewy. Jason calls eating the dish "a workout," though Jay admits that every other component of the dish was executed well.

Kelly asks Jason if any of the six dishes were in the gold medal range and he politely responds that he was pleased with everything he ate. "There were certainly a lot of good silvers," Jay fills in for him.

It's time to score and I'm betting that my favorite chef left in the competition, Susan, will bring home the bacon.

Tony gets 3 ½ stars (which he bitches about, saying that Jay didn't "get" the dish and calling his score "unfair"). Rick gets 3 for his tough octopus, Jonathan gets 3 ½, Marcus gets 3 - which leaves Susan feeling nervous because everyone's scores are so low. Not to worry, my dear, because you got 4 ½ stars!! W00t! I'm thrilled.

The only one who can beat her is Susur and he ends up with 4 stars. He's not happy – he has yet to win a Quickfire Challenge.

But his disappointment can't mute Susan's excitement. She's beaming as a result of her win.

For the Elimination Challenge, the Masters will be tailgating at a USC football game (my boyfriend, a UCLA grad, immediately starts booing). We've seen this many times before, most notably in Season 4 when Dale edged out Stephanie for the win. Rick is excited about cooking for a tailgate, saying he loves the environment. Jonathan is looking forward to cooking on a grill. Susur is confused because he's never been to a football game, much less a tailgate.

Susan, of course, gets a HUGE advantage. She's given a USC baseball cap and USC football jersey to wear at the tailgate. Knowing the Trojan fans of LA, this will win her many points.

Then, Kelly announces that the game they're cooking for is USC's homecoming football game against the STANFORD CARDINAL!!! OMG!!! As a Stanford grad, I immediately start whooping it up. As any Pac-10 football fan knows, last November, Stanford absolutely ROCKED the USC football team in the Coliseum, winning 55-21 and handing USC their worst home loss since 1966. Stanford's total was also the most points ever scored against the USC Trojan football team in the history of their school. GO CARDINAL!

The Masters head off to Whole Foods to get ingredients, with Rick boasting again at how well he's going to do in this challenge. Then, as he approaches the meat counter, he's perturbed by the fact that Marcus seems to be buying up all of the chicken legs, which he needed for his dish. More trash talking from Rick ensues.

At this point, I completely stop rooting for Rick. I know he's from NYC and I know NYC chefs come with an edge, but his behavior is unacceptable. At every possible moment, it feels like Rick takes the time to brag about the complexity of his dish or how a given challenge plays to his strengths, all the while lambasting the dishes of his fellow chefs, questioning their decision-making skills, etc. If there's one chef I want to see go home, it's Rick.

Meanwhile, in a less bitchy area of Whole Foods, Tony is buying ingredients for grilled pizza and Susan, in a brilliant move, buys ingredients to make carne-asada tacos.

Back at the check-out counter, the bitchiness returns, as Susur jokes that Tony, who's wearing a sour-puss face from being around Susur, would be perfect for starring in The Sopranos. Tony takes offense, telling the camera, "Thanks for the stereotype." Jeebus, someone buy that man an ice cream cone.

Back at the kitchen, the Masters seem to be dividing into two camps: those who have tailgate experience (Rick, Jonathan and Tony) and those who are clueless (Susan, Susur and Marcus). Should be interesting to see how this all goes down.

The Masters arrive at the parking lot of the LA Coliseum the next day. As the camera pans to all of the USC football fans, I wonder how many of them will be crying into their beer cups after Stanford whoops their team.

Seeing the hoards of fans wearing USC crimson shirts, Susan finally understands what an advantage it is to be able to wear a USC jersey while behind the grill. "Go Trojans!" she yells while grilling up her steak. The USC fans cheer back enthusiastically. Susan is loving it.

"Sadly," Jonathan calls over to Susan's stand, packed with USC alums, "I'm from Berkeley." The tailgaters boo loudly. "But my wife is from Stanford." More booing.

Meanwhile, pissy-Ricky makes some snide remarks about how Susur is using his grill as a cook-top, instead of actually grilling food on it, which leads me to secretly hope Susur beats the pants off Rick in this challenge. Rick also questions Jonathan's decision to cook tacos when he knows that Susan, the queen of Latin food in LA, is doing tacos as well.

The judges arrive, looking extremely out of place at a USC tailgate. Gael is adorable in a large, floppy black hat, looking like she thought she was attending a polo match. James is wearing a purple cardigan, as if he thought a game of croquet was on hand.

They sample Jonathan's steak tacos with grilled vegetables and a bordelaise sauce. He's hoping that his upscale ingredients will differentiate him from Susan's "street food." James doesn't like his stale tortilla, while Gael finds his side dish of vegetables to be "wonderful."

Rick is next with a chermoula marinade over grilled chicken, plus Baba Ganoush, an Arabian dish of mashed eggplant. Pretty strange fare for a tailgate if you ask me. James says that the dish looks ugly but tastes fabulous.

Marcus had some trouble finding time to make meat skewers, so re-arranged his proteins to make grilled chicken plus a shrimp soup and a burger. James notes that there are a lot of components to the dish but that they all taste good.

Susur is next with a Korean-style skirt steak plus roasted cauliflower with Austrian dumplings. The judges are all puzzled by the use of the dumplings, but Susur admits he wasn't sure what most people eat at a tailgate. Jay finds his skirt steak to be heavenly.

Tony thinks he has the winning dish with his grilled pizza with mozzarella, tomatoes, Romano cheese and arugula. James says that it tastes terrific but that the dough is overcooked.



Susan is milking the crowd with intermittent cheers for USC. She has skirt steak tacos with a black bean and corn salsa, topped with roasted peppers. James loves the punch of her chili heat.

Wow, all the Masters did a great job today, with not many complaints heard. Susan is worried that her street food may not have too basic for the judges, while Susur thinks that he could go home for not making traditional tailgating fare.

Meanwhile, I can't believe that there wasn't a single mention of how badly USC got beat by Stanford.

The Masters come before the Critics to get their take on the food served. Gael loved the guacamole used by Jonathan in his taco but James found the tortilla to be tough and cold. He also criticizes the cut of the steak, saying that it was too thick. Jonathan says that he'll take the knock against his tortilla but completely disagrees with James' take on the cut of the steak. "It's a TAILGATE," he points out, gesturing wildly to indicate his irritation.

Insert uncomfortable silence.

Jay liked the ingredients of Tony's pizza. James calls Tony an amazing cook but says that the crust was dry and tough. Tony vehemently disagrees, saying that the dough came out better than he could have hoped.

Insert awkward turtle.

Susan is next and Jay compliments her "serious plate that was big on flavor." Gael loved the "afterkick" of her spice. Kelly wonders aloud if her seasoning overwhelmed the meat and Jay agrees, saying that if the meat hadn't been there, he wouldn't have noticed. I don't know that this is a criticism per se, as it actually points out the great flavors of her other ingredients.

Susur owns up to the fact that he didn't get the concept of tailgating, which led him to create European and Asian-inspired dishes. Jay adored the beef but found the dumpling perplexing. Gael says that maybe a tailgate wasn't the right time for a "high culture" dish.

Jay loved Marcus' stew but found the burger dry. James disagrees, saying that the burger was a tasty, juicy mouthful.

Gael thought that Rick's Baba Ganoush and slaw was fabulous, but James wishes that Rick's ingredients were housed inside of the pita bread instead of on top of it, noting that everything "slid off" when they started eating.

I'm betting that Susan won this. As for the bottom, I'm predicting Jonathan and Tony.

Sure enough, the three tailgating newbies, Susan, Marcus and Susur, are asked to come before Critics Table as the three highest scoring Masters. My boyfriend is surprised that Rick didn't get asked, but I'm thrilled.

Marcus gets 4 stars from Gael, 3 ½ from Jay and 3 from James. With 4 from the diners, he has a total of 14 ½ stars. Not bad.

Susur gets 4 stars from Jay, 3 ½ from James and 3 ½ from Gael. The diners bestow 4 stars so he has a total of 15. Susan should totally be able to top that.

And she gets 4 stars from James, 4 stars from Gael and 4 stars from Jay. She needs 3 ½ stars to win this thing - and she gets 4 stars from the diners. WOOHOO!!! Susan wins for the second time in this episode. Kelly tells her that with a total of $32,500 won for her charity so far, she's earned the most money of any Master so far this season.

"Cha-ching, cha-ching!" Susur jokes.

Sour Jonathan, pissy Ricky, and POed Tony come out before the Critics as the bottom three. Rick makes sure to mention to the camera that this is the first time that he's been on the "lower end of things." Frankly, all three of these chefs have been in bad moods for this entire episode. Well, one chef is about to get in an even worse mood.

Rick gets 3 stars from James, 4 from Gael, 3 from Jay and 3 ½ from the diners. His total is 13 ½, which is definitely safe.

Jonathan gets 2 ½ from Gael, 3 from Jay and 2 from James. Ughhh, that hurts. With 3 from the diners, he only has a total of 10 ½. Trouble?

Tony gets 2 ½ from Jay, 2 ½ from James and 2 ½ from Gael, who voices her rating with the gravitas of a death sentence. He needs 3 ½ to beat Jonathan - but he only gets 2 ½ from the diners. He's going home.

With his grouchy mood in the last two episodes, I'm not sad to see Tony go. His cloud of resentment will not be missed by me. Of course, this sentiment is not shared by his fellow Masters.

"My partner!" Susan exclaims, as she sadly contemplates life in the kitchen without her Italian friend.

"My lucky charm!" Susur calls out. At least he'll have more room to cook from now on.

"Your partner and his lucky charm," Tony replies disconsolately, though I doubt he'll miss either role.