What's Next
By Michael Lynderey
May 24, 2010
BoxOfficeProphets.com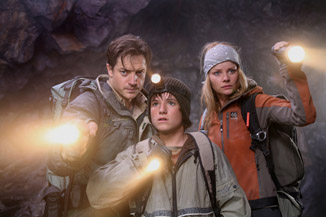 ---
Don't worry. The regular dose of sequel news you've been accustomed to is certainly coming, right there on the second page. In concocting this page, however, I was torn between:

1. Covering random if just slightly interesting film newsbits of the past two weeks.

or

2. Replacing roughly half the column with a series of particularly unclever "Why did the chicken cross the road?" jokes.

I chose the newsbits, though I'm saving the chicken joke collection for later. That was especially true because my attention, and space, were required for yet another of a seemingly endless collection of rants about current film trends that I find particularly innutritious. You see, the dastardly creature known only as 3D has really been spreading its pus-soaked tentacles as of late, grabbing in lethal chokehold 2D film after unsuspecting 2D film, and forcing them to convert to its format, or die! (This also more or less happened during the Spanish Inquisition, and it didn't quite work out so well back then, either). Aside from the constant announcements of new titles that appear to have been envisioned in 3D from conception - Paul W. S. Anderson's The Three Musketeers, or the upcoming Judge Dredd remake - we're also seeing innocent, helpless, nice little movies initially planned as 2D being captured and turned over to the dark side: Pirates of the Caribbean: On Stranger Tides and Wes Craven's horror flick My Soul to Take are getting the conversion treatment, as is Steven Soderbergh's next, Contagion. No film is safe.

Speaking of unpleasant trends, remember those spoofs that used to haunt our dreams, and worse - our movie theaters - just a few years back? Experts assured us we'd seen the last of them with Disaster Movie, or, certainly, with Dance Flick. Scientists everywhere agreed we'd be safe, at least for a few more years - long enough for us to settle back, relax, and enjoy the day-to-day existence of a world in which cinema was taken seriously enough to avoid being subjected to unfunny jokes about itself. Well, my friends, that time has now been cut short.

Jason Friedberg and Aaron Seltzer - makers of not only the aforementioned Disaster Movie, but also Meet the Spartans, Epic Movie, and yes, even Date Movie - will collaborate once more, this time on a spoof of that vampire genre that's apparently so beloved by all of us right now. Not much else has been announced, except for the first and only thing you need to know about this as-of-yet-untitled excursion into nosferatic parody: it already has a release date - August 18, 2010 - though filming has yet to begin. I know we ought to keep an open mind, but c'mon...

In other news, New Line seems apt to turn TV stalwart MacGyver into a film version - having been inspired, I suppose, by the runaway success of MacGruber at the box office this weekend. Speaking of adopting oldies, that looks to be a growing trend - Gidget, that old Sally Field thing about shenanigans on the Malibu surf, is now in development for a cinematic comeback, while Disney is gearing up a live-action version of Cinderella, and Michelle Williams and Naomi Watts have both been lined up to play Marilyn Monroe (no, not in the same film, unfortunately).

Going back even further, old books are getting in on the action, too, with a new version of 20,000 Leagues Under the Sea being developed not only by Fox, but Disney, too, with David Fincher lined up to direct the latter one (and Fincher's a busy guy; aside from Leagues, he's been attached to helm new versions of The Girl with the Dragon Tattoo, The Reincarnation of Peter Proud, Heavy Metal, and Mary Poppins - or at the very least, he's lined up to remake at least three of these four). But not all news is quite as mundane - Evan Rachel Wood and Marilyn Manson will be teaming up to star in the endearingly-named Splatter Sisters, a horror-road trip-slasher film, and one that's apparently going to be directed by indie legend David Gordon Green, to boot! Hey, that's news I like, especially considering the alternatives.

Now, aside from the above, there actually haven't been quite that many reboots being announced lately (sadly), but Disney has just scheduled something called Reboot Ralph for release on March 22, 2013. Could Reboot Ralph possibly be some kind of highly sophisticated robot sent from the future to help usher in the apocalypse by remaking the films of the past? Like a particularly mal-intentioned WALL•E?

I think so. But I won't keep you waiting any longer. Here is the latest collection of the sequel news that rained down my way lately - a batch that's decidedly less outrageous than usual, and more tinted with release dates and mild casting bits than anything particularly offensive:

Diary of a Wimpy Kid 2: Rodrick Rules - I know everyone reading this column is just shivering in anticipation for this one, and now I can say: you won't have to wait long. March 25, 2011 is the date for the sequel, with filming almost certainly getting underway this summer. Part 3 won't be long either, I think.

Final Destination 5 - This one's now got a date: August 26, 2011, almost two years to the day of the last film, and in the same dimension, too.

Journey to the Center of the Earth 2 - Awkward title, ain't it? September 23, 2011 is now the destination for this particular thrill-ride. Brendan Fraser and Josh Hutcherson - you know, the stars of the first movie - may or may not be back, but you know for sure what will be back from the first film: the 3D.

New Year's Eve - Anyone remember New Year's Evil, the horror movie? The one where it turned out that the creep who was stalking her was actually - d'oh! - her husband, and he didn't even really want a divorce? Well, this isn't that. This is that (thematic?) follow-up to He's Just Not That Into You and Valentine's Day, with the gameplan calling for yet another unrestrainable number of movie stars to frolic about the screen. No, there's no casting quite yet (that ought to take up a couple of columns), but there is a release date: December 9, 2011, just in time for some holiday legs. Smart.

The Nutty Professor 3 - Eddie Murphy has used the occasion of the latest Shrek film's release to issue repeated threats about making yet another fat suit extravaganza. Not one to ever take Murphy's word lightly, I repeat said threat here, and note that I and the proper authorities are taking it very seriously indeed.

Rise of the Apes - That Planet of the Apes prequel that's coming our way June '11 has just acquired a (human) star: James Franco. Cool?

Universal Soldier IV - Jean-Claude Van Damme and Dolph Lundgren will evidently be back, in all the glory that 3-D will have to offer them. And if you've read this far, you may actually be one of the few who'll find that particular piece of news to be interesting, enlightening, heart-warming, heart-rending, sad, funny, audacious, or perhaps just plain dull. Anything will do.