Weekend Wrap-Up for May 21-23, 2010
No Good News for Box Office, Shrek, MacGruber
By John Hamann
May 23, 2010
BoxOfficeProphets.com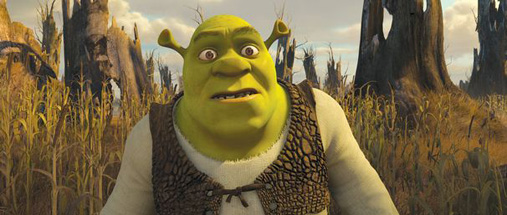 ---
Do you hear the collective "uh-oh" coming out of Hollywood? You should. Shrek Forever After failed to come close to expectations, while the once promising (but always imbecilic) MacGruber fell on its head (at least the character couldn't get dumber). To add to that, we have weak numbers again from Iron Man 2 and Robin Hood, as only Letters to Juliet showed a decent hold. With the Memorial Day frame only one weekend away, those Sex and the City girls better get busy.

The number one film of the weekend is Shrek Forever After, but that's pretty much where the good news ends. This latest incarnation of the big green ogre grossed a much lower than expected $71.3 million from 4,359 venues – 2,373 of those 3D equipped. It had a venue average of $16,345. This opening is off tracking estimates by as much as $30 million, and is even off Paramount's lowball tracking projection of $80 million. Shrek 4 isn't going to be a flop by any means; it cost $130 million to make, so it will likely earn back its production budget and P&A costs before it leaves domestic cinemas. It will then find its profit overseas. Considering this was the widest 3D release ever (with some theatres in New York charging $20 for admission), Shrek Forever After is by far the biggest disappointment released this year, and will definitely end the franchise for DreamWorks and Paramount.

Why is Shrek 4 the biggest disappointment of the year? It is the biggest animated franchise in the history of movies, with the first three films earning $1.23 billion from domestic ticket sales alone (it has earned a similar amount overseas). To recap, the first Shrek basically came out of nowhere. It opened to $42.3 million back in May 2001. It had $267.7 million domestic finish, which at the time made it one of the top 15 domestic earners ever. It earned a half-billion worldwide against only a $50 million budget. It had a scintillating 6.33 open-to-total multiplier (it earned over six times its opening weekend figure) and it was 90% fresh at RottenTomatoes. If that's not a franchise launch, I don't know what is. Shrek 2 opened three years later over the same weekend (all Shreks have opened the weekend before Memorial Day, for a one-two box office punch). Before Shrek 2 opened, I didn't think another one could equal the first, but it blew the original away with a $108 million opening, and it was just getting started. It earned an amazing $441.2 million in domestic sales, and $919 million worldwide, all against a $70 million budget – a number it earned over its first Friday and Saturday. On top of the great box office numbers, Shrek 2 was as good or better than the original, coming in at 88% fresh at RottenTomatoes.

Shrek the Third came three years later (again), and the numbers showed definite symptoms of sequelitis. Shrek 3 opened to $121.6 million (currently the biggest animated opening ever, but won't be in a few weeks - coughToyStory3cough), but the good news ended there, as all the other numbers were down. Shrek the Third earned $322.7 million domestically, and $799 million worldwide, this time against an ever higher $160 million budget. Maybe the worst news was that this Shrek came in at 41% fresh, and while the numbers indicated sequelitis, the reviews indicated the dreaded "franchise fatigue."

After reading the above, to say that Paramount and DreamWorks have left money on the table is a huge understatement. The filmmakers and the studio are to blame here, as they appear to have made Shrek Forever After with only one intention: to make money. They hired no-name director Mike Mitchell, whose credits included Sky High, the ungodly Surviving Christmas, and the mostly insane Deuce Bigelow: Male Gigolo (yeah, let's get him to direct an animated kids flick!). They spent less on this one than the other films in the series, despite doing Forever After in 3D, which adds another $20-30 million to a movie's budget. This Shrek came in at 54% at RottenTomatoes, and the marketing - at best - smacked of effort (remember when the marketing for these was funny?). Paramount deserves lowered returns for this one.

For DreamWorks Animation, Shrek Forever After doesn't do much better than their other releases since Shrek the Third came out. DreamWorks biggest since that film was Madagascar: Escape to Africa, which opened to $63.1 million in November 2008. Despite the big debut, the Madagascar sequel died after opening, earning only $180 million at domestic cinemas, or less than three times its first weekend. Shrek Forever After is the studio's third attempt at a 3D winner following Monsters vs Aliens ($59.3 million opening, $198 million domestic finish, $175 million budget) and How to Train Your Dragon. Dragon made news for opening soft with $43.7 million, and then made news with its serious legs, as it has earned $210.9 million since then ($218 million will be five times its opening weekend). To hope that Shrek 4 will have Dragon's legs is simply foolish, as Toy Story 3 is only three weekends away.

Iron Man 2 finishes second, but even Robert Downey Jr. can't deliver good news to the box office. After dropping 60% last weekend from its $128 million opening, Iron Man 2 stumbled again this weekend, earning $26.6 million. That gives Iron Man 2 another severe drop of 49%, and a running total so far of $251.3 million. The original Iron Man had much better legs. It did drop 50% in its second weekend, but then brought that drop up to only 38% in its third weekend when it earned $31.8 million. The law of diminishing returns now tells us that Iron Man 2 is going to earn significantly less than the original did, the question is now by how much. Iron Man 2 still has a good shot at $300 million, but it's going to need to depreciate less than 50% in the next two frames. Overseas grosses are starting to outshine domestic returns, but the likelihood of being a worldwide billion dollar winner is quickly waning.

Iron Man 2's biggest problem is that it's playing like a later sequel. Using Spider-Man 3 and Pirates of the Caribbean: At World's End as examples, we will see the trend. The last Spider-Man flick opened to a huge $151.1 million before falling 62% in the second frame (Iron Man 2 fell 59.4%). Spidey 3 then had a third weekend drop of 50.1%, bringing its weekend gross down to $29 million. After 17 days, Spider-Man 3 had earned $282 million after 17 days. Pirates of the Caribbean: At World's End opened to $114.7 million, and dropped 61.5% in its second frame. It then fell 52% in its third frame, finding $21.1 million. Pirates had a cume of $253.4 million after 17 days. The last thing Paramount wants is for audiences to be "checking out" on the character after after only two movies.

Robin Hood is third, and despite being a film for adults, it continues to have a rough go of it, at least domestically. Robin Hood earned another $18.7 million this weekend after debuting last weekend with a soft $36 million. The Russell Crowe/Ridley Scott re-imagining dropped 48%, much like the 51% drop that Scott's Kingdom of Heaven saw in its second weekend (Kingdom earned $47 million domestically, and $164 million overseas). Robin Hood has already earned over $100 million overseas, so like Kingdom, Universal is going to be bailed out by international audiences, as Robin Hood is not going to come close to recouping its $200 million budget stateside. What's not going to happen (thankfully) is that Russell Crowe will not be rebuilding his image in North America; however, this guy isn't going down without a fight (or throwing a phone).

Fourth goes to Letters to Juliet, the lone bright spot in the top ten. Letters, after opening to $13.5 million in the previous frame, held quite well, earning $9.1 million. The Summit Entertainment release dipped only 33%, the second best hold in the top ten. Letters to Juliet cost Summit only $30 million make, and they sold some foreign rights to lower that figure even further. For star Amanda Seyfried, a couple of more good holds turns this one into a fair sized hit, and could make it her coming out party; however, Sex in the City 2 could have something to say about that. Currently Letters to Juliet has earned a solid $27.4 million.

Just Wright, Queen Latifah's romantic comedy, finishes in fifth place. Just Wright also had a big second weekend drop, going from an $8.2 million debut last weekend (double that of MacGruber) to only $4.2 million this weekend. That gives the Fox Searchlight release a drop of 49%, and brings the total for this one up to only $14.6 million – but as you'll see in a moment, next to MacGruber, even Queen Latifah looks good.

New release MacGruber finishes sixth, and fails miserably at turning some good early buzz into sleeper success. MacGruber earned a woeful $4.1 million from 2,551 venues, giving it an ugly average of only $1,607. Universal Pictures distributed this one, but for the first time in a long while, they are actually not to blame. This time it's Relativity Media's fault, with a little bit of SNL's Lorne Michaels thrown in. The business behind MacGruber is probably the best thing about it. Relativity and Michaels/Goldwyn paid only $10 million to make MacGruber, and as David Mumpower said yesterday, this one may not even earn that before it leaves theatres. The moviemaking and marketing were simply stupid here, and make films like Tommy Boy look like masterpieces (15 years ago, Tommy Boy opened to twice the amount that MacGruber did).

Date Night is seventh, as the Tina Fey/Steve Carrell comedy enjoys its seventh weekend of release. Date Night was one of the few small droppers this weekend, as Date Night earned another $2.8 million and fell only 26%. 20th Century Fox has now turned this small comedy into a $90.7 million earner, against a budget of only $55 million.

Even A Nightmare on Elm Street gets ahead of How to Train Your Dragon this weekend, as the animated film got robbed of its 3D screens. Nightmare earned $2.3 million and dropped 51%. It has a running total of $59.3 million against a budget of $35 million. How to Train Your Dragon dropped 63% this weekend. It earned $1.9 million compared to $5 million last weekend. This really shows the importance of those 3D venues. Dragon has now earned $210.9 million against a budget of $165 million. Dragon has a worldwide total approaching $500 million.

Finishing tenth this weekend is an unexpected contender. Kites, a sort-of Bollywood flick (with some Mexican stars thrown in the mix), earned $953,000 for Reliance Big Pictures. It was playing in 207 theaters, and had a venue average of $4,602. Kites is 85% fresh at Rotten Tomatoes, so it's clearly drawing some positive attention overall.

Overall, the box office had no chance of keeping up with last year as a year ago this weekend was the Memorial Day frame when Night at the Museum: Battle of the Smithsonian debuted to a disappointing $54.2 million, and Terminator Salvation started its flop with $42.6 million. Three-day totals last year came in at $169.8 million. This year, with lackluster being the theme of the weekend, the top 12 films earned $143.5 million. Next weekend, things remain sequel-y. Sex and the City 2 gets started over the long weekend, and is joined by Jake Gyllenhaal in Price of Persia: The Sands of Time, a film I would be nervous about, as it carries a $150 million dollar price tag.