Friday Box Office Analysis
By David Mumpower
May 22, 2010
BoxOfficeProphets.com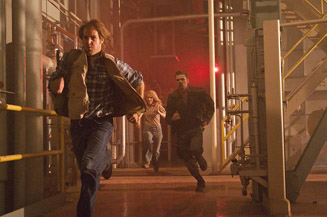 ---
Let's not sugarcoat this. Yesterday's box office was an unmitigated disaster for both new openers. One appears to be a franchise killer and the other is…MacGruber. And the one thing I can say at this moment as an absolute is that there will not be a MacGruber 2. I am going to leave all of the taunts and insults for this for John Hamann (and the entirety of Twitter). We'll stick with the facts, at least for today.

All I need to say to discuss its box office is that MacGruber has a $10 million budget…and may not make that back in domestic revenue. Its first day tally of $1.6 million means that it narrowly edged the eighth day of Just Wright, an unheralded Fox Searchlight title released in 720 fewer locations. The scary thought here is that there may have been opening day rush for the latest disastrous Saturday Night Light spin-off, meaning that we're probably looking at a $4.5 million weekend for this instant punch line. Post-Super Bowl commercial ratings indicated people hated the MacGruber Pepsi advertisement then and time did not make the heart grow fonder on the idea of an entire movie of the character.

The real story, of course, is Shrek Forever After, a title that seemed to be a mistake from the moment it was announced. Let's keep in mind that this release is going to make money for DreamWorks no matter what, as the ancillary revenues are the key to the property. Even so, the economic concept of opportunity cost has never been better represented than here. The fourth Shrek title opened to $20.6 million. You don't need to read any further to realize that this is a disastrous result. You do, however, want to have the performance placed into a perspective that will allow for full mocking. Here goes.

The original Shrek earned $17.6 million on its second day of release; it earned $16.9 million on its ninth day of release. Shrek 4 is going to beat that first total by only a few million, and it will lag behind the second one when we analyze its box office holdover next week. The only way that changes is if it experiences a dramatic Memorial Day recovery thanks to holiday inflation. Demand is clearly not there for this title, which is going to be lucky to wind up with $15,000 per-location in 4,359 locations this weekend. Shrek the Third's first weekend per-location average was $29,507.

The real story is how much the franchise has fallen after just one misstep, Shrek the Third. That movie's worst single day of box office during its opening weekend was $36.1 million. So, we are down a full $15.5 million in only three years, $17.8 million if we compare first Fridays. And here is the scary thought. Shrek Forever After is getting 3-D ticket price inflation while Shrek the Third did not.

I find it difficult to quantify just how much damage the Shrek franchise absorbed in such a short period. Shrek the Third earned $322.7 million domestically. Its successor will have to do a lot of work just to reach half of that total. How to Train Your Dragon, DreamWorks' good 2010 release, is completely out of reach with a running total of $210 million. In point of fact, the title that keeps screaming in my head as I consider apt comparisons is…Batman & Robin. In terms of relative scale, that may prove to be a bit overstated since Memorial Day sales should prop up Shrek Forever After. The other title that may wind up being analogous is...The Matrix Revolutions. These are not the sorts of movies with whom anyone ever wants to be lumped.

No matter where the latest Shrek title ends up, here is the statement that is hard to reconcile. The eighth day of Shrek the Third saw the title earn $20,627,136. In other words, the first day of this title has proven to be a virtual draw with a title that already had $165 million in the bank. And again, this one has 3-D ticket price inflation. At this moment, what I can say with absolute certainty is that Shrek Forever After is the least successful $70 million performer out of the 40 titles to reach that box office plateau.