Top Chef Masters Recap
By Jason Lee
May 17, 2010
BoxOfficeProphets.com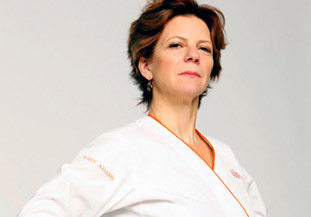 ---
Top Chef: Masters Season 2 is starting to get good. I feel like I'm getting to know the chefs a little bit better, and as a result, I'm beginning to pick out Masters that I'm rooting for and rooting against. In the first camp: Susan (the lovable, kooky grandma) and Jody (GILF). In the second: Marcus (Mr. Egotistical-I-Don't-Help-Anyone-Else). I'm really looking forward to the day when he goes home.

Also in contention in this competition are Susur (eccentric Asian), Jonathan (Obi-Wan), Rick (NY Seafood Guy) and Tony (Italian but doesn't say much).

The Quickfire for this week is one of the more entertaining ones. The Masters will be cooking for three of the people who bring The Simpsons to life every week: creator Matt Groening, voice actor Hank Azaria (genius), and writer Matt Selman. The Masters are each assigned a character (through the drawing of knives) for whom they'll need to cook a gourmet dish.

Some of the Masters get easy-as-hell characters to cook for. Apu will get Indian food, Homer will get deliciously unhealthy food, Chief Wiggum will get a donut - but other Masters get much bigger challenges. I mean, I consider myself to be a huge Simpsons fan but I have no idea what I would cook for Marge or Bart.

The Masters get started, with Susur lamenting the fact that he incredibly unfamiliar with the Simpsons (when he drew the knife with Marge's name on it, he initially read it as, "Margo"). He knows Marge as the woman with big blue hair and is told by another chef that she likes pork chops (Homer is the one who likes pork chops, I think to myself) so he's recreating her hair with blue potatoes and doing pork chops.

One point of contention comes when Susur accidentally uses Tony's skillet of reserved bacon fat as a garbage collector. The bacon fat is ruined and Tony is pissed.

In the end, though, we are treated to a bevy of BEAUTIFUL looking dishes. Like last year, I am once again struck by how much better the cooking is on Top Chef: Masters than on Top Chef. The difference in skill and creativity is obvious.

Susan goes first with her ode to Moe, the Simpson's most perennially miserable character. She imagines him to be someone who doesn't eat well, with a lot of junk food on his plate, so she made a crispy treat with millet and peanut butter chips, plus a Mexican hot chocolate. "She dinks dat Moe has a sweet tooth," remarks Azaria in Moe's voice. I love it. He proclaims that Moe would love this dish, that he wouldn't have had better in his whole life.

Tony is next with Chief Wiggum. He goes with a fried, bacon, honey doughnut with boozy coffee. High end donuts and joe, it's great. Groening says that he could easily picture Wiggum drinking spiked coffee, though he wishes that he could taste more bacon in the doughnut. Susur, responsible for the lack of bacon, cringes backstage.

Susur goes next with his purple potatoes, roasted pork chop with glazed grapes. The whole dish is arranged to look like Marge's face; it's pretty cool. Groening loves the creativity, noting that Marge will often use chocolate chips to make a happy face in her kids' pancakes. He says that she would adore this dish.

The diners see a sandwich and beer coming and Azaria predicts that it's for Homer. He's right. From Rick we get a sloppy joe sandwich with truffle potato chips and beer. Groening loves the flavor, though he wonders if Homer would be put out by the fact that there's some healthy fish in the sandwich. Azaria says that Homer would inhale the sandwich, then get angry afterwards if told.

Jody goes next with a brilliant, brilliant dish. For the vegetarian Lisa, she makes a cracked wheat salad with goat milk ricotta, BBQ beets and baked kale chips. Groening remarks that he almost never eats healthy and calls the dish refreshing. He also notes that Lisa would love this dish, though she might be put out by the deep friend chips ("NO!" Jody yells from backstage, "they're BAKED. BAKED!")

Marcus is next with a dish for Apu. I thought that this was the most obvious choice for a dish – go INDIAN. Marcus agrees and has created a veritable Indian feast. Interestingly enough, while the three diners agree that everything tastes good, Groening notes that Apu often takes pains to hide his origins, quoting Apu as saying, "By the seven arms of Vishnu, I swear it. I am not a Hindu." Of course, you'd have to be a pretty big Simpsons expert to know this, so I think Marcus is forgiven.

Lastly, we have a dish for Bart from Jonathan. He thought of his two sons when cooking up a dish of spaghetti with a grilled tomato ham sandwich. I find this pretty boring – nothing about it says "Bart" to me. The diners, though, rave about the flavor, with Groening saying that if Bart ate this, he'd brag about it to Millhouse and Nelson at school the next day.

I'm not sure what exactly the criteria for judgment is (appropriateness of dish for character, overall flavor, etc.) but the judges have spoken. Susan/Moe gets 4 stars, Tony/Wiggum gets 3 stars, Susur/Marge gets 3 ½ stars, Marcus/Apu gets 4 stars, Jody/Lisa gets 4 stars, Rick/Homer gets 4 ½ stars and Jonathan/Bart gets 4 stars. Wow, I did not expect Rick to get it, but I think that cooking for Homer was probably one of the easier tasks. My boyfriend found Jody's dish to be the most thoughtful, and I tend to agree.

For the Elimination Round, the producers have brought back a classic from Season 3. The Masters will have to choose two "exotic" (i.e. disgusting) proteins to create a "Scary Surf 'n Turf." Trey won this one last time, with an ostrich fillet (yum…I think). The Masters have a bevy of delicious (i.e. revolting) ingredients to choose from: monkfish liver, black chicken, jumbo squid, goat leg, kangaroo, duck tongue, sea cucumber, and geoduck. They'll need one land animal and one sea animal to make their surf 'n turf.

The Masters draw pots to choose their order, with lucky Rick and Tony going first and second (as the winner of the QF and the person who drew pot #1 respectively), and unlucky Susan going last. There are only two portions of each protein available for the seven Masters, so she will get the scraps.

The Masters head to Whole Foods to shop and most everyone seems daunted by the challenge - and it gets even worse back in the kitchen. Proteins are tougher than they thought, they're more different than what they're used to, they realize that they're not sure how to prepare the proteins. It's pretty amazing how low the morale is. There's not a single person who looks confident, save for Susur who has black chicken and monkfish liver, two ingredients that he's worked with as a Chinese chef.

With finally some visible chinks in the armor of these Masters, this challenge is turning out to be the best one of the season so far. There's lots of drama, uncertainty, hand-wringing, and looking over the shoulder to see what the Master who shares your protein is doing.

The diners today will be our typical three critics plus Andrew Zimmer, the appropriate host of Travel Channel's "Bizarre Foods." He's brought along two culinary-expert friends to sample what the Masters have made.

Rick goes first with a poached black chicken mousse with roulade, monkfish liver tourchon and buttered leaks. Andrew calls it stunningly executed but wants the flavor of the monkfish liver more in his face. James disagrees, calling it "respectfully treated."

Tony goes next with a crustino and calamari, along with some braised goat leg and a goat cheese ravioli. He had some trouble with his goat leg, which didn't come out tender, and as a result, there's very little goat leg on his ravioli. Andrew says that it smells divine and that the squid doesn't overwhelm, but James is sad that the goat leg has been reduced to a few threads on his plate.

Susur has a French-meets-Japanese dish of poached monkfish liver with a black chicken velouté plus a monkfish liver sausage stuffed in a chicken leg. Both ingredients are integrated with the other in two ingenious dishes. Andrew says that he didn't want to like it, with all those sauces, but that it tastes great. James notes that you can taste the monkfish liver much more prominently here than in Rick's dish.

Jody is next with a Sicilian spiced roast goat with a geoduck chickpea chowder and homemade harissa. Gael laments that the goat needed to be cooked further, but notes that the chowder was an excellent way to turn the dish on its nose.

Marcus steps up to bat with a geoduck and kangaroo sausage, a geoduck cous cous and a kangaroo tartare. Andrew likes the flavor but says that the number of elements on the plate is interfering with his enjoyment.

Jonathan is depressed; he had a really hard time finding anything that would work. As a result, his plate looks horrible. It's a sloppy mess. He has a giant squid fritto misto, fideo with duck tongue, and fried duck tongue. Andrew says that the duck tongue is the best he's eaten in a long time, but that Jonathan's plate is a writer in need of an editor.

Susan is last with sea cucumber made two ways – marinated and fried – plus a kangaroo with juniper sauce. Andrew says that the plate has ADD but that he can't stop eating it. Gael says that this is her first time eating sea cucumber not braised and that she loves it.

As the dinner ends, it's hard to say who won or lost. There was so much going on, so much discussed, it really feels up for grabs. Meanwhile, the Masters all feel like crap. They sit around the table, just happy that it's over. No one feels confident, they're all thinking about things they could have done better.

They go before the table and each get snippets of criticism. James loved Rick's French approach to the dish, but the chicken needed to be poached further. Jay really didn't like that Tony didn't have enough salt on his crustini, while James didn't get enough goat leg. Jay wasn't sure what the point was for Susur to use those vegetables in his plate. Gael was excited to try rare goat leg from Jody, but found it really inedible due to its toughness. Jay thought that Marcus put too many intense flavors in his dish. Jonathan overwhelmed Gael with his dish, and not in a good way. Jay thought that Susan did amazing things with the fried sea cucumber, but James thought there was too much on the plate.

It's interesting how many Masters got knocked for having too many elements on the plate. I would suggest that it's probably due to the fact that most of those proteins do not go well together, and the Masters had to invent ways for them to be paired in the same dish.

The critics pick out Susur, Rick, Tony and Susan as the top. Susur was close to genius, according to Jay, and Rick was clean and elegant. He also calls Susan's fried sea cucumber "a revelation."

The top two Masters are revealed to be Susur and Rick. No surprise there. As Gael points out, the chefs that were able to pick their ingredients first were able to achieve a more elegant result. Rick gets 4 ½ stars from Gael, 4 from Jay, 4 ½ from James, and 3 ½ from the diners, for a total of 16 ½. Normally, that's a really high score, but I'm expecting that Susur will top that.

Indeed, he gets 5 stars from Jay, 4 ½ from James, 5 from Gael and 4 ½ from the diners. That's a total of 19 stars . . . meaning he was only ONE STAR away from a perfect score. Jeebus, this guy is amazing. The other Masters look at him with admiration, and Rick concludes that Susur is the man to beat.

Meanwhile, the depressed trio of Jody, Marcus and Jonathan come out. They have been selected as the bottom three. Jody's goat leg, according to Gael, was too rare. Everything on Marcus' plate, according to Jay, packed a punch and eating it was like "enduring 10 rounds with Mike Tyson." Jonathan, according to Jay, had a bad day.

I think Jonathan is safe and I think Jody will probably going home, but I have my fingers and toes and eyes crossed that she stays. I'm a huge fan of hers, and I would hate for the first two people to go home in the Champions Round to be women.

Jonathan gets his scores first. He gets 3 stars from Gael, 3 ½ from Jay and 2 ½ from James. With 2 stars from the diners, he has 11 in total.

Marcus is next, getting 3 stars from James, 3 from Gael and 3 from Jay. With 2 ½ from the diners, he has 11 ½ and is safe. Sigh. I was hoping he'd go home.

So it's either Jonathan or Jody. PLEASE LET IT BE JONATHAN. Jody gets 2 ½ stars from Jay, 2 ½ from James, 3 stars from Gael . . . so she needs 3 ½ to beat Jonathan. And she gets –

DAMMIT. DAMMIT. DAMMIT.

Jody only gets 2 ½ stars from the diners, for a total of 10 ½ to Jonathan's 11. Argh. Jody is going home. As she hugs her fellow Masters goodbye, Susur tells her that he loves the way she cooks. I think that's a huge compliment.

I'm certainly going to miss having Jody on the show. It's now up to Susan, with her Professor Trelawney glasses, to hold the torch for the women on the show.