Weekend Wrap-Up for May 7-9, 2010
Iron Man 2 Gives Summer Strong Star(k)t
By John Hamann
May 9, 2010
BoxOfficeProphets.com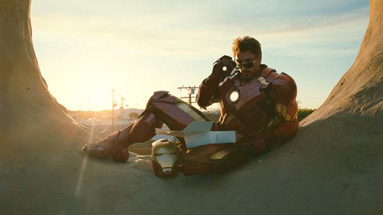 ---
The talk of a box office showdown between The Dark Knight and Iron Man 2 has been going on for some time now, and this weekend finally brings an answer to the big question: Could Iron Man 2 become the biggest opener of all time, eclipsing the caped crusader's record breaking $158.4 million first weekend? The answer is a confirmed no; however, Iron Man 2 is definitely no flop, in fact it's the complete opposite. Iron Man 2 starts the summer 2010 box office season with a bang, earning $133.6 million over its opening three days.

It all started Thursday night, when Jon Favreau's Iron Man follow-up debuted at midnight. The Robert Downey Jr. starrer grossed $7.5 million from those midnight screenings, and at that point, we knew we were going to have a very solid start to the summer season, but likely not a record breaker in the form of Batman (and come on, folks; that's okay). That $7.5 million paled in comparison to The Dark Knight, which took in $18.5 million during its Thursday night screenings, and that $11 million difference on Thursday night is a big part of the difference between how the two films finished. As much as I hate to say it, had Mickey Rourke died after filming Iron Man 2, we probably would have had a different result for the weekend, but with the death of Heath Ledger prior to The Dark Knight's release, the rush to see the film was much bigger.

Friday grosses further cemented the fact that The Dark Knight's record breaking gross wasn't going to be touched this weekend by Iron Man 2; however, I'm looking toward Toy Story 3 (and its 3-D mark up) as a potential candidate, but I digress. Iron Man 2's Friday gross came in at $52.2 million, but that includes the $7.5 million grossed from those Thursday night showings. That makes Marvel's Friday figure more like $44.7 million. The math on The Dark Knight's Friday works like this: $67.2 million Friday, less $18.5 million in Thursday midnights, equals $48.7 million – so Iron Man 2 wasn't that far away from The Dark Knight – the difference in the midnight screenings looms again. The $52.2 million Friday ends up as the seventh biggest single day ever, behind the biggest franchises of all time like The Dark Knight, The Twilight Saga: New Moon ($72.2 million), Transformers: Revenge of the Fallen ($62 million), Spider-Man 3 ($59.8 million), Harry Potter and the Half-Blood Prince ($58.2 million), and Pirates of the Caribbean: Dead Man's Chest ($55.8 million).

Iron Man 2's weekend total makes it the fifth biggest weekend ever, behind four of the most valued franchises of all time. Iron Man 2 was unable to beat The Dark Knight ($158.4 million), Spider-Man 3 ($151.1 million), The Twilight Saga: New Moon ($142.8 million), and Pirates of the Caribbean: Dead Man's Chest ($135.6 million). It does manage to stay ahead of the Shrek the Third ($121.6 million) and the biggest non-franchise opener of all time, Alice In Wonderland, which found $116.1 million in its opening frame back in early March 2010. The original Iron Man opened to $102.1 million in May 2008. One has to wonder what would have happened with Iron Man 2's opening weekend had it been shot in 3D, which would have raised ticket prices by about $3, or approximately 15%. By only applying the math, Iron Man 2 would have risen a few spots on the all time list, but still wouldn't have taken down the Bat. However, the opening weekend "want-to-see" factor may have increased, giving it a shot at the top. Obviously, we will never know.

For all the players in involved in the making and distribution of Iron Man 2, the biggest winner ends up being Marvel Entertainment and Marvel Studios, and in a way Disney, despite Iron Man 2 being distributed by Paramount. Disney purchased Marvel Studios for $4 billion, and while it doesn't make a nickel from distribution, the mouse house will see a cash infusion of $300 to $400 million from Marvel's take of the box office, as well as from all the merchandising and tie ins from this very successful picture. The Hollywood Reporter said that Paramount is distributing for a fee of 8% of box office revenue (after theaters take their share), which will still be a bonanza, as there was little risk involved for Paramount. The budget for Iron Man 2 came in at around $170 million, with likely another $75 million devoted to domestic prints and advertising. This is a tiny amount compared to what this comic book entry is going to earn over its run. The original Iron Man posted an open to domestic finish multiplier of 3.12, and while the sequel will not likely have that same multiplier, a 2.9 will put it around the $350 million domestic mark. International grosses are where the big difference will come with the sequel – the original made "only" $264 million the last time out – the sequel, which opened a week earlier than on domestic shores, had already earned $140 million before IM2 opened domestically. By the time you read this, the international gross for the sequel will have outgrossed the original (already), with a cume around $300 million from international cinemas.

The rest of the box office top ten is really a side note to the weekend. A Nightmare on Elm Street – The Reboot finishes second this weekend, and it is with great pleasure that I tell you that this Nightmare, the real nightmare, fell a nasty 72% this weekend, for a gross of only $9.2 million. It's too bad this one found the success it did last weekend ($32.9 million opening), as I would have loved to see Michael Bay and partners fail miserably as they crash another beloved '80s franchise into the ground – first Transformers and now this. Sadly, this Nightmare on Elm Street cost Warner Bros. only $35 million to make, and likely another $15 million on prints and advertising. With a gross so far of $48.5 million, the Jackie Earle Haley flick will end up in the win column, whether I like it or not.

Third spot goes to that plucky How To Train Your Dragon, which is now in its seventh weekend of release, and is still in the top three – an impressive feat regardless of gross. Dragon, from DreamWorks Animation, earned another $6.8 million and dropped 36%. While that is the biggest drop of its run so far, obviously no other weekend has seen a $100 million plus opener show up. Dragon crosses the $200 million mark today, its 45th day of release. It has a domestic total so far of $201.1 million – already more than 4.5 times its opening weekend. With Dragon, the 3D angle didn't help its opening, but it certainly helped its legs.

Date Night finishes fourth and is another leggy flick in the top five. Now in its fifth weekend, the Tina Fey/Steve Carrell flick earned $5.3 million and dropped only 30%, as it proves to be excellent counter-programming against Iron Man 2. Budgeted at $55 million, this 20th Century Fox film has now earned $80.9 million, and will finish somewhere between $90 and $100 million.

J-Lo's The Back Up Plan finishes fifth for CBS Films. The romantic comedy earned $4.3 million in its third frame and dropped 40%. This one is not a success like Date Night or How To Train Your Dragon, as the rom-com cost $35 million to make, and only has a gross so far of $29.4 million. It will be an afterthought in about two weeks.

Furry Vengeance drops to sixth, and it's too bad it didn't fall farther (or on its head). The film that should be seen by no one grossed $4 million in its second weekend and thankfully dropped 40%. The Brendan Fraser flick cost Summit Entertainment $35 million to make, and they are going to lose their shirts, as this one has a gross so far of only $11.6 million. It really can't die fast enough.

Clash of the Titans managed to stay in seventh, but was also abused by the powerful opening of Iron Man 2. Now in its sixth frame, Clash grossed $2.3 million and dropped 61%. This Warner Bros. effort has now grossed $157.8 million against a production budget of $125 million.

Death at a Funeral is eighth, as it spends what is probably its last weekend in the top ten. The Chris Rock flick earned $2.1 million and dropped 49%. It has a total so far of $38.3 million, against a budget of only $21 million for Screen Gems.

Zoe Saldana and The Losers drop to ninth this weekend. The Losers, another Warner Bros. release, earned only $1.8 million and dropped 69%. Despite the low budget at only $25 million, The Losers are going to do just that, as the action flick has a running total of $21.5 million so far.

Tenth place goes to the documentary feature Babies, from Focus Features. In 534 theaters, the film earned $1.6 million for the weekend, which just goes to show that the "Here Come the Babies" marketing campaign did its job.

Overall this weekend, the box office was up over last year, but perhaps by not as much as expected. The top 12 films brought in $174 million, which is a very solid start to summer and eases the bad taste in my mouth brought on by last weekend's Nightmare on Elm Street debacle. The total is decently ahead of last year's number, which was $142.8 million on the strength of Star Trek and the second weekend of Wolverine. Next weekend brings an interesting test for summer movie going, as Russell Crowe returns to the big screen in Robin Hood.