May 2010 Forecast
By Michael Lynderey
May 7, 2010
BoxOfficeProphets.com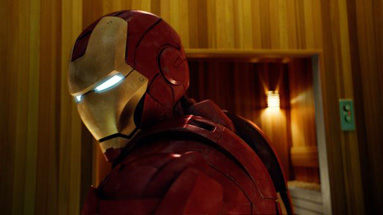 ---
Two mega-blockbusters, a few more solid hits, and one or two also-rans to make the other movies look even better. That's the gameplan for May 2010, and it's not out of the norm. The real box office intrigue this month is going to come from a certain big-budget historical epic, and it's not the one you'd think.

1. Iron Man 2 (May 7, 2010)

Welcome to the biggest movie of the year, delivered right smack dab at summer's start, and on the same weekend that's been lorded over by Marvel Comics since 2007 (a spot Marvel's already reserved all the way through 2012, at the least). And what does Iron Man 2 appear to deliver? Solid, efficient sequelizing, making no noticeable mistakes and bringing back everything that worked the first time around, while adding just enough extra to keep us at attention. Aside from the dutiful returns of Gwyneth Paltrow and Robert Downey, Jr. (now a mega-, mega-, mega-star), you've got the occasional casting change (hey, that's not Terrence Howard!), and the additions of an Oscar nominee-turned-comic book villain (Mickey Rourke) and a hard-working ingenue (Scarlett Johansson) who finally gets an $100 million movie to her name (and a $200 million movie, for that matter, and $300 million... ) Now, since the original Iron Man opened with that still inexplicable $102 million, I'm at a bit of loss in predicting this one. After all, when the first movie opens like its own sequel should have, what do you do for an encore? How about taking on The Dark Knight's opening record? Good plan. Will Iron Man 2 break that record? You bet. Why? I don't know. Why not?

Opening weekend: $159 million / Total gross: $412 million

2. Shrek Forever After (May 21, 2010)

Another three years gone, another Shrek sequel dutifully awaiting us on the third weekend of May. It's been a tradition since 2001, although this go-around has assured mankind that it will be the last. For the plot, they've recruited one of those It's a Wonderful Life scenarios that's been recycled over and over again since 1946, wherein the underappreciated oaf discovers how downright innutritious things would be if he'd never existed (I strongly disagree with this plot point - if Shrek had never been made, we wouldn't have had to sit through the endless barrage of CGI blockbusters that I believe will dominate most, if not all, of 21st century animation). Among the additions finding their way into this installment, you've got a new villain - the malevolent, red-haired Rumpelstiltskin (who's surprisingly not voiced by a star actor) - along with a plump version of Puss in Boots, and the obligatory cameo by that wily megalomaniacal menace known only as Three-dee. Is that enough to inspire the sagging box office for this series? Perhaps, but there's no doubt that the fat lady (who may well be an ogre herself) is just about to sing this franchise out of existence. But Shrek is Shrek, and he's still got enough capital with his target audience to turn out yet another $200 million earner, at minimum, especially with the added (or make that addled) ticket prices supplied by 3D. Could this be the lowest-grossing Shrek film of them all? Absolutely. That's not out of the question. But more likely than not, it'll come in somewhere between parts 1 and 3.

Opening weekend: $108 million / Total gross: $279 million

3. Sex and the City 2 (May 27, 2010)

They're back. That cumbersome quartet, last seen terrorizing the big screen just a short two years ago, return once more unto the big screen - and none too soon, as fans of this series will probably tell you. The trailer seems to have kept things interesting, what with a change of location (Abu Dhabi? Really?), a few choice cameos (Penelope Cruz, Miley Cyrus), and some old TV characters making the transition to film for the first time. Do I see a box office increase over the first film? Not quite. But there's enough momentum to keep the numbers from imploding. Maybe no third movie, though? C'mon.

Opening weekend: $53 million / Total gross: $135 million

4. Prince of Persia: the Sands of Time (May 28, 2010)

Ah, finally, we get to something that's not a sequel! This is based on a video game, though, but nobody's perfect. Regardless of its pedigree, Jerry Bruckheimer's Prince of Persia is clearly aiming for the kind of tone that lifted his Pirates of the Caribbean out of the rut of summer blockbusters and into cultural benchmark status. Continuing the recent trend of historical fantasy, this one features Jake Gyllenhaal, who's... uh... interestingly... cast in the title role, with Gemma Arterton seemingly reprising her role from Clash of the Titans (in spirit, anyway), and Ben Kingsley and Alfred Molina also around and looking as properly villainous as the eye-liner they're wearing will allow. But hey, silly is as silly does, and that Memorial Day slot ought to provide enough leverage for an okay opening and a squint over the $100 million finish line - at minimum. Really, though, and certainly more so than the three heavy-hitters listed above, Prince of Persia will sink or swim based on critical reception. Either way, those omnipresent ladies from New York are going to trounce this one on opening weekend. It's just what they do.

Opening weekend: $49 million / Total gross: $133 million

5. Robin Hood (May 14, 2010)

Here's what Universal is bringing to the Robin Hood table this summer: a prestigious star-director combo (Russell Crowe and Ridley Scott) that's been hit-and-miss lately, a perennial Oscar nominee not particularly known for her box office prowess (Cate Blanchett), a finely-tuned cast of character actors, an apparent attempt at historical realism, with no fantasy elements, and a nearly two and a half hour running time. A mixed bag you, say? More to the point, Robin Hood's been placed onto the cursed second weekend of May slot (cursed because, years ago, all the way back in 1980, on the second weekend of May, there was this movie about a group of camp counselors out in the woods who encounter a revenge-seeking madwoman...) What I'm getting at with all of this, I think, is that Robin Hood does not look like a box office winner to me; if had come out in 2004, in fact, it would have grossed something like $62 million and we would all have been writing about how it's part of the death of the historical action genre. So what can one make of it now, especially since it seems like a film that exists so clearly out of time? Maybe I'm low-balling the numbers here, but my gut is strong on this one. The comparisons to Scott's own Kingdom of Heaven, not to mention Alexander, King Arthur, and all the rest, are just too obvious to ignore.

Opening weekend: $21 million / Total gross: $48 million

6. Letters to Juliet (May 14, 2010)

Letters to Juliet features the kind of storyline I always perk up for; it goes a little like this: after headlining a practically out-of-nowhere box office gangbuster, a breakout starlet is tasked with testing her burgeoning starpower by carrying an already-in-the-can film that plays to her strengths as a leading lady. That's the plot Dear John's Amanda Seyfried is about to play out this May. On her team: Letters to Juliet's got alluring and sunny Italian locations, a good visual match for summer's start, and as far as high-concept romantic comedies go, it looks slightly above average. On the minus: no other stars around to perk her up, and the recent overwhelming spate of off-putting entries into the genre could confer upon this film some guilt by association. Either way, the ball's in Seyfried's court now. Let's see how she plays.

Opening weekend: $16 million / Total gross: $42 million
p.s., join me in cracking a smile if this ends up outgrossing Robin Hood.

7. MacGruber (May 21, 2010)

Kind of an odd duck, this one, an SNL comedy moved smack dab into the May melee from its original placement in the comedy-rich April slate. MacGruber's got Will Forte in his second try at big-screen stardom (please do not watch The Brothers Solomon, his first), matched with Kristen Wiig, who's adding another dose of nonchalant, poker-faced sarcasm (and working her way up to her own starring vehicle, coming next summer). Ryan Phillippe makes an intriguing comeback (?) as the straight man to Forte's cheerful incompétente, and Val Kilmer is amusingly cast as the villain, whose name I can not repeat in print here (or can I? von Cunth?). This is also the first SNL film since all the way back in 2000, when The Ladies Man reared its head; as far as TV sketch-to-film adaptations go, though, MacGruber's actually been getting pretty good reviews - so far - so maybe it can find itself a nice little corner in this month's boxing ring of big bruisers. We shall see.

Opening weekend: $14 million / Total gross: $38 million

8. Just Wright (May 14, 2010)

This one's another battle-of-the-sexes romantic comedy, and one of those rare Queen Latifah star vehicles we seem to get once every couple of years (her masterful 2006 film, Last Holiday, is definitely worth checking out). Here, she's paired up with rapper Common, who's getting deeper into film work, and Paula Patton, so moving in Precious but here playing a more traditional supporting role. Just Wright is helmed by Sanaa Hamri, previously responsible for 2006's Something New, a film that received some decent reviews but was generally ignored at the box office. This one will do better, I think, but standing alongside May's big boys, it certainly won't look like much. That's the works, though.

Opening weekend: $10 million / Total gross: $27 million

9. Babies (May 7, 2010)

This is that weird baby movie from outer space - just in time for Mother's Day. Gosh, it can't really be going wide, can it? What kind of a cockamamy business decision was that? Well, 500 theaters is only sort of wide. Give it a million dollars on opening weekend, and a few more for the road.

Total gross: $3 million...