Weekend Wrap-Up for April 30 - May 2, 2010
Michael Bay Profiteering Dominates Iron Man 2 Lead Up
By John Hamann
May 2, 2010
BoxOfficeProphets.com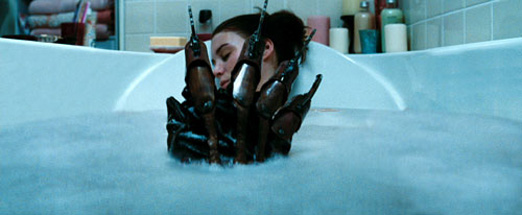 ---
Same old, same old. It's another Nightmare on Elm Street, and obviously there are a lot of people out there who are thrilled at the news that their favorite horror franchise is back. It seems that nothing has changed much in Freddy Krueger Land, save for Jackie Earl Haley replacing Robert Englund, as the movie making is bad, and the audience voracious – at least for a weekend. With Iron Man 2 showing up next Friday, it was a smart scheduling move to park an idiotic horror flick behind the Metal Crusader, as you don't have to be a rocket scientist to figure out that Freddy Krueger is really only here for one weekend.

In 1984, Wes Craven made a new horror movie called A Nightmare on Elm Street. It resonated extremely well with critics and audiences, and created a franchise that put out seven very successful films over ten years. Nightmare on Elm Street was, at the time, produced and distributed by the new studio on the block, upstart New Line Cinema, and it was only their second film to be released, after 1983's Evil Dead. The studio spent $1.8 million producing the film, and it launched November 9, 1984 to $1.3 million from only 165 screens. It garnered a venue average of $7,705 – which meant this new studio was going to have a decent sized hit. Nightmare outgrossed its opening over the next two weekends, and went on to earn $25.5 million (a decent amount for 1984). The second film in the series – Freddy's Revenge – was released exactly one year later - without Wes Craven – and opened to $2.9 million against a production budget of $3 million. It finished with $21.2 million. The next three films in the series came out in concurrent years – 1987, 1988, and 1989, and New Line spent a combined $24 million to make them. The return on investment was huge, as these three films earned $116.3 million at the domestic box office. The sixth film, The Final Nightmare, was its biggest opener at $13 million, but not its biggest finisher, as it closed at $34.9 million, but against a budget of only $5 million. The shine was starting to come off. In 1994, Wes Craven came back to do Wes Craven's New Nightmare, but the franchise was stale and tired. It opened to $6.66 million (natch), but finished with only $18.1 million. In 2003, Freddy came back to fight Jason Voorhees, but that really wasn't a part of this franchise, and should be seen by no one. New Line Cinema, or The House That Freddy Built, went on to release some huge films, like the Lord of the Rings series, and it was all thanks to Wes Craven, and the guy that claws through your nightmares.

With that kind of pedigree, one might think Warner Bros. and Platinum Dunes (Michael Bay's production company – yes, that Michael Bay) would put as much effort as possible into rebooting what once was a beloved franchise. Instead of doing that, they spent $35 million on the project, hired an unknown director, and refused to include Wes Craven or Robert Englund in the process. The result is a boring mess, but audiences still came out because they know the character (it's easier if we don't have to think). The reboot of A Nightmare on Elm Street earned $32.2 million this weekend, after being released to 3,332 venues (the highest cost on the picture was almost certainly prints and advertising). It had a venue average of $9,664. One thing the filmmakers were able to keep the same was making serious money. This Nightmare cost $35 million to make, so after next weekend's grosses are counted (Iron Man 2 or not) this one is going to make a profit.

Wes Craven was the only one who able to pull this franchise off the laugh track with his New Nightmare, Craven's 1994 return to the franchise. The Nightmare on Elm Street story had degenerated into bad Arnold-esque one-liners following the murders, played for cheap laughs, until Craven came back to try and get the series back to its roots. Unfortunately, despite being a much better film, New Nightmare grossed only about half what its predecessor did three years earlier (New Nightmare unfortunately came out three years after the "Final" Nightmare). Despite the return to form in 1994, Craven was not brought in on the latest film and the results show. The reboot of A Nightmare on Elm Street was critically reviled, despite taking the humor out of the script. Director Samuel Bayer's film was reviewed like a Michael Bay movie, garnering only 12 positives out of 82 reviews. That's 15% fresh and should be considered an embarrassment. Obviously, the only thing Michael Bay wanted to do here was make money off of teenagers and young adults, and will accomplish his goal. I can only hope that people are figuring out that Michael Bay is to movies what Freddy Krueger is to nightmares. This is not a Bryan Singer/Superman Returns mistake – this is only profiteering.

While the numbers are much smaller, there is a small bit of good news in the top ten, as How To Train Your Dragon, now six weekends old, finishes second, well ahead of the other horror movie in the top ten, Furry Vengeance. The DreamWorks Animation presentation earned another $10.8 million and was off a still solid 29%. After opening somewhat softly to $43 million six weekends ago, How To Train Your Dragon has shown extremely solid legs, dropping an average 23% prior to this weekend's gross. The $165 million film has now earned $192.4 million domestically, and more than that amount overseas. What once looked like a loss for Paramount is going to turn into a $500 million grosser worldwide.

Third goes to another leggy flick, Date Night, starring the delightful Tina Fey (she and Stephen Colbert would make a cute couple, no?). Date Night repeated in the same position on the chart (ahead of J-Lo's The Back-Up Plan), as it earned $7.6 million and dropped a tiny 27%. Date Night has not seen a drop over 40% in its four weekends of release, and now has a running total of $73.6 million. The Fox film cost $55 million to make, and could earn as much as $90 to $100 million.

The Back-Up Plan drops to fourth, as it appears no one gives a rat's ass about J-Lo anymore. The Back-Up Plan earned $7.2 million in its second weekend, and fell 41%, the biggest drop in the top five. Because The Back-Up Plan is from CBS Films, it will likely make money. The production cost the upstart distributor only $35 million to make, and will likely finish near that amount. Its current total is $22.9 million.

Fifth goes to Furry Vengeance, which flopped with an opening of $6.5 million from 2,997 venues. I hate this one more than I hate the Freddy reboot. Cute critters stalk Brendan Fraser, but don't stop him from making more movies – so what's the point? The overall theme of the weekend is "unnecessary," but at least it seems that parents caught on to this dreck in disguise. Furry Vengeance earned one, yes one, positive review out of a possible 44. For the record, that positive review came from one Chris Hewitt in St. Paul, who also liked Nightmare on Elm Street, which was 15% fresh. Want some quotes from his review? How about "what it lacks in originality it makes up for in cleverness" or "the script boasts sharp dialogue" (the animals don't talk in this one, so he's referring to Brendan Fraser) or finally, "holding things together is Brendan Fraser, who has become a deft physical comedian". No, I'm not kidding. Take it from me, Chris Hewitt of the Pioneer Press provided more laughs from his review than you will get from the movie.

The Losers drops to sixth this weekend after a fourth place debut last weekend. The cheap, Joel Silver produced, Warner Bros. distributed flick earned $6 million in its sophomore frame and dipped 36%. The $25 million Zoe Saldana flick has now earned $18.1 million.

Clash of the Titans, another remake that takes the campy fun out of the original, finishes seventh. Now in its fifth frame, Clash earned a 3-D influenced $6 million, and dropped 33%. The $125 million Warner Bros. release has now earned $154 million on the domestic front, and another $250 million from overseas cinemas.

Once the hot new thing coming out of Hollywood, Kick-Ass has now officially fallen on its head, earning only $4.4 million and dropping a hefty 52%. At least it will be profitable for Lionsgate. The $15 million pickup has now earned $42.2 million.

Death at a Funeral is just that, as the movie slowly dies in ninth. Death earned $4 million and dropped 50% from last weekend. The $21 million Screen Gems product has now earned $34.8 million.

Finally in tenth is Oceans, Disney's Earth Day film. Ocean's earned $2.6 million in its second weekend, and has earned $13.2 million so far.

Overall this weekend, 2010 didn't have a chance versus last year, as a year ago, Wolverine opened to $85 million, or approximately what the top seven films earned this year. The top ten films this year couldn't keep up with what the top two did last year. This weekend, the top 12 took in $91.2 million, about half of the $187.4 million from the May 1st weekend in 2009. It's now all about next weekend, as Iron Man 2 officially kicks off the summer season, and eyes The Dark Knight's $158 million record opening weekend.