AFInity
#62 : American Graffiti
By Kim Hollis
May 3, 2010
BoxOfficeProphets.com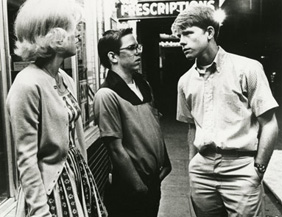 ---
We're a list society. From Casey Kasem and the American Top 40 to 1001 Books You Must Read Before You Die to BOP's very own Best Horror Films (one of our most popular features ever), people love to talk about lists. They love to debate the merits of the "winners" and bemoan the exclusions, and start the whole process again when a new list captures pop culture fancy.

Perhaps one of the best-known, most widely discussed lists is the American Film Institute's 100 Years... 100 Movies. A non-profit organization known for its efforts at film restoration and screen education, the AFI list of the 100 best American movies was chosen by 1,500 leaders in the movie industry and announced in its first version in 1998. Since then, the 100 Years... 100 Movies list has proven to be so popular that the AFI came forth with a 10th anniversary edition in 2007, along with other series such as 100 Heroes and Villains, 100 Musicals, 100 Laughs and 100 Thrills.

In addition to talking about which films are deserving of being on the list and bitterly shaking our fists because a beloved film was left out, we also love to brag about the number of movies we've seen. As I was looking over the 100 Years... 100 Movies list recently, I realized that I've seen 47 - less than half. As a lover of film and writer/editor for a movie site, this seemed like a wrong that needed to remedied. And so an idea was born. I would watch all 100 movies on the 2007 10th Anniversary list - some of them for the first time in as much as 20 or more years - and ponder their relevance, worthiness and influence on today's film industry. With luck, I'll even discover a few new favorites along the way.

#62 : American Graffiti

Before the Skywalker family saga, Jar-Jar Binks, Ewoks, Yoda and the Mos Eisley cantina, George Lucas found success with a simpler coming-of-age tale set in Northern California. American Graffiti tells the story of a night in the life of four young men as they ponder their futures post-high school. If it sounds like a movie that could be the precursor to sex comedies like Porky's or American Pie, that's kind of true, but American Graffiti probably has a closer kinship to Scorsese's After Hours.

The movie's story focuses upon Curt Henderson (Richard Dreyfuss) and Steve Bolander (Ron Howard), recent college grads, who meet up at various times throughout a late summer's night in 1962 with friends Terry "The Toad" Fields (Charles Martin Smith) and John Milner (Paul Le Mat). Curt is the prototypical golden child of Modesto, the beneficiary of a scholarship to go to college out in the Northeast, but he's conflicted about his future and unsure whether he really wants to leave town. Steve, on the other hand, is all gung-ho about getting out of town and starting a new adventure. He even goes so far as to suggest that he and his current girlfriend, Laurie (Cindy Williams), should consider seeing other people while they're apart from each other - which does not go over well, as you might imagine. As for Toad, he's looking at a future in the Marines, while Milner is resigned to the fact that he's probably stuck in Modesto, a hero as long as he keeps winning street races in his '32 Deuce Coupe. By the time the credits roll and we learn what happened to each of them, the guys have transformed in small ways that are very realistic given each of their individual circumstances.

I've had a fondness for American Graffiti ever since I saw it as a youngster. I hadn't seen it in some years, and wasn't sure it would hold up well given what I know about Lucas's other movies and their ability to stand the test of time. I was pretty pleased to discover that it's still a very enjoyable experience overall, though perhaps some of the fun is the predictability of already knowing what will happen next and what decisions the characters will make. Having this information at my disposal meant that some of the comments made by Curt and Steve in particular had a little more at their heart than one might realize on a first viewing.

Despite the fact that they were young and relatively unseasoned (although Howard had made numerous appearances as a child actor in film and on TV), all of the performers brought something special to their roles. Dreyfuss is funny and charming in his neuroses, anxious to be liked and looking for adventure in odd places. Howard is (surprisingly) jerky, which is a bit refreshing given that he's generally cast as the "aw shucks" nice guy. Smith could have turned Toad into just a dull, nerdy guy whose awkward situations lead him to a series of uncomfortable events, but there's something more to Toad than that. He has a self-confidence about him that allows him to coax a pretty girl into hanging out with him even as he yearns for the approval of his peers. Le Mat is given the tough task of keeping the company of a teenage girl (Mackenzie Phillips) throughout the film, and their interplay is quite sparkling and believable.

Other supporting players have a lot to offer, too. Harrison Ford showed us flashes of the brilliance to come later with Han Solo and Indiana Jones with the arrogant Bob Falfa, while Cindy Williams, who would later appear in Laverne & Shirley in the half hour comedy stretch that followed Howard's Happy Days, played Steve's girlfriend. Suzanne Sommers is the beautiful and mysterious blonde in the T-Bird. And then there's Wolfman Jack, a cultural touchstone of radio, who plays himself and whose voice does much of the framing of the action and events.

In keeping with a radio voice providing the film some backbone, American Graffiti is also chock-full of great classic rock tunes. The album itself was certified triple platinum and has a lot of songs that probably are well-remembered as a result of being on this soundtrack. I have to think that American Graffiti, along with such movies as Easy Rider, The Graduate and Shaft, was one of the first films to really incorporate music as part of its story to a degree that the soundtrack became critical to the proceedings (not including musicals, of course).

When I pondered how it could be possible that I could enjoy a George Lucas film as much as this one and yet at the same time find Star Wars: A New Hope dull, the answer that emerged is that American Graffiti is a story from the writer/director's heart based upon real life experiences, while Star Wars is a colder, more clinical fantasy in space (some people might argue that point. I understand, and we'll just agree to disagree). The characters in American Graffiti are relatable. Most of us have been recent high school graduates, with all of the pressures and new horizons that come with the territory. All of us have wanted acceptance from our peers. It's a universal notion that fast, shiny cars are sort of nifty. And who wouldn't agree that music was as much a part of our formative years as any high school class? These are the things that resonate about American Graffiti. While I can't argue with Lucas about his later results - he's responsible for what might be the single most influential movie in terms of box office strategy, release and earning potential - I can't help but wonder what might have been had the director focused his efforts in a different direction, grounded more in reality. How different might our movie world be today?