What's Next
By Michael Lynderey
April 26, 2010
BoxOfficeProphets.com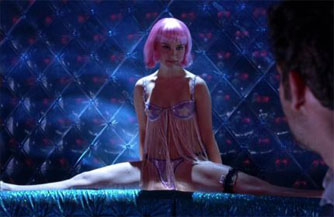 ---
So I'm glancing over the latest batch of movie news, looking for fresh victims. Let's see here... some new Ron Howard thing... a Cameron Diaz-Benicio del Toro romantic comedy (really?)... a Brad Pitt-Natalie Portman romantic comedy (really really?)... The Rock making another action movie... well, sounds more okay... so far so good. But wait... what about... sequels? Remakes? Reboots? Where have thou gone? No news of Garfield 3? Not even an RV II announcement for my troubles?!? You really don't know how much you might miss something until it up and disappears.

To be fair, it wasn't really all gone. A few remakes and sequels slipped through the cracks. But it was mostly small potatoes: Final Destination 5 now has a screenwriter, but odds are you won't recognize his name; there'll be a follow-up to The Haunting In Connecticut (no kidding? So all those BOP people who said there'd be a sequel weren't crazy?); those remakes of Escape From New York and Footloose are getting directors (Breck Eisner and Craig Brewer, though I forgot who is directing what); about four more Pixar sequels have been announced, or at the very least one has been (Et tu, Monsters, Inc.?); Cary Elwes will be back for Saw VII, a fact that will be very important to Saw fans but completely meaningless to anyone else (at the very least, it'll wrap up one long-standing loose end, in what will likely be the last film); and a few more movies will be converted into 3D under the cover of night (namely - The Green Hornet, The Last Airbender, and, uh, the latest Woody Allen movie, I think). All that aside, these last two weeks appeared distinctly lacking in really outrageous news.

But let's see here. Perhaps I somehow missed a sequel announcement from the few weeks before? No, no luck there, either. We've already trashed Scream 4, bashed Harold and Kumar 3, and thoroughly condescended to Harry Potter parts 7 and 8 (and 9, just in case). There's that Arthur remake that's now moving forward with Russell Brand and Helen Mirren, but is there really a devoted base of fans out there fuming over that one? Same story for the Private Benjamin re-do.

When faced with a situation so thoroughly lacking in potential snark, the intrepid movie news watcher must look deeper into the latest weeks' news, and trawl upon items that are perhaps intriguing in a way that is not conventionally maddening. Why don't we do that and see what we can come up with?

Well, for starters, it looks like that old 1992 book Men Are From Mars, Women Are From Venus will be getting a film adaptation, and none too soon. No, the book is definitely non-fiction, and no, I have definitely not ever read it, although I have childhood memories of being distinctly disappointed to find out that the plot did not involve murderous, mal-nourished, mal-adjusted, misbehaving carnivore shapeshifters from beyond the stars. That could change when the film comes around, though, giving me a belated victory.


Also in the works are film versions of Mighty Mouse (if you loved Underdog...) and The Man from U.N.C.L.E. (no idea what that is; another '60s spy comedy, I guess?). Dogme king (don't ask) Lars von Trier is prepping something he describes as a "sci-fi disaster film". Really, a sci-fi film from von Trier? von Trier must be lying. Will believe it when I see it. Betcha the disaster will actually be existential and philosophical and so on, and occur mostly on a wooden stage with plastic props. Michael Bay would scream in horror.

Now, here's a trivia question - which actress has been cast in more major roles than any other throughout the course of this fine young spring season? That would be Amanda Seyfried, who is now living the painful consequences that occur after you headline a movie that opens with $30 million and totals at $79 million (that would be Dear John). One could say she's the female Taylor Lautner. Aside from Letters to Juliet, which strikes next month, Seyfried has been coerced into building up quite a potential resume. There's the Oscar Wilde adaptation A Woman of No Importance, Seyfried's obligatory entry into English prehistoric times* (think Reese Witherspoon in The Importance of Being Earnest or Jessica Biel in Easy Virtue), in which Seyfried will team with Sean Bean and Annette Bening in what will no doubt be a so-called comedy of manners (well, that's what people will call it). Then there's The Girl Who Conned the Ivy League, in which Seyfried will play a villainous (well, not really) high school dropout who matches wits with potentially elitist college professors (McG, of all people, will direct). And finally, we are faced with The Girl With the Red Riding Hood, in which Seyfried will re-enact the story of Little Red You-Know-Who, presumably with a higher body count, this time. Twilight's Catherine Hardwicke will direct, and Gary Oldman and Julie Christie will spook up the scenery. That's going into production very soon, and it's the one that looks the most intriguing out of that whole batch.

But speaking of Taylor Lautner... some may recall that his roster of upcoming projects stood at five when this column first slithered up from out of the darkness, back in mid-February. I predicted that Lautner's future filmography would only balloon in size, but, alas, I was wrong. After Lautner dumped Northern Lights and Max Steel, the number went down to three. Cancun, the one in which Lautner would have karate-kicked down just about half of Mexico, looks sort of frozen in limbo just about now. But the remaining two are moving forward: one, Stretch Armstrong, has now acquired a director (Rob Letterman, of Monsters Vs. Aliens and Shark Tale) and a writer (Nicholas Stoller, who directed Forgetting Sarah Marshall); the other, "my parents are evil (and not really my parents)" thriller Abduction has nabbed both a director (John Singleton) and a co-star (Lily Collins, of The Blind Side), right in time for its July start date. That one's going to be his first real star vehicle, and it actually sounds pretty good.

But then, as I said, I've been wrong before.

*Yes, I know that the year 1893 was not "prehistoric". That's just what I call all those period pieces. They seem prehistoric to me, and in fact, an angry Tyrannosaurus rex dispatching the characters is usually the one ingredient most of them are in dire need of.