Weekend Wrap-Up for April 23-25, 2010
Box Office Waits For Iron Man
By John Hamann
April 25, 2010
BoxOfficeProphets.com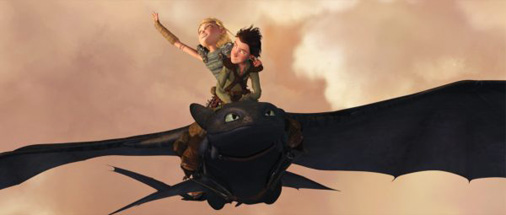 ---
The box office had the spring blues this weekend, as two openers failed to ignite. The story is again the now five-weekend-old How to Train Your Dragon from Paramount Pictures and DreamWorks Animation. While no records will fall for a fifth weekend gross, Dragon is showing that a well put together 3D picture has the tendency to equal legs, a body part Hollywood hasn't seen since the early '90s. Openers were soft, and included the Jennifer Lopez rom-com The Back-Up Plan, and the lovely Zoe Saldana in The Losers.

The last couple of weekends at the box office have proven to be completely unpredictable, but in a different way than we are used to. Usually, the inconstant behavior comes from a breakout opener, whose first weekend gross came completely out of the blue (think last year's Fast & Furious, which earned $71 million over its first three days in the first weekend of April). The last two weekends have been different, where there haven't been blow out successes, but analysts have been surprised about grosses internally in the weekend. For example, last weekend Kick-Ass earned $7.65 million on opening night, and How to Train Your Dragon finished fourth, well back, with $4.4 million. When weekend estimates were released How to Train Your Dragon was the number one film, until Monday, when actuals were released that had Kick-Ass on top. The weekend before, Dragon finished only $2 million behind Date Night's opening Friday (not the $3.25 million it finished behind Kick-Ass), but somehow Dragon failed to be the number one film. Simply put, 3D is causing havoc with box office forecasting, like a new weather pattern messing with normal forecasting conditions.

This weekend is another example of the different patterns being created by 3D. As Tim Briody reported yesterday, How to Train Your Dragon finished second behind The Back-Up Plan on Friday; however, the now five-weekend-old film is number one (for sure) this weekend. The mighty 3D Dragon earned $15 million and dropped 23%. Almost unbelievably, this is only the second weekend that Dragon has finished on top, as it opened at number one on March 26th ($43.3 million), dropped to #3 on April 2nd ($29 million), held at third on April 9th ($24.9 million), and rose to second last weekend ($19.6 million). It has seen drops of 34%, 14%, 21% and now 23% - regardless of format, audience, or competition, these are excellent holds – not quite to the Avatar standard, but better than Coraline, and much better than Alice in Wonderland. So far, its cumulative total is $178 million.

An argument can be made that How to Train Your Dragon was propped up by the R-rating given to Kick-Ass, as one film wilts and the other takes off. To look at this, we examine a film's internal multiplier (Friday box office divided by weekend box office). The weekend before Kick-Ass opened, How to Train Your Dragon was up against Date Night as the only opener. That weekend, Dragon had an internal multiplier (Friday box office divided by weekend box office) of 3.5, which isn't bad for a kids flick, but likely lower than Paramount might have expected. The lower than expected multiplier might have been due to Clash of the Titans being a 3D film that was partially aimed at the kids crowd, and the combination of Diary of a Wimpy Kid and Alice in Wonderland (there's that 3D again) combining for about $10 million. However, the following weekend when Kick-Ass opened, Dragon's internal multiplier rose to a massive 4.46, a number reserved for the kiddiest of kids fare. Remember how this works: if no one attends a film on Friday, and then buckets of people see it on Saturday and Sunday, we get a huge multiplier. So, if a film plays very young, fewer little kids are going to see the 9 p.m. show on Friday, so the trend is for a larger internal multiplier. But that's not the demographic that Dragon represents – it would play much more broadly than, say, a Muppets flick or a Rugrats Movie.

We then have to look back at Kick-Ass – this is an R-rated flick that has its biggest following amongst teens, who are legally not allowed to see this movie. So what happens? In the world of the googaplex, kids can buy a ticket for How to Train Your Dragon, and go see Kick-Ass. An argument can also be made that the wacky internal multipliers are due to the 3D effect – more product one weekend than another – and again denotes the new world we are in with 3D and its effect on box office. From a box office perspective, the answers aren't readily available, and I doubt theater owners care too much, as they have a butt in the seat anyway. This weekend, Dragon's internal multiplier was 4.17 and Kick-Ass has dropped off in a very big way, which likely means the trend has reversed, and we are seeing a more normal picture of box office this weekend.

Finishing in second this weekend is Ms. Taco Kisses herself, Jennifer Lopez, in The Back-Up Plan from CBS films. In her first film in three years, and only her second in five, Ms. Lopez definitely did not breakout, as The Back-Up Plan earned only $12.3 million this weekend from 3,280 venues. While soft, it is the biggest opening for Lopez since Monster-In-Law debuted in 2005 to $23 million, but even that open was an aberration for the singer, as her usual debuts are in the $10-$17 million area. This is the second release for upstart CBS Films, which struggled earlier this year with the Harrison Ford starrer, Extraordinary Measures, which tanked, earning only $12.5 million after opening to $6 million. Critics certainly did not like The Back Up Plan, as it earned only a 22% fresh rating at RottenTomatoes, with only 16 positive reviews out of a possible 58. While budget data is unavailable, CBS Films makes films that cost less than $50 million, and in this case, it feels like less than $35 million. Whatever the budget, CBS Films needs to chalk this one up as another loss, and hope that their summer release, Beastly, works better.

Date Night finishes third despite being in its third weekend at the box office. Date Night earned $10.6 million and is having a decent run for 20th Century Fox. The Tina Fey/Steve Carell comedy was off 37% compared to last weekend's drop of 34%. Date Night cost Fox about $55 million to make, and has a gross so far of $63.5 million. Somewhat surprisingly, Date Night could see as much as $80-$90 million before it's done.

Fourth spot goes to our other major opener this weekend, The Losers, starring the lovely Zoe Saldana (Star Trek, Avatar). The Losers has the Joel Silver brand, so is obviously about guns, testosterone and violence. The Losers has an appropriate title, as the film earned only $9.6 million from 2,936 venues. For Zoe Saldana, this is a big step backwards after scoring hits with Vantage Point in 2008 ($22 million opening, $72 million domestic finish), which was followed up by huge films like Star Trek ($79 million opening, $257 million finish) and Avatar ($745 million and counting). IMDb lists a budget for The Losers at $25 million, a number it should see eventually from its domestic run.

Fifth goes to last weekend's (arguably) number one film, Kick-Ass, the little film that was supposed to be huge (but wasn't). After an opening frame last weekend at $19.8 million, the kids of Kick-Ass got dropped on their heads, as the Lionsgate entry earned only $9.5 million and dropped a woeful 52%. The good news for the small studio is that this was a $15 million pickup, and Kick-Ass has already earned $34.9 million, which will likely cover domestic print and advertising costs as well.

Clash of the Titans manages to finish in sixth. The Warner Bros. remake in 3D took in another $9 million in its fourth frame, and dropped 42% compared to last weekend. Since opening to over $60 million, Titans has seen drops of 57%, 42% and now 42% again, as it makes a quit exit from the box office stratosphere. The sword and sorcery epic cost $125 million to make, and now has a domestic total of $145.6 million, and an overseas cume at about $200 million.

The second biggest loser in the holdover department this weekend is Death At a Funeral, as audiences abandoned this one in its second weekend. After opening in the last frame to a stellar $16.2 million, Funeral died, earning only $8 million and dropping a large 51%. While a big drop, don't forget this is a Screen Gems film, and most of their movies are well marketed and made on the cheap, enabling most of them to be one weekend winners (achieving their production budget in the first weekend). Death cost Screen Gems only $21 million to produce and has a gross so far of $28.4 million, which puts another feather in the cap of this low budget studio.

Disney's Earth Day film this year is Oceans, another nature documentary much like last year's Earth. Ocean's opened on Thursday at number one with $2.5 million, and then added a weekend take of $6 million to that for a running total of $8.5 million so far. This French release has already earned $54 million overseas before opening in the US and Canada.

Miley Cyrus and The Last Song finishes ninth. The Nicolas Sparks weeper earned $3.7 million in its fourth frame, and dropped 38%. The Miley Cyrus Movie Experiment has certainly worked for Buena Vista, as this one cost $20 million to make, and has a running total of $55.4 million.

Finally in tenth is Alice In Wonderland, the Tim Burton flick that just won't die. Now in its eighth weekend, Alice earned another $2.2 million and dropped 39%. This Disney effort has brought in $327.5 million domestically against a budget of $200 million, making it another breathtaking 3D success story.

Overall, the news is not good at the box office. For the first weekend since the start of February, the box office top 12 slipped below $100 million, as the box office records its lowest top 12 total so far in 2010. A year ago, Obsessed with Beyonce led the top 12 films to $104 million. This year, the top 12 could only manage $89.7 million. Next weekend could provide a huge frame, though. Openers include the reboot of the Nightmare on Elm Street franchise, and Furry Vengeance for the kids.