Weekend Wrap-Up for April 16-18, 2010
Dragons Roast Fake Hero Wannabes
By John Hamann
April 18, 2010
BoxOfficeProphets.com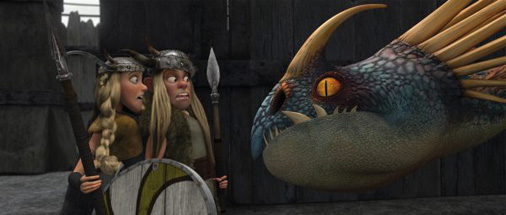 ---
Fanboys and fangirls were happy as Matthew Vaughn's Kick-Ass opened, but it appears they were the only ones. The R-rated Lionsgate pickup finally hit screens this weekend, as supporters and detractors have been waiting for this one eagerly since an extremely well-received screening at the San Diego Comic Con. Kick-Ass critics didn't like a violent and foul mouthed 11-year-old named Hit Girl, and Lionsgate was hoping the controversy would push sales even higher. Our other opener of the weekend is Death at a Funeral, another comedy. Both Death and Kick-Ass were made on the cheap, and had an opportunity to break out this weekend. Unfortunately, they didn't, as we have a bit of a surprise at the top of the box office charts.

Our number one film of the weekend is not Kick-Ass or Death at a Funeral. The winners of the last two frames, Clash of the Titans and Date Night, are also not sitting in the top spot. Instead, a four-weekend-old movie has returned to claim victory. How to Train Your Dragon, which finished at #1 in its opening weekend followed by a third place finish in both its second and third frames, has shocked the world by topping the charts in its fourth weekend. Its $20 million three-day total is off only 20% from last weekend, but perhaps even more impressively, it's actually only off 54% from its opening weekend. There's a lot of movies in the top ten right now that fell that far or more in their second frame.

This is a delightful success story for a wonderful family film that had seemed to get off to a rough start. Some of its success can be credited to its IMAX/3-D screens, but the terrific holds are also a triumph of word-of-mouth. How to Train Your Dragon is a remarkable 98% fresh at RottenTomatoes, and people with children are telling their friends that this is a movie worthy of a family outing. Thus far, the DreamWorks Animation flick has made $158.6 million at the domestic box office, with another $150 million or so coming from overseas. After starting out as a movie that looked like it would be a mild disappointment, How to Train Your Dragon will more than make its budget back in North America alone. Also, the toys associated with the film are selling out at an incredible rate, so merchandising has been a boon for Paramount. It serves as proof that the gap is indeed closing between Pixar and DreamWorks.

That means that our number two movie this weekend is Kick-Ass, the new comic book feature produced and financed by Matthew Vaughn (Layer Cake) and Brad Pitt, amongst others. Kick-Ass has long been on the radar due to a rapturous screening at the San Diego Comic Con and the story around the production of this R-rated fanboy flick. Vaughn initially went to the studios with Kick-Ass, but was shown the door as the film was considered to be too violent and the language too course (you didn't have to be a rocket scientist to see that this one was aimed at the young male demographic, and was heading for a hard R rating). Matthew Vaughn decided to make the film on his own, self financing the $30 million film and then selling the US distribution rights to Lionsgate for $15 million, according to the LA Times. Lionsgate then invested a further $25 million on advertising and prints, so they had sunk about $40 million into the picture. They must have been very happy when original reviews were stellar, until Roger Ebert came along and called it "morally-reprehensible." Cue the Christian Right to jump on the bandwagon.

In the end, controversy or not, Kick-Ass still had its original problem – it was a hard R rated flick, aimed at young fanboys (and girls!), and the film got hit in the wallet because of it. Kick-Ass earned $19.8 million from 3,065 venues, much lower than the $30 million or so that tracking indicated. Tracking is all about the "want to see" factor. It doesn't matter whether you are old enough to get in to see a picture, just whether you want to see it or not. The film failed to carry over into a wider audience. I would blame the marketing; however, word-of-mouth could strengthen this one moving forward. Reviews were solid. Of the 181 reviews cited at RottenTomatoes, 140 were positive, giving Kick-Ass a certified fresh rating of 77%. Most of the negative reviews are disdainful of the violence, especially the violence caused by Hit Girl, the 11-year-old superhero, who drops the C bomb.

For Lionsgate, and regardless of expectations, this is a big opening for a studio that relies on either Tyler Perry or Jigsaw from the Saw films to promote their bottom line. The previous biggest debut for a Lionsgate film that doesn't reference the two characters outlined above was The Haunting in Connecticut, a very bad horror film that managed to open to $23 million in late March 2009 (it was adult counter-programming against Monsters vs. Aliens). Prior to that, $20 million plus openings were My Bloody Valentine (in 3-D, natch), and The Forbidden Kingdom. Prior to those, you have to wander all the way back to 2004's Fahrenheit 9/11 to see another $20 million plus opener. Fahrenheit is Lionsgate's only $100 million plus movie, and it along with Haunting in Connecticut are the only two films in the Lionsgate's top 10 domestic earners without Jigsaw or Tyler Perry. Kick-Ass may be able to enter that top ten list, as the original Saw sits at number 10 with a domestic cume of only $55.2 million.

Christopher Mintz-Plasse, who plays Red Mist in Kick-Ass, is quickly becoming a box office phenomenon. This is the kid who played McLovin in Superbad, which started his movie career with a bang. Superbad made $121 million domestic, and Mintz-Plasse was a big part of that movie's success. A year later he showed up in Role Models, another very funny (76% fresh) comedy where he stole the show. Role Models earned $67.3 million domestically (out of nowhere) and just short of $100 million worldwide. He then took a small step backward in Year One, but that one still opened strong at $19.6 million, despite its complete awfulness. Next came How to Train Your Dragon, which we've already discussed, and now Kick-Ass. Mintz-Plasse has had a strong knack for picking the right projects; however, next up for the actor is the animated feature Marmaduke, a project that sounds annoying at best.

Number three this weekend is Date Night, which held quite well. The Steve Carell/Tina Fey comedy earned $17.3 million in its second weekend, and was off only 31%. I think the folks at Fox will be quite happy with this result, as the $55 million film now has a running total of $49.2 million. Word-of-mouth must be good for this one, as this kind of hold was not expected, considering the 66% fresh rating at RottenTomatoes. Date Night will see more competition next weekend, when CBS films launches J-Lo's The Back Up Plan.

Fourth place goes to Death at a Funeral, the ambush-marketed comedy starring Chris Rock, Tracy Morgan and a bevy of others. Death earned a respectable $17 million from 2,459 venues. It had a venue average of $,913. This version of Death at a Funeral is a remake of a recent, 2007 British film that was directed by Frank Oz (Bowfinger, What About Bob?). Oz's Death was a small hit in the US, earning $9 million, and another $38 million overseas, against a production budget of about $9 million. Bring on the remake with much bigger names, and an African-American slant. Big names at this funeral include Chris Rock, Tracy Morgan, James Marsden, Danny Glover, Zoe Saldana (sigh), Martin Lawrence and Luke Wilson. Despite the big names, Screen Gems says they spent only $21 million making this one, so this will end up as another low budget win for the Screen Gems group.

Oddly enough, Death at a Funeral is directed by Neil LaBute, who has made some very different films in his career. LaBute broke onto the scene with 1997's In the Company of Men, a disturbing tale that won him much love from critics and a Sundance Film Award. A year later he made Your Friends and Neighbors, another oddly disturbing tale that failed to earn much cash. Then he made Nurse Betty, another odd film, this time with Morgan Freeman, Chris Rock and Renee Zellweger. He made some small films in the early 2000s before making a very odd turn into wider features with The Wicker Man, the incomprehensible Nicolas Cage feature that earned only $24 million. He then made the middling Lakeview Terrace, which had a solid opening ($15 million in mid-September), before moving on to Death at a Funeral, which, at the very least, will make some money.

Clash of the Titans falls to fifth after finishing in top spot the last two weekends. After recovering the number one spot thanks to a bad estimate last Sunday, Clash earned another $15.8 million this weekend. It was off 41%, which is an improvement on its 57% dip last weekend. Clash of the Titans is turning into a solid money-maker for Warner Bros., as it's earned $133 million stateside and a similar amount overseas, against a budget of $125 million.

Miley Cyrus and Nicolas Sparks fall only one spot to sixth this weekend, but the drop is bigger than the slight demotion would indicate. The movie is The Last Song, and in its third weekend of thievery, conned patrons out of another $5.8 million. It fell 41% from its $9.8 million showing last weekend. Like most Nicolas Sparks titles, this one is making a lot of hay at the box office, as it cost only $20 million to make and has earned $50 million at domestic theatres alone. The Last Song won't outgross The Hannah Montana Movie, but it will likely keep Miley in theaters for a few more years.

Tyler Perry's Why Did I Get Married Too? finishes seventh this weekend, as Lionsgate actually has two films in the top ten. Married Too earned $4.2 million and dropped 62%, after dropping an identical 62% last weekend and earning $11 million. Like usual with Tyler Perry, despite the huge drops, he has another big winner for Lionsgate. Married Too cost only $20 million to make, has earned $54.9 million so far, and will be big again on home video. Tyler Perry has become the king of the $50 million film.

Hot Tub Time Machine finishes in eighth place this weekend, its fourth in release. The John Cusack comedy took in $3.5 million and has a total so far of $42.5 million, which exceeds its $36 million budget and is good enough that it should be a winner overall for the studio, particularly since it's likely to do quite well on home video.

Alice in Wonderland falls to ninth, as the Tim Burton flick enjoys its seventh weekend in release. Alice earned another $3.5 million and dropped 33%. What an investment this has become for Disney. The Mouse House spent $200 million on Burton's creation, and it has now earned $324 million domestically, and over $460 million overseas. It has quietly become the 21st biggest film ever domestically, and is approaching the top 20 in international grosses.

Finally, The Bounty Hunter is tenth, as the Jennifer Aniston/Gerard Butler flick earned $3.2 million and brought its total up to $60.4 million. This is a total that ensures both its stars continued work in bland romantic comedies for some time to come.

Overall, the box office had no trouble getting ahead of last year's totals when Warner Bros. punished us with the release of 17 Again with Zac Efron. Last year, the box office earned $100.4 million – this year, the top 12 films earned $113.4 million. Next weekend is another waiting period prior to Iron Man 2. We are left watching the aforementioned Back Up Plan with Jennifer Lopez, or The Losers, which at least stars the lovely Zoe Saldana.