Top Chef Masters Recap
Episodes 1 and 2
By Jason Lee
April 16, 2010
BoxOfficeProphets.com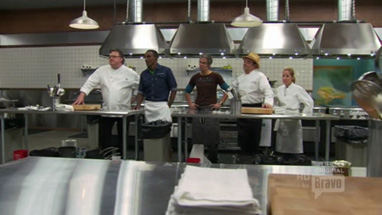 ---
And here we are, back for another season of Top Chef: Masters. Before this season started, I wasn't sure how eager I was for another dollop of Masters drama. The first season was great, to be sure, and featured a level of culinary expertise unseen on Bravo until (arguably) Top Chef: Las Vegas. But do we need another return to the Top Chef: Masters kitchen?

I guess a large part of my ambiguity comes from the fact that while it can be fun to watch chefs on the brink of culinary greatness fail at grueling culinary challenges, it's less fun to watch a chef whose personal and professional reputations are built on culinary excellence fail at those same challenges. That said, I'm trying to approach this season with an open heart and mind (and stomach).

EPISODE ONE:

Episode one featured six (count 'em, six) chefs. We have Govind Armstrong of 8 Oz Burger Bar in Los Angeles, Susan Feniger of Border Grill in Santa Monica, Ana Sortun of Oleanna in Cambridge, Jerry Traunfeld of Poppy in Seattle, Jimmy Bradley of The Red Cat in NYC, and finally Tony Mantuano of Chicago's Spiaggia (one of Obama's favorite restaurants). Whew. What a bunch.
Cutting straight to the chase, the chefs each pick a pot (the Masters equivalent of drawing knives) and find a colored apron inside. They are split into pairs based on the color of their apron and are told they are going to Chinatown for their Quickfire. In the car on the way, the Masters start pondering Asian-inspired dishes. Smart move.

Or not so smart move. The Masters are taken to a gas station where they'll shop for ingredients for their Gas Station Quickfire (incidentally, this was a GREAT challenge in Season 1 of Top Chef, which was won by LeeAnn Wong). The Masters are not only dismayed that all their brainpower has gone to naught, but that they have crap for ingredients.

But that doesn't stop them from coming up with some great dishes. Cooking for The Bravery (a band I've never heard of), we have:

A bread pudding with maple sauce and caramelized bananas from Susan and Tony. It's criticized for being too sweet, though a band member who loves dessert ends up loving the dish.

A cheetos mac-and-cheese with grilled slim jims and tomato soup from Govind and Jimmy. This looks and sounds horrible to me but the band is impressed with the flavors

A crispy rice cake with clamesco sauce from Jerry and Ana. It looks beautiful and a band member remarks that the dish could have easily been served at any nice restaurant.

Tony and Susan with their sweet-tooth bread pudding ends up winning, with Govind and Jimmy in second, and Ana and Jerry in last. Boo.

The Masters remain in their pairs for the Elimination Challenge, much to Govind's dismay. They need to get in touch with their inner cupid because they'll be cooking romantic dishes for a bunch of diners on their first date. "Help someone get lucky in love," Kelly Choi advises them.

The Masters head to good ol' Whole Foods to shop and then back to the kitchen to prep. Susan and Tony struggle to find dishes that mesh their disparate culinary styles, Jerry and Ana have decided to use flower waters in their dishes, and Govind is extremely worry about Jimmy, seeing him as a liability.

Overall, as the chefs cook and chat, I'm surprised by how much trash talking there is. They may be Masters but they all want to win.

The judges are the same three that we saw last year: Gael from the NY Times, James the food writer, and Jay the British food critic. They sample Govind and Jimmy's food first, with a duo of lamb. The dish includes lamb Carpaccio with baby arugula, along with a roast chop with cauliflower couscous. They are not provided any cutlery, which Govind explains was designed to make the couples get down and dirty.

Jerry comes out with his and Ana's flowery dishes. They present a lavender duck breast with red cabbage plus a duck leg with vermicelli with orange blossom and smoked almonds. Jerry's duck is universally praised as delicious but it doesn't seem to pair well with Ana's more casual cooking.

Susan presents her and Tony's dish last – she's so bubbly, I love her. They have a "love potion" dish, with a spicy pepper shrimp and scallop pairing with a pasta with cheese, mushrooms and truffles. Both dishes are intense with their flavors and the judges seem very pleased.

Back at Critics Table, the judges discuss their opinions with the Masters. Gael liked the messiness of Govind and Jimmy's dish, and James found Jimmy's Carpaccio to be a revelation. Susan and Tony get raves for transporting their diners to a different part of the world. Ana and Jerry both had good dishes, but they weren't very harmonious.

There's a lot at stake here because the top pair will have both chefs advance to the next round. We pretty much know which pair has won, though, so there's not much drama.

In a strange and not-well-explained change from last year, the Quickfire scores don't count in the overall total. You live and die by the Elimination scores. Ana and Jerry end up getting 11 stars from the judges and 4 from the diners for a total of 15, a solid score. Jimmy and Govind get 9 ½ from the judges plus 3 from the diners for a score of 12 ½ - not gonna cut it. Susan and Tony get 12 ½ from the judges plus 4 from the diners for a score of 16 ½ - a fantastic score.

EPISODE TWO:

This episode we inexplicably have five chefs instead of six like last time. Present this time around are Michael Samuelson who loved Stefan's sauerkraut two years ago, David Burke from Townehouse in NYC, Monica Pop from Houston's T'afia, Carmen Gonzalez from Manhattan, and Thierry Rautureau from Seattle.

In a very Top Chef-y Quickfire, Kelly proclaims her love for grilled cheese sandwiches and challenges the Masters to make her the best one she's ever had. The Masters scurry around a kitchen that they've never explored as they try to reinvent a classic. Along the way, Carmen, our Puerto Rican Master, slices her finger pretty badly. I also spy Thierry, our French master, slosh a lot of butter on his bread. Yum.

Presented to Kelly are:

An Italian baguette with manchego cheese, garlic, cilantro and lime from Carmen

A triple cream cheese sandwich with prosciutto, almonds, tomato and rosemary from David

A grilled cheese with gruyere and cheddar with a cup of gazpacho and salad

A taleggio goat cheese and olive grilled cheese sandwich with a pear, pine nut salad from Thierry

A feta farmer cheese with dates on raisin nut bread with an herb salad from Monica

Again, this episode feels really Top Chef-y. Kelly goes around naming her likes (focus on the sandwich by Carmen, Moroccoan flavors from Monica, tang from Marcus) and her dislikes (too many almonds from David, wanted more talegio from Thierry). And the winner is…Monica! Nope, no stars or nothing. Just a winner.

For the elimination round, the Masters have to cater a celebrity birthday party in Beverly Hills. The celebrity is Mekhi Phifer, who I've never heard of (he was apparently a doctor on ER) and he wants soul food. The Swedish-raised Marcus Samuelson cringes.

As the winner of the Quickfire, Monica has an advantage: she gets to choose her protein first and no one else will be allowed to use that protein.

The Masters shop and prep and then head to bed. The next day, they kick things off in the kitchen of a glamorous Beverly Hills hotel - when Carmen realizes that she TOTALLY FORGOT HER STEW BACK AT THE TOP CHEF MASTERS KITCHEN! She jumps back in the Lexus and heads back to the kitchen in total LA traffic. She's only 16 miles away, but every second in traffic eats away at the two and a half hours that she had to cook.

While Carmen sits in traffic, Monica and David try to help her out by cooking her yucca mash. Marcus and Thierry refuse to help out, saying that they have their own dishes to cook. Though well-intentioned, Monica and David end up burning the yucca and the ingredient is rendered unusable.

Needless to say, this is NOT turning out to be Carmen's day.

Carmen manages to finish off her stew, though sans yucca, and Monica and David try to complete their own dishes in a rush. Marcus and Thierry smirk.

The Masters head poolside and set up their stations. The judges are treated to:

BBQ chicken with mac and cheese plus collared greens from Marcus

Oyster soup with sausages from Carmen

Sweet potato custard with crab meat, hush puppies, and pickled watermelon from David.

A pork shoulder rub with Moroccan flavors, farrow, roasted cauliflower and a Brussels sprout slaw from Thierry

Shrimp and grits from Monica

The judges this time around are James, Jay and Gail (OMG, I love Gail). As you can imagine, they find many things to love and hate from each dish. Their biggest issues with the dishes served are that Marcus' collared greens are too fussy, Carmen didn't make her own sausage, Thierry had too many components on the plate, David was too experimental, and Monica's shrimp were undercooked. DAMMIT.

At this point, I was totally rooting for Monica. She helped Carmen out to the detriment of her own dish. Marcus played the "this is a competition and I'm in it for me" card and I never like to see that rewarded.

In crazy, wholly unexpected surprise, Carmen ends up with the highest score of any of the Masters. WHOA. Literally, I was floored. Kelly says that this is "the most amazing comeback in Top Chef Masters history," and I have to agree. "Should I faint now or later?" asks a stunned Carmen.

Of course, that leaves only one spot and I'm hoping that it's Monica.

Thierry ends up with 8 stars from the judges and 3 from the diners for a total of 11. David gets 7 stars from the judges and 3 from the diners for a total of 10 (ughh, what an embarrassing score). Monica gets 9 ½ from the judges plus 3 ½ from the diners for a total of 13. My heart sinks; I know that won't be enough to beat Marcus.

And it isn't. Marcus gets 10 from the judges and 4 ½ from the diners. He goes on to the next round. Boo.