Weekend Wrap-Up
Date Night overcomes Titans and Dragons
By John Hamann
April 11, 2010
BoxOfficeProphets.com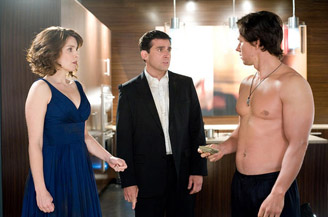 ---
Heading into the weekend, it looked like a soft frame, as only one film opened (a 2D comedy with TV stars), and it seemed to be surrounded by movies set to fail in holdover weekends. Clash of the Titans may have opened to $61 million last weekend, but expectations were grim for a strong follow up weekend. The same could be said for Tyler Perry's Why Did I Get Married Too?, and the Miley Cyrus weeper The Last Song. All of a sudden, Date Night, the new film with Steve Carell and Tina Fey, had a chance to win, and the three weekend old How to Train Your Dragon had a chance to move up the chart.

By a nose, 20th Century Fox's Date Night takes the top spot for the weekend, at least according to estimates. Date Night managed a very respectful weekend total of $27.1 million. For the wonderful (and gorgeous) Tina Fey, it is the best opening of her career, as the debut for Date Night gets ahead of the Mean Girls opening of $24.4 million and Baby Mama's $17.4 million. Fey is proving quickly that with the right material, she can open a film.

For Steve Carell, Date Night is not the biggest opener of his career (Get Smart earned $38.7 million over its opening frame), but at least this one doesn't smell bad. Date Night managed a fresh rating of 66%, and will help people forget the disaster that was Evan Almighty (23% fresh at RT, and that's kind). Carell now has a busy summer planned with two films coming up, Dinner for Schmucks with Paul Rudd and Zach Galifanakis, and Despicable Me, an animated film where Carell seems to be playing an animated Dr. Evil. Next up for Tina Fey is Megamind, also an animated production with Brad Pitt. While no budget data is available, an opening like this one for Date Night should make it a commercial success.

Finishing a very close second this weekend is Clash of the Titans, but that's where the good news ends for the Warner Bros. 3D remake. Coming off a weekend that started strong but faded quickly, Clash of the Titans continued to wane, as it earned only $26.9 million, and dropped a nasty 56%. With no new 3D competition for weeks, the opportunity was there for Clash of the Titans to hold long term, much like an Alice in Wonderland or Coraline. However, with a RottenTomatoes rating of only 30%, and seriously soft word-of-mouth (a friend told me the 3D was so bad, some characters had several heads in some scenes), Titans failed to hold at all, and the $125 million film suffers a crushing blow. Clash of the Titans will be far from a disaster, as it should play well internationally, but its hopes of a $200 million domestic finish took a serious blow this weekend. This is a at least partly because a good film, How to Train Your Dragon, ate up 3D screens from the terrible Titans. Currently, Clash of the Titans has earned $110.5 million.

Also just barely behind in third place is How to Train Your Dragon, which is now in its third frame. This weekend, How to Train Your Dragon earned $25.4 million, off a tiny 13% compared to last weekend's gross of $29 million. Theaters are obviously moving Dragon back to their 3D cinemas in place of Clash of the Titans, likely allowing for more marked-up 3D revenue for Dragons. With 3D volume being so new, we have really yet to see this phenomenon occur, and this is the first real example. Last weekend, when Clash of the Titans was fading after a big Friday, Dragon actually matched its Friday gross on Saturday, despite Friday being a holiday and a day off for the kids. That tells me that demand was not met for Dragons in 3D on Friday, and supply for Titans was over met on Saturday. How to Train Your Dragon is now turning into a small phenomenon, with word-of-mouth being excellent, and the 3D surreal. With no new kid fare (or 3D) until April 30th, Dragon has a real opportunity to earn in excess of $20 million over the next two weekends. So far, the $165 million Paramount/DreamWorks effort has earned $133.9 million, and a similar amount overseas.

Why Did I Get Married Too? is the big winner in the "plunge of the weekend" contest, as the Tyler Perry film flew way under its $29.3 million opening. While it is true that Tyler Perry films are usually one and done at the box office, Why Did I Get Married Too? also gets hit on the fact that last weekend was Easter, and many of Perry's films are religion based. The result is a fourth place finish this weekend. Married Too earns $11 million and drops a truly hefty 62% in the process. The original Why Did I Get Married opened to $21.4 million and dropped only 43% in its second frame (which is an extremely solid second weekend hold for a Perry film). While this Married will outgross the original ($55.2 million), it won't outdo it by all that much. So far, this $20 million production has earned $48.5 million.

Finishing fifth this weekend is The Last Song, the Miley Cyrus flick based on a book by Nicolas Sparks. After opening with an okay $16 million over the Easter frame, many thought The Last Song would be "one and done" as Cyrus's flock took the film in last weekend, and wisely won't be back. What we forget is that this is Nicolas Sparks' territory, so despite film quality and star, this one is likely to hold. In its second frame, The Last Song earned $10 million and dropped 37%, which isn't bad when your film is only 14% fresh. The also awful Dear John opened larger, and while it was in the top ten, had only one 50%+ drop, and that weekend marked the only time a Nicolas Sparks film had seen that kind of fall. Movies based on Sparks novels may be awful, but they make money – the latest example is The Last Song. It was made for only $20 million, and has already earned $42.4 million.

Sixth spot goes to Alice In Wonderland, which finished fifth last weekend. Now in its sixth weekend, Alice in Wonderland earned a solid $5.6 million, and drops only 32%. This is the first weekend that the Tim Burton film hasn't seen a drop in the 45-55% range, and will help propel to a domestic total in the mid $330 million area. Currently, the Johnny Depp flick has taken in $319.3 million at the domestic box office, and is approaching $450 million overseas.

Seventh goes to Hot Tub Time Machine, which is now in its third frame. The John Cusack comedy took in $5.4 million and dropped 33% compared to last weekend. The $36 million MGM film has now earned $37 million as it manages to at least equal its production budget with its domestic gross.

Eighth is The Bounty Hunter, which can't leave the top ten fast enough. Bounty earned $4.3 million this weekend and dropped 29%. The film with the 8% rating at RT has now earned $56 million.

Ninth is Diary of a Wimpy Kid. Diary, which opened strong with $22 million before caving with follow up drops of 54% and 48%, has a better hold this weekend. Diary earned $4.1 million and dropped 23%. The small, $15 million film now has a running total of $53.8 million.

Finally in tenth is a tiny film from Vivendi Entertainment called Letters to God. This film, targeted to a Christian/religious base, earned $1.1 million over the weekend. This is a case of a grass-roots effort at marketing making a difference, as it's unlikely that you had even heard of this movie prior to its surprise appearance on the Friday box office chart.

Overall this weekend, the box office was actually quite close to last year's totals, despite the 2009 frame being the Easter weekend and being the opening weekend for Hannah Montana: The Movie. A year ago, with Hannah on top with $32 million, the top 12 films at the box office took in $125.8 million. This year, the top 12 films earned $126.3 million, which is a strong number, considering there was only one opener, and it didn't finish in top spot. Next weekend could be quite interesting, as the much talked about superhero comedy Kick-Ass opens, along with Death at a Funeral.