Friday Box Office Analysis
By Kim Hollis
April 10, 2010
BoxOfficeProphets.com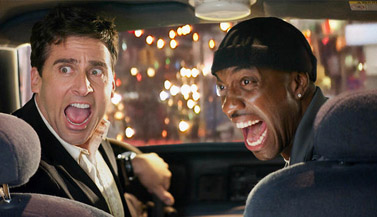 ---
Only one distributor decided to give it a go with a wide release film this weekend. With a dearth of choices, would the broad comedy dominate, or would some of the holdovers find a chance to shine?

Date Night

Theoretically, the pairing of Steve Carell and Tina Fey should have been big for business. Carell has built a loyal following over the years thanks to his stint on The Office and leading roles in films like The 40 Year-Old Virgin, Get Smart and Anchorman. Likewise, Tina Fey has a critically beloved Thursday night NBC comedy in 30 Rock, and Baby Mama had a surprisingly good box office performance when she teamed up with Amy Poehler. The trouble with Date Night is that the marketing made it look...well, let's just say awful and leave it at that. Thus, the movie was wobbling along a crooked line of higher expectations brought on by the talent of Carell and Fey, but terrible commercials were looking like they could drag it down.

Therefore, 20th Century Fox ought to be pleased that Date Night seems to have split the difference by earning $9.3 on Friday. This should translate to a weekend number of $27 million and a nice start for a film that has a 67% fresh rating at RottenTomatoes and a general feeling of goodwill toward the leads.

Letters to God

You may have never heard of it, but this Christian drama from Vivendi Entertainment is actually sitting in tenth place for Friday with $395,000. There's the benefit that a nice grass roots campaign can get you. It did have a budget of $3.5 million, but it should get over the $1 million mark for the weekend and will probably get a lot of that money back before it leaves theaters, leaving home video to push it into profitability.

Notable Holdovers

Last weekend's biggest new release, Clash of the Titans, fell 67% from last Friday to $8.4 million (and that doesn't include sneaks from last weekend). Its overall weekend total should be around $29.4 million, but it's going to be a close race between the 3D effects and Date Night for the top spot. Much will depend on what studios estimate.

As for the Miley Cyrus weeper, The Last Song, it fell right at 50% from last Friday and should just edge over the $10 million mark for the weekend. Tyler Perry's latest, Why Did I Get Married Too?, fell off a cliff as his films are known to do in their second frame, earning $3.5 million and dropping 71% from last Friday. It should have a weekend take of $9.8 million.