Classic Movie Review: White Heat
By Josh Spiegel
April 5, 2010
BoxOfficeProphets.com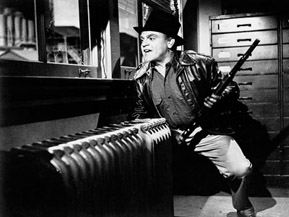 ---
It's just a little ironic that James Cagney, the diminutive yet physically intimidating performer, made his name during the 1930s, 1940s, and 1950s mostly as a gangster in Warner Bros. films but won his first and only Academy Award for his role as an ultimate American patriot, George M. Cohan, in the 1942 classic Yankee Doodle Dandy. The award isn't just ironic because the role Cagney played in Yankee Doodle Dandy was so radically different from his more well-known roles, but because he's just as good, if not better, in his mobster roles. One of the most iconic images and quotes in film comes from one such feature, this week's classic movie: White Heat.

Even if you haven't seen White Heat, you will remember the image and quote. Cagney, triumphant, arms raised, as he's about to be engulfed in flames, shouting, "Made it, Ma! Top of the world!" The image comes at the very end of White Heat and it's not really much of a plot spoiler for me to tell you that those flames do engulf Cagney's Cody Jarrett, a self-centered, childish, needy mobster whose last stand goes as well as George Custer's did. Jarrett is facing off with the cops and mentally unstable enough to set off a fire without figuring out what kind of exit strategy he should have. Jarrett is a fascinating character, and White Heat manages to bring a lot of action and typical gangster-movie tropes while also studying Cody's mental issues.

The basics of the gangster-movie plot are always that, as cool as the gangsters may seem to us, they're always going down in the end. Sometimes it's flames, sometimes it's bullets, but there's always something around the corner. Of course, since the majority of the great gangster movies were made during the era of the Hayes Code (from 1933 to 1966), that means that there were never going to be happy endings for these criminals. The infamous production code was, if you can imagine, worse than anything the MPAA ever did. Yes, we can complain about when one movie is rated PG-13 despite being completely inappropriate for children, or vice versa, but at least the MPAA doesn't demand that filmmakers adhere to certain rules.

For instance, the happy (morally speaking) ending, seen here in White Heat. Even if we may think that Cody Jarrett is, if not to be admired, something of a bad-ass, it doesn't matter. White Heat, from 1949, is a movie that must end with its protagonist learning that crime doesn't pay. Now, I'm not saying that a movie like White Heat should end with Cody riding off into the sunset, but there are many instances of movies that end with the bad guy getting it in the end, only because the movie wouldn't have been released across the country without such a denouement. That said, the Code was one of the greatest gifts to many shrewd filmmakers, who were able to throw in veiled references to lots of taboo topics, skirting the censorship heads while making their points clear.

White Heat is one such film that was able to use the Code to its advantage, as long as you know where to look for the signs. The plot of the film is that a federal agent, Hank Fallon, goes undercover within Cody Jarrett's gang to bring him down. Of course, to do so, he has to become incredibly close to Jarrett, earning the fierce man's trust and respect, while always being this close to getting killed. Jarrett's temper can be set off by anything, and the fact that he gets blindingly painful headaches doesn't help things. Something that doesn't happen in White Heat that might happen in a gangster movie these days is that Fallon never actually gets close to Jarrett. He plays the part well, but it's just acting.

Fallon, as played by Edmond O'Brien, is an interesting character, but too two-dimensional for us to truly relate to. Yes, he's the G-man, and as such, is the good guy. But he's either playing Jarrett's hand, or he's waiting to collar the criminal. Jarrett is far more interesting, and not just because of the excellent performance from James Cagney. Cagney, a pugnacious and energetic performer, is rarely better than he is here, as one of the truly scary mobsters of the era, heightened by the character's childish nature. He kills not only without remorse, but often without reason. His headaches, which began simply as a way for people to pay him some attention when he was a kid, have become a thing of reality, throwing him into fits where he slams his balled-up fists against anything that will take the blows.

Oh, and he's a real momma's boy. Yes, the beginning and the end of all the problems Cody has is his mother, played by Margaret Wycherly. Ma is a scheming, evil woman, someone who fuels Cody's psychosis and encourages it. His connection to her borders on being so over-the-top as to incite laughter. One scene that stands out is when Cody finds out that his Ma has died. Cody's in prison at this point, joined by Fallon, in his undercover ruse. Cody finds out while eating a meal, and the wild, frantic tantrum he throws, replete with screaming, crying, and even a bit of fighting, goes from being sad to laughable back to being sad. Cagney sells this anger, this grief so well that you're choking on your laughter, because the feelings are so raw and real.

White Heat is best remembered, of course, for that final scene, but it's Cagney's performance throughout that makes the climax so iconic. Put another actor in that setting, and it doesn't work. Cagney is a fully committed actor, in all of his films. Yankee Doodle Dandy, while being the complete opposite of White Heat, is a lot of flag-waving fun, mostly because of how dedicated a performance Cagney provides as George M. Cohan. From his earlier work, as in The Public Enemy, to his final role, in Ragtime, Cagney was not a performer to be trifled with. I found myself somewhat disappointed with the aspects of the film dealing with Fallon, who's made a bit more bland thanks to O'Brien. While it's wise for the actor to let Cagney to do his thing, he brings nothing to his role that another block-faced performer couldn't have done as well.

White Heat came near the end of Cagney's career, despite being released over 30 years before his final performance. In between 1949 and 1981, Cagney would appear in such films as Mister Roberts and Man of a Thousand Faces, but White Heat represents something of the beginning of the end of the actor. He was a singer, a dancer, and an actor, but his work in gangster movies is the stuff of legend, even if his most iconic scenes are the ones in which his viciousness is at its height (The Public Enemy features an infamous scene where he shoves a grapefruit in a woman's face). Cagney was a smooth performer, able to inhabit his characters so well while maintaining what his public persona was. For him alone, White Heat is well worth watching.