Weekend Wrap-Up
Titans Slay April Records
By John Hamann
April 4, 2010
BoxOfficeProphets.com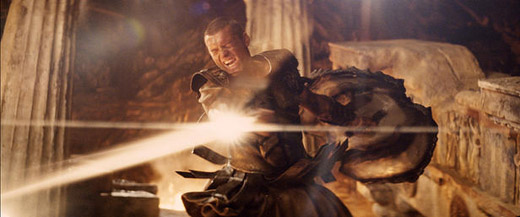 ---
So how many 3D films is too many? This Easter weekend had three big 3D titles in the top ten, including the new release Clash of the Titans, DreamWorks' How To Train Your Dragon, and Disney's Alice in Wonderland. With only so many 3D screens, and with three blockbusters chasing them, would two of these films fail badly this weekend? How to Train Your Dragon already disappointed last weekend with a $43.7 million opening from 4,055 venues. Would Clash of the Titans suffer the same fate? And with Disney's Alice already over the $300 million domestic plateau, would it completely cave this weekend after dropping 48% last weekend?

Last year's version of Fast & Furious showed us that early April can deliver at the box office, as that franchise's return brought in an amazing $71 million over three days a year ago. However, the first weekend in April last year was not Easter weekend, a holiday that is notorious for not being a huge holiday weekend at the box office. Easter's biggest film had been Scary Movie 4, which debuted to $40.2 million on April 14, 2006, with second spot on the Easter chart going to Hannah Montana The Movie, which opened last year to $32.3 million. Historically, only six releases over the years have topped $20 million, but there was a good chance that three more would join the $20 million Easter club, as the blockbuster Clash of the Titans opened this weekend, along with a Tyler Perry sequel in Why Did I Get Married Too, and Miley Cyrus in The Last Song, which opened Wednesday to a not bad $5 million. The lineup this weekend is stronger than any Easter weekend we've seen, and the early April date of the religious holiday gives the box office an opportunity to break out in a very big way.

Our number one film of the weekend is the remake of Clash of the Titans, a film whose original opened on June 12, 1981, an important day in movie history, as Raiders of the Lost Ark also opened on that very day, making the original Clash of the Titans a cult hit at best. This time around, the competition isn't as foreboding, and its fellow openers aren't in 3D. With an audience that seems starved (for some reason) to relive their youth through movies, and huge demand these days for anything 3D, Clash of the Titans opened huge. It earned an amazing $64.1 million from 3,777 venues, including Thursday night sneaks. The Warner Bros. flick had a venue average of $16,256. It blew away the Easter record by over $20 million, and came close to being biggest April opener of all time, though the actual holiday Sunday deflation kept it from beating Fast & Furious. With another huge film opening over the first weekend in April, expect studios to highlight the date on the calendar, and to continually issue films with big expectations around the same time.

Clash of the Titans opened on Friday to $26.8 million, and earned about $4 million from Thursday night showings. Unfortunately, we don't have a breakdown of how it did 2D vs 3D, but we do know that Titans got approximately 1,800 3D screens, or about half of its entire run. Those increased ticket prices for 3D screenings would have helped Titans, but with an opening weekend gross this big, 3D did not carry this title on its own. Did it help that Sam Worthington, who helped Avatar earn over $700 million, showed up in this one as well? And why was it so much bigger than last weekend's How To Train Your Dragon? BOP's David Mumpower believes that traditional filmmaking draws 3D audiences more than animated films, and the Clash of the Titans opening is just another bolt in his quiver. Titans was originally slated as a 2D feature, but after Warner Bros. saw what Fox was earning with Avatar, it added 3D elements after the film was completed.

Adding the 3D element certainly didn't help the reviews. The Louis Letterier film (he directed the "good" Hulk with Ed Norton – where's my 3D sequel?) is a remake of the 1981 original that is often attributed to Ray Harryhausen, but was directed by Desmond Davis. Harryhausen produced the original Clash of the Titans and provided the effects, which were similar to that of his earlier films, like the Sinbad films and 1963's Jason and the Argonauts. The film became a cult classic due to those wild effects, but was definitely not a masterpiece in filmmaking. Neither is the remake. The 2010 version was seen by 157 critics via RottenTomatoes, of whom only 49 found something to like, giving it a fresh rating of 31%. Due to the opening, legs won't be necessary, but would help Warner Bros. and Legendary Films (The Dark Knight, Where The Wild Things Are) recoup the $122 million investment that went into this one. For now, Clash of the Titans has to be deemed a huge success, despite the critical drubbing, as this one should play as well overseas as it does domestically, if not better.

Finishing second is Tyler Perry's Why Did I Get Married Too, the sequel to Perry's 2007 film that opened to $21.4 million. With a much better (and religious) release date, and an Oprah appearance, Why Did I Get Married Too opened much better than the original, taking in $30.2 million from 2,155 venues. With that lower venue count, Married Too managed a huge venue average at $13,991. The cast includes Janet Jackson and Perry himself (not in drag this time), and since the movie is a sequel, Perry managed his biggest opening since Madea Goes to Jail, which took in over $41 million in its opening frame. Perry has now directed eight films, none of which have opened in the single digit millions. Unfortunately, there is no budget data available, but a usual Perry flick costs about $20 million these days, so this is going to be another one weekend winner for Lionsgate, which also sees it biggest open since Madea Goes to Jail.

Third place How To Train Your Dragon, which enjoys a decent hold that could have been better had it not been Easter weekend. With kids out of school on Friday, Dragon was huge, taking in $11 million on Friday. Comparing this Friday to last Friday, Dragon was only off its opening day gross by about $1 million, or less than 10%. It couldn't hold that strength all weekend, though, as for some, Sunday brings the Easter Bunny and all that goes with it. In the end, Dragon held well, pulling in $29.2 million. It was off 33%, but that has to be considered a big success, as Clash of the Titans muscled in on Dragon's 3D territory, and the Paramount release was considered a disappointment last weekend. It's unclear how it will behave next weekend, but a big drop would be very bad news for Paramount and DreamWorks, as Dragon carried a price tag of $165 million. The good news is that it doesn't have further kids competition until the end of the month when Furry Vengeance opens. Give it a 10-day total of $92.3 million.

Fourth spot goes to Miley Cyrus and The Last Song, which is another manipulative weeper from Nicolas Sparks, who these days seems to have enough output to movies to rival Stephen King. Speaking of horror movies, The Last Song opened to $16.2 million over the Friday-to-Sunday portion of the weekend, and $25.6 million since opening on Wednesday. It isn't a lot better than Britney Spears first film, Crossroads, which opened to $17 million over four days in February 2002. The Last Song was critically reviled, earning only nine positive reviews out of a possible 75, giving it a laughable 12% fresh rating. Critics said that this was as much Sparks' fault as Miley's, so it might not be a career killer a la Brittney Spears. Expect The Last Song to drop 60% next weekend.

Alice in Wonderland manages a fifth place finish despite being the third 3D film in the top five. Now in its fifth weekend, and completely surrounded by competition, Alice earned $8.3 million and dropped an expected 53%. The Tim Burton film crossed the $300 million mark on Thursday, its 28th day of release, which surprisingly matches Star Wars: The Phantom Menace. Alice has earned more overseas than it has domestically, so the $200 million Disney effort is paying off handsomely. Alice now has a domestic running total of $310 million.

Hot Tub Time Machine finished sixth after opening in third last weekend with $14 million. This weekend, the John Cusack film dropped 43%, and took in $8 million. I think we all expected this $36 million MGM title to fare better, but at least it kept the drop better than 50%. Hot Tub Time Machine now has a total of $27.8 million.

The Bounty Hunter finishes seventh, and thankfully we are almost done with this title. Bounty Hunter earned $6.2 million and was off 48% compared to last weekend. As a side note, a director to avoid in the future might be Andy Tennant, as he has back to back dogs in Fool's Gold (10% fresh at RT) and The Bounty Hunter (8% fresh). Unfortunately, The Bounty Hunter will make money for Sony, as it's earned $49 million so far against a budget of $40 million.

Diary of a Wimpy Kid limps into eighth spot. After a 54% plunge against the opening of How To Train Your Dragon, Wimpy Kid does a little better this weekend, earning $5.5 million and dropping 45%. This $15 million film has now earned $46.2 million, which is a great haul so far for such a small film.

Ninth and tenth go to She's Out of My League and Shutter Island. League earned $1.5 million and has a total so far of $28.7 million against a $20 million budget. Shutter Island earned $1.5 million and has a running total of $123.4 million against an $80 million budget. Both films are winners for Paramount.

Overall, the box office is white hot. The top 12 films managed to take in an amazing $174.6 million this weekend, thanks to almost $150 million coming from the top five films alone. A year ago, Fast & Furious dominated the box office, taking in $71 million, and leading the top 12 films last year to $148.9 million. Next weekend's lone opener is Date Night, a comedy with Tina Fey and Steve Carell.