Weekend Forecast for April 2-4, 2010
By Reagen Sulewski
April 2, 2010
BoxOfficeProphets.com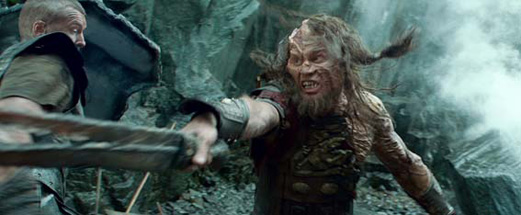 ---
Although the start of the Summer Movie Season remains steadfastly fixed at the first weekend of May, the pre-Summer season, aka Spring, continues to grow in importance with more big time releases hitting in this period than ever before. These potential blockbusters still carry a bit of "not-ready-for-primetime" about them, though.

The 3D releases are starting to pile up on each other. After Avatar enjoyed an uninterrupted three-month run with the high-tech exhibition technology, we're now onto our third release in four weeks with the arrival of Clash of the Titans, a remake of the 1981 film of the same name about Greek mythology, which utilized Ray Harryhausen's classic stop motion techniques and starred Harry Hamlin and Laurence Olivier. Replacing those two in the lead roles this time are Sam Worthington and Liam Neeson, which is probably a lateral move at best. The major step up, or at least it's hoped, is in the effects, which get the full CGI treatment, and by reports some pretty shoddy 3D work.

The basic plot of the film sees Zeus (Fiennes), as ruler of Mt. Olympus, attempting to stop an invasion by the Underworld, led by Hades (Ralph Fiennes, who's kind of getting typecast in these things), with the world of mortals acting as the battlefield. In steps Perseus (Worthington), secret son of a God and looking for vengeance over the murder of his family, to kill the array of assorted beasties sent their way. Basically, if you're the kind of guy who wants to see a giant scorpion killed with a sword, this is the film for you.

Directed by Louis Leterrier, helmer of the better Hulk movie, Clash of the Titans is definitely trying to cash in on the renewed interest in the sword-and-sandal genre that's come about in the last half-decade or so, highlighted by 300's record-breaking weekend a few years ago. Not nearly as stylistically innovative, but less soaked in testosterone, Titans wants really badly to be the opening act to the summer action season. A poor sense of what the film is really about other than monster hacking and some shoddy effects (if the Kraken is their ace in the hole, they've badly misjudged) will keep this from really taking off though a strong first couple of days isn't out of the question. Opening at about 3,700 venues, it should be good for about $56 million this weekend.

So, there's another Tyler Perry movie. I'm tempted to just say $25 million opening weekend and call it a day, but then I'm not really doing my job, am I? All the same, there's not a ton more to be said about his films, which all have critic-proof opening weekends, fade fast and are back again six months later for another outing. With Why Did I Get Married Too?, he's literally rehashing stuff from a previous film of his, coming back to the four couples from Why Did I Get Married?, including Janet Jackson, Jill Scott, Michael Jai White and Richard T. Jones. You know what you're getting with these at this point, and there's nothing to suggest Perry's target audience is about to tire of these films anytime soon. So: $25 million. I guess that was the long route to that.

The Last Song sees an unholy alliance forming between two of pop culture's recent demons – Miley Cyrus and Nicolas Sparks. The dude behind The Notebook and Dear John, and the chick behind, well, Miley Cyrus team up for one of those cookie cutter romances involving beaches, rain and swirling music that teen girls will swoon over.

This time, the music is literal, considering our star, who plays a young girl that gets set to spend a summer at her estranged father's cabin on a Southern beach where they reconnect via music. And yet, there's a boy! Of course. Played by something called Liam Helmsworth, he's her crush for the summer as she learns to yada yada yada and... cue violins. Dear John was something of a pre-Valentine's Day shock, earning $30 million in its first weekend, which definitely lays out the possibility that this film could do even more, jumping off Cyrus' popularity. I question whether it really exists outside the Hannah Montana world, and lots of other stars have had difficulty in turning their Disney-fueled success into bigger things. The Mouse House knows promotion, to be sure. With the recent failure of Remember Me, banking on teen heartthrobness isn't as sure a bet as people expect.

It's tougher to argue against the Sparks connection, with only Nights in Rodanthe disappointing (though with a less appealing cast and a terrible title). Opening a couple days early, it grabbed $5 million on Wednesday, which is solid but not spectacular. I think we'll find that the Valentine's Day connection mattered more than we thought for Dear John, and we should see a bit of a step back both for Sparks and Cyrus, but with a still solid $22 million opening weekend.

How To Train Your Dragon only gets one weekend of monopoly on 3D screens, but I expect that's not as big an issue as one might expect for it. The animated film opened to just $43 million, which even the general public seemed to catch onto as a disappointment. It may, in a way, have won by losing, as it's gotten a tremendously positive reception from those who've seen it, and the fact that it disappointed slightly may inspire some advocacy. And while Paramount DreamWorks undoubtedly expected more for their investment in technology, I'm not convinced that 3D is as much of a driver for animated films as it is for live action, and doesn't carry the same wow factor. This should all carry over into a solid second weekend for this film, with around $28 million possible.

By the time you read this, Alice in Wonderland will be the first $300 million film of 2010, just barely into April. That's an achievement in and of itself, let alone for taking people by surprise in doing so. It's even weathered the loss of its 3D screens well, dropping a remarkably consistent 45 to 48 percent in these last three weeks. We're probably looking at a $325-330 million final total for this film, which I'm not sure anyone could plausibly have predicted coming into this. Look for around $9 million this weekend.

In the end, Hot Tub Time Machine just couldn't overcome its title. The wacky time travel comedy opened to $14 million, which is tough to count as a loss, but still feels like a missed opportunity for a film with John Cusack, Rob Corddry and Craig Robinson. Cusack in particular should be worth more than Dude, Where's My Car money. I don't expect anything in the way of legs on this, with perhaps as little as $6 million for its second weekend.

The other two notable returning films are The Bounty Hunter and Diary of a Wimpy Kid. Aniston/Butler media coverage kicked into overdrive in the last couple of weeks in what seems like a last-ditch effort to salvage Bounty Hunter's road comedy, but we're still looking for it to top out at around $75 million. Wimpy Kid, on the other hand, nearly fell off a cliff and this hoped-for franchise looks murkier after this weekend. At least it's cheap. Give each of these films between $5 and 7 million this frame.