Weekend Wrap-Up
Dragon, Hot Tub, Both Softer Than Expected
By John Hamann
March 28, 2010
BoxOfficeProphets.com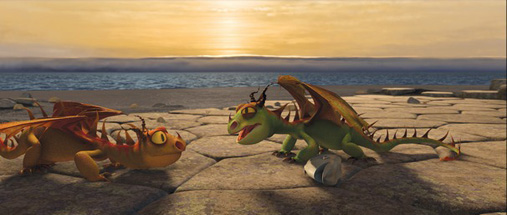 ---
This is one of those weekends that looks great on paper. We have a new high-flying 3D kids flick in How to Train Your Dragon, and what looks to be a great comedy for adults in Hot Tub Time Machine. Both of these films look like hits we've seen from the recent past, like Alice in Wonderland and The Hangover. The top two films at the box office should easily pull together $100 million, and with some strong titles following up on the top two, it should be a glorious weekend at the box office, right? Uh, nope.

Our number one film of the weekend is How to Train Your Dragon, the Paramount/DreamWorks creation that has been marketed like mad the last couple of weeks. The trailer brought oohs and ahs and big laughs at the screening of Alice in Wonderland I was at during Spring Break. Posters and displays were all over the theater, and the TV ad has been non-stop for the last ten days, even going back to the Olympics. While the marketing was grand, and the reviews were fantastic, How To Train Your Dragon for some reason under-whelmed this weekend, earning only $43.3 million from a huge venue count – 4,055. It had a venue average of $10,678, and has to be considered - at best - a disappointing opening.

When Reagen Sulewski forecasted at $61 million open for Dragon, I thought he was really low, but it turns out that isn't the case, and that the DreamWorks 3D product actually threw under $60 million. So what happened? Is 3D finally getting the brushback it deserves? Do flying dragons not appeal to the younger set? I doubt these two options are to blame. We do know that Paramount/DreamWorks were in a pitched battle with Disney for those 3D screens this weekend, as Alice in Wonderland is only playing its fourth weekend, and was coming off a $35 million gross last weekend. How To Train Your Dragon landed at 2,170 3D screens, an accomplishment considering the competition was the almighty Disney. A bigger issue, as I alluded to last weekend, may be the rising costs of 3D ticket prices. Admission costs to get into a 3D flick went up again in many markets this weekend, and in some locations, a single adult ticket to see something like Dragon, Alice or Avatar went up to a ludicrous $17.50 per seat. While supply is obviously catching up to demand, the suits are getting much too greedy, and are pricing themselves into flop territory.

Something like Dragon really should have been much bigger. Reviews were absolutely fantastic. Of the 98 reviews counted at RottenTomatoes, only five were negative, leaving Dragon at 97% fresh. It hasn't been a solid year so far in terms of film quality, so you might think parents might be more willing to drop the kids off after reading reviews in the Friday newspaper. The opening here does break the run that 3D has been on with the open of Alice in Wonderland ($116.1 million), and of course Avatar. It does open ahead of Disney's A Christmas Carol ($30.1 million), but that was really a scheduling mistake more than anything. For Paramount and DreamWorks, Monsters vs. Aliens ($59 million opening) stands as a much bigger picture, with Dragon being more like the failed Bee Movie ($38 million opening, $126 million domestic finish) the CGI animated flick from Jerry Seinfeld. Suffice to say, How to Train Your Dragon is a big disappointment, and industry wags will likely go on about it for weeks. My note to studios and theatres: You are pricing yourself out of what could be a very lucrative stream, and the renaissance of movies.

Finishing second this weekend is not the expected Hot Tub Time Machine. It's Alice in Wonderland, as 3D takes the number one and two spots at the box office for the first time ever. Alice held up well considering the opening of Dragon, as the Tim Burton flick earned $17.3 million from 3,384 venues. It was off the expected from last weekend – 49% - as Alice hasn't held all that well since opening anyway (drops of 45% and 46% over consecutive weekends). Had Dragon been stronger, the dip would have been much worse. Alice played quite strongly over spring break, and it looks like it will cross the $300 million mark some time next week, and will join only 32 other films that have reached $300 million. I'm looking for Alice to top out around $340 million domestically, with a similar amount or more coming overseas. Currently, Alice has a domestic total of $293.1 million.

So Hot Tub Time Machine manages to finish in third place, and is our second opener with a disappointing debut. The John Cusack film opened to only $13.7 million from 2,754 venues, as it become just another film with a wacky title to not live up to expectations. In December 2000, a similar thing happened to a little comedy called Dude, Where's My Car?, as the title of that one caused a media sensation not much different to that of Time Machine. Dude opened to only $13.8 million, and was considered a disappointment due to the hype. The same thing happened with Snakes on a Plane in 2006. The film was expected to be huge because awareness was so high due to the title. In the end, Snakes opened softly at $15.2 million, and was earning only $2 million in its third weekend. It's unfortunate, as Hot Tub Time Machine received a pass by critics (63% fresh at RottenTomatoes), and generally looked like a fun time at the movies for those 35 and older. On the other hand, Hot Tub is MGM's biggest opener in years, and cost the studio only $35 million to make, so this is likely a win by the time a DVD release rolls around. For now, though, Hot Tub Time Machine is just another middling success with a nutty title.

Fourth goes to The Bounty Hunter, which earned another $12.4 million, and was off only 40% compared to last weekend. I say "only" as this one is 9% fresh at RT, and shouldn't be shown to anyone. The $40 million Fox debacle has now somehow earned $38.8 million.

Last weekend's big surprise, Diary of a Wimpy Kid, gets knocked to the ground this weekend by the bully that is How To Train Your Dragon. Wimpy Kid, 20th Century Fox's $15 million film that opened to $22 million last weekend, got dumped in its second frame, earning only $10 million and dropping a painful 55%. Being the third choice for kids didn't help the film, which could change the trajectory for plans for a sequel to the popular kids novel series. Currently, Diary of a Wimpy Kid has a running total of $35.8 million, which looks great against that tiny $15 million budget.

Sixth spot goes to She's Out of My League, the small hit from Paramount. The live action Jay Baruchel film (he's also the lead voice in Dragon) earned $3.5 million in its third weekend. It was off 39% compared to last weekend. The small $20 million comedy has now taken in $25.6 million, and should finish with about $30 million.

Seventh goes to Green Zone, another big failure from Universal. The $100 million Matt Damon flick took in $3.5 million in its third frame, and was off 45% from last weekend. Green Zone has turned into an out and out disaster for its studio, as it has a cume so far of only $30.4 million. It will out-earn She's Out of My League, but not by much, and cost five times the amount to make.

Eighth is Shutter Island, as Marty Scorsese and friends hold onto a top ten spot six weekends into the spooker's run. This weekend, Shutter Island earned $3.2 million and was off 33%. The $80 million Paramount release has now earned $120.6 million.

Repo Men falls to ninth after finishing fourth last weekend. This Universal bomb earned $3 million in its second weekend, and was off 50%. Repo Men cost its studio $32 million to make, and has now earned $11.3 million. It took Repo Men eight days to earn $10 million, and stars Jude Law and Forest Whitaker.

Finally in tenth is Our Family Wedding, the smallish comedy from Fox Searchlight. The other Forest Whitaker film earned $2.2 million and has a cumulative total of $16.8 million.

Overall, the box office is quite soft against last year, when Monster vs. Aliens opened in 3D. A year ago, the top 12 films earned $139 million on the strength of MvA's $59.3 million, and Haunting in Connecticut's $23 million bow. This year, with the openers much softer, the top 12 found only $115.8 million. Next weekend brings another 3D entry, Clash of the Titans, along with Miley Cyrus in The Last Song, another weeper from Nicolas Sparks, and another Tyler Perry flick, this one a sequel called Why Did I Get Married Too. Now, that's original. My early bet is that none of these films gets past 20% fresh at RottenTomatoes.