Weekend Wrap-Up
Alice Rules Over Spring Dumping Ground
By John Hamann
March 21, 2010
BoxOfficeProphets.com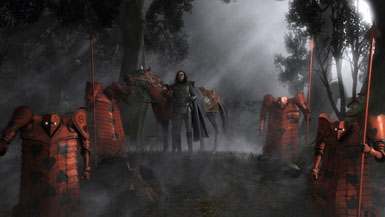 ---
The middle of March may be bringing greener trees and buds to your neck of the woods, but in Hollywood, early spring brings out only trash. Three new openers are dumped on us this weekend, only a weekend after four films all crashed last weekend, all victims of the latest 3D spectacle, Alice in Wonderland. Dumpees this weekend include The Bounty Hunter with Jennifer Aniston and the unfortunate Gerard Butler, Diary of a Wimpy Kid starring no one, and Repo Men, the futuristic tale with Jude Law and Forest Whitaker.

We've now had 12 weekends of box office in the year 2010, and so far, it's the year of the 3D film, as only four weekends of the year thus far have produced a non-3D film at the top of the box office. This weekend is no different, as for the third consecutive weekend, Alice in Wonderland is the weekend's biggest film. Alice started the weekend at $231.2 million after only 14 days of release, and had amassed a similar amount from overseas cinemas. With How To Train Your Dragon eyeballing those lucrative 3D screens next weekend, Disney was hoping to improve on the 46% drop Alice earned last weekend, when it took in $62.7 million in its second frame. Alice's biggest problem so far has been questionable word-of-mouth, which didn't help last weekend's drop, and certainly didn't prop up the Tim Burton flick this weekend.

I saw Alice last weekend and really liked it, but it looks like I may be in the minority. While still the number one film at the box office, Alice in Wonderland slid heavily again this frame, earning $34.5 million and dropping a large 45%. It had a venue average of $9,229 from 3,739 venues, 11 more than it had last weekend. After seeing Alice last weekend, I did recommend it to my friends, but with a large caveat: I couldn't believe how expensive it was to see Alice, and in the end, didn't consider it "worth it." In my opinion, Alice would have worked just fine as a 2D film, and I wouldn't have had to pay $14.50 to get in the door. My word-of-mouth was positive, but because of the pricing structure with 3D, I didn't think I got value for my money. So, whether I found the film good or not, I didn't find value, and that could be playing a part in Alice's fight against word-of-mouth. Whether I find value or not likely doesn't concern Disney. Their $200 million film has now earned $265.8 million domestically, and is approaching $500 million worldwide.

Finishing in a surprise second spot is Diary of a Wimpy Kid, the movie based on the wildly popular novel for kids by author Jeff Kinney. The 20th Century Fox release earned a surprising $21.8 million from a wider-than-expected theatre count of 3,077. It had a venue average of $7,085. When I saw the trailer for this one I was actually surprised that Fox had greenlit this as a feature, as it had no stars, no effects, and there didn't appear to be any talking animals. Critics didn't seem to care, period, as the review count at RottenTomatoes stood at only 51, with about half of them fresh. No one was interested in this one except the kids, and they came out in force, and may have been one of the reasons why Alice fell so hard again this weekend. The LA Times reports a budget of about $15 million for Wimpy Kid (and estimated the opening at $10 million), so this is likely a rare example of the "one weekend winner" for the studio. Let's see how this one does against Dragon next weekend as well.

Finishing third is The Bounty Hunter, which was actually ahead of Wimpy Kid on Friday by about a half-million, but then sunk against the kids film as the weekend continued. The Bounty Hunter took in a weekend gross of $21 million from 3,074 venues. The Sony release had a venue average of $6,831. For Jennifer Aniston, The Bounty Hunter gets her back into the world of $20 million openers after a couple of flops, including the awful Love Happens with Aaron Eckhart. Love Happens opened to only $8 million of September of last year and finished with $23 million and an 18% fresh rating at RottenTomatoes. While Bounty improves on the last Aniston opening, it doesn't improve in the review department. The Bounty Hunter was only 8% fresh at RottenTomatoes, and for that I will blame the un-flavor of the past couple of years, Gerard Butler. Butler helped deliver the awful Ugly Truth in July of last year – it also opened well to $27 million, and also was reviewed terribly at 14% fresh. The LA Times reports a budget between $40 and $50 million for Hunter, so this is going to end up as a push for the studio, which should consider itself lucky.

Fourth goes to our last new release, Repo Men, the futuristic thriller (or so I'm told) with Jude Law and Forest Whitaker. This is another disaster for Universal, but at least they are distributing Repo Men for Relativity Media. Repo Men was tracking to open above $10 million, but failed to even do that, as it crashed and burned with an opening frame estimated at $6.2 million. This one is a disaster: poorly marketed, with a confusing premise, and had been on the shelf for years. The writing was on the wall when Universal put it out to only 2,522 venues. This $32 million film will be lucky to earn $15 million before it's done.

Fifth goes to She's Out of My League, the small surprise that opened last weekend. She's Out of My League could have been easily a one and done after thought, but it held okay this weekend. The Jay Baruchel flick earned $6 million, and dropped 38% compared to last weekend. This is a $20 million feature from Paramount that has so far earned $20 million domestically, and should do very well on home video.

Finishing sixth is Green Zone, Universal's flop that opened ahead of She's Out Of My League last weekend. The Matt Damon thriller with the $100 million budget didn't make up for the soft opening frame last weekend, as the Iraq war film had a second weekend gross of $5.96 million. It was off a crushing 58% from last weekend, which will certainly make Green Zone an early favorite for flop of the year. The Paul Greengrass film now has a running total of only $24.7 million, and seems more like a Ben Affleck film than a Matt Damon film. I had a quick look at Universal's summer schedule and didn't see a lot that intrigued me. The Russell Crowe Robin Hood looks lived-in, MacGruber looks as awful as Land of the Lost, but at least there is a Judd Apatow flick and another Matt Damon flick to (maybe) bail the studio out from a hideous 2010.

Shutter Island slips a few spots to seventh this weekend, as the five-weekend-old Scorsese flick is running out of steam. This weekend, Shutter Island took in $4.8 million, and dips 42% from the previous frame. The $80 million Paramount spooker has now taken in $115.8 million domestically, and about half that number overseas. It needs $133 million to become Scorsese's biggest film behind only The Departed.

Dipping to eighth this weekend (and likely gone in the next frame) is Avatar. Now 14 weekends old, the Oscar loser earned $4 million, and fell 39% compared to the previous frame. It has amassed a domestic gross of $736.9 million, and an overseas cume just short of $2 billion.

Ninth is Our Family Wedding, last weekend's biggest, but likely cheapest, miss. This is another Forest Whitaker film, and this one earned $3.8 million, falling 50% compared to last weekend's opening. Our Family Wedding has a gross so far of $13.7 million.

Remember Me with Robert Pattinson finishes in tenth. Summit Entertainment couldn't convince the Twi-hards to show up for this one, as it earns only $3.3 million in its second weekend. The romantic drama fell 59% from its $8.1 million opening last weekend. Made for only $18 million, Remember Me has taken in $13.9 million so far. Again, this will likely end up as a push for the studio.

Overall this weekend, the box office is still ahead of last year, but the gap is starting to tighten. A year ago, with Nic Cage's under-rated Knowing on top, the top 12 films earned $96.3 million. This year, thanks in large part to the success of Diary of a Wimpy Kid, the top 12 films found $122.3 million. Next weekend brings the next big 3D entry in How to Train Your Dragon, as well as the new John Cusack flick, Hot Tub Time Machine.