What's Next
By Michael Lynderey
March 16, 2010
BoxOfficeProphets.com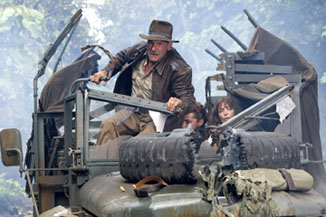 ---
A sequel for your thoughts?
This week's news: more of the same. And while I hate to wallow in sequels and reboots, I work with what I'm given, and they're a little more interesting to write about than, say, the latest star vehicle for Tracy Morgan (that'll be called ID Theft, and it's about this guy who finds someone else's credit card, and then there are these gangsters he owes money to, and there's also this life lesson, see...)

* Alien 3D - It's, uh, a prequel, this time, with Ridley Scott back at the helm. No other details yet, but no one believed them when they said they'd make another Predator movie, and look what happened there.

* Alvin and the Chipmunks 3D - I know, I know, I'm being incalculably redundant in telling you that another Chipmunks movie is coming, but someone has to do it. The whole thing really boils down to math: Chipmunks one and two both grossed exactly $217 million (yes, each), so why not another go-around to see if we can make it an uneven three? Release date's December 16, 2011, so be sure to get your affairs in order.

* Big Momma's House 3 - Isn't it funny how these franchises just live on through the years, like boats beating against the current, borne back ceaselessly into the past? (that's what a famous man once wrote about Big Momma's House 2). Brandon T. Jackson, he who have provideth comic relief in both Tropic Thunder and Percy Jackson, has just been nabbed to co-star with Martin Lawrence in the third trip into that oversized matriarchal domain up the hill - and indeed, both Lawrence and Jackson will be dressing up as characters of a gender not quite their own. Why, you may ask, would anyone want to do that? That's the question that went through my mind when Big Momma's House 2 finished with $70 million back in January 2006, so those who allowed that to happen have only themselves to blame. It's all too bad, because I like Martin Lawrence, and would hope to see him in more roles that do not primarily involve wearing gobbles of latex and gore.

* Diary of a Wimpy Kid 2: Rodrick Rules - Great title, I'll give them that, and I have a real affinity for sequels announced before the film they're a-sequelin' is even released. Anyway, if the apparently much-anticipated Wimpy Kid numero uno gets 'em in this weekend, expect this follow-up out next year. And if we're really, really good - eat all our vegetables and all that instead of flushing them away and just saying we did - maybe, just maybe, this sequel won't even be in 3D.

* Fast Five - Universal has been masterminding the production of two more Fast and Furious movies ever since that whole $30 million opening day thing the last one dabbled in. Diesel and Walker will apparently be back, Justin Lin will once again helm, and now, aside from having a great title, Fast Five also has a release date - June 10, 2011. That's a week before Green Lantern, and two weeks before the ten-year anniversary of the very first film in the series - kind of makes you nostalgic, doesn't it, for the days when the world only had one Fast and Furious movie inhabiting it?

* Indiana Jones 5 - Harrison Ford now says there's a storyline ready for Indy 5, which I suppose means it already has at least one thing going for it that Indiana Jones 4 did not (I kid, I kid. I actually really liked Indy 4 - but I have angry constituents to please!).

* Wall Street: Money Never Sleeps - Pushed back from April 23 to September 24. Why, I don't know. Let's hope it's because they need extra time to add more black-and-white flashbacks to random events in American history (that's a joke only hard-core Oliver Stone fans may get, but I didn't hesitate to make it, anyway).

* Wolverine 2 - Hugh Jackman will be back for more fun in the prequel sun, this time set in and around Japan, a location that ought to give this follow-up some juice (at least in theory). A mutant claw vs. samurai sword scene is all but inevitable. Filming is scheduled for January, with the release date wobbling around between the two weekends in 2011 that don't already have a comic book movie or two scheduled for release.

A reboot, then?
More reboots are coming in from the cold of development hell, and as always, I'm all too happy to note their arrival, with a dutifully disapproving look on my face (note: some of these can also convincingly pass as sequels, so please, no detailed, angry letters explaining the difference).

* Conan - The real one, not that red-haired fella off the TV. It's a reboot, yes, and it's finally getting into filming this month, with Baywatch and Stargate's Jason Momoa in the lead. It's hard to pinpoint the tentpole potential of this: Conan was never that big a franchise, and this is from Lionsgate - not a studio known for $100 million earners, at least not yet. But this thing does have some entertaining character actors lined up: Ron Perlman, as Conie's father, and newly-minted villain-du-jour Stephen Lang (Col. Quaritch of Avatar), who may end up as prolific a baddie in these early years of the 2010s as Christoph Waltz is shaping up to be.

* Fright Night / Pet Sematary - '80s horror film territory is slowly but surely being re-colonized, with Craig Gillespie (of Lars and the Real Girl) now attached to remake the former film, while Paramount's just announced some early work on a redo of the latter. Guys, here's an idea - change the titles, but then just remake the movies anyway. Sure, it's a technicality, but no one will notice that way. Not any more than usual.

* Police Academy - Yes, really. Courtesy of New Line Cinema. I'm sorry, but I just can't think of a joke that would be good enough to cover this one. I have failed you all.

* Superman - Christopher Nolan will oversee and produce another entry, with David S. Goyer scripting. Well, rebooting Superman sure does sound like a good idea, right? After all, what could go wrong?

Elsewhere, biopics are rearing their heads. Proving that '60s period pieces may well never go out of style, Matt Damon will play Robert F. Kennedy in a yet-untitled film (too bad "Bobby" was already taken), while Oren Moverman - director/writer of The Messenger - will tackle Kurt Cobain, Clint Eastwood will helm the life of J. Edgar Hoover, Robert De Niro will play football coach Vince Lombardi, and Viggo Mortensen will star as none other than Sigmund Freud himself. On the other side of the gender divide, Darren Star will direct the life of Anita Bryant, the country singer and activist (she was that lady who kept popping up in the stock footage in Milk).

It all makes you wanna stand up and say - fellas, fellas, fellas, slow down with these! There aren't nearly enough Oscars to give out to all of you.