Weekend Wrap-Up
Green Zone No Match for Alice at the Box Office
By John Hamann
March 14, 2010
BoxOfficeProphets.com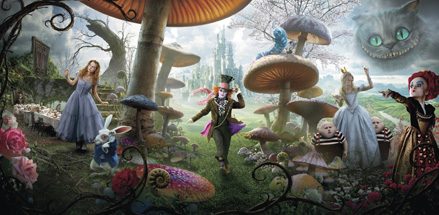 ---
After a surprisingly huge opening weekend at the box office, Alice in Wonderland was looking for an Avatar-sized hold this weekend. The Tim Burton film opened to an amazing $116.1 million last weekend, and Disney would have been looking for depreciation to be around between 30% and 40%, as the pressure is on to earn as much as possible before losing its 3-D screens to DreamWorks' How to Train Your Dragon on March 26th. Four new films opened this weekend, none of which posed any demographic threat to Alice. Debuting titles include Green Zone with Matt Damon, Remember Me with Robert Pattinson, She's Out of My League and Our Family Wedding.

Our number one film of the weekend is of course Alice in Wonderland, as the Disney flick steamrolls over the $200 million threshold. A 30% drop from last weekend's huge debut would give the Tim Burton film approximately an $80 million frame; a 40% drop about $70 million. I have to think that Disney was aiming to come in somewhere in between $70 and $80 million this weekend. Alice did have some things working against it, most notably the rush to see it last weekend, when the Johnny Depp starrer pulled down that $116 million. Other issues included questionable word-of-mouth, and whether this one was too dark for the very little ones in the audience. Alice in Wonderland's second Friday came in at about $17.2 million, which means the 3-D spectacle was off about 58% from its debut Friday, which did include some dollars from midnight screenings. At this point, we knew that Alice was going to have to work hard over the remainder of the weekend to reach that 40% drop we talked about above. The good news for Alice is that its family-friendly nature allowed it to even out slightly over the rest of the weekend, which gives Alice in Wonderland a second frame of $62 million. The hold comes in at 47%, which isn't bad, considering what is was up against. Alice in Wonderland crosses the $200 million mark today, its 10th day of release, where it joins films like Avatar, Shrek the Third and two Harry Potter films as the tenth fastest to reach $200 million. Alice now has a running total of $208.6 million, it should have no problem of reaching $300 million; however, it will have at least an okay hold against How to Train Your Dragon later this month. It does have another competition-free weekend coming up.

Finishing second this weekend is Matt Damon's Green Zone, from director Paul Greengrass (United 963, Bourne Supremacy and Bourne Ultimatum). With the Damon/Greengrass connection, and this being an action movie with Damon in the lead role, one might think this one would have been a $40 million opener. The only problem with Green Zone is that it's an Iraq war movie, which lately has been pure death at the box office. So, instead of a $40 million opening weekend, Green Zone finished the frame with an ugly opening of only $14.5 million from 3,003 venues, and you can blame that total completely on the subject matter. The story deals with an operative trying to track WMDs at the start of the Iraq war, and we all know how that ends up, so how much fun could this one really be? The biggest problem for the Universal release is the cost, as Green Zone came in with a $100 million price tag, and I doubt international audiences are going to rush out to seen an American Iraq war movie, Damon or not.

Like Alice in Wonderland, critics were split down the middle on this one, with only 51 positive reviews out of a possible 103, with top critics coming in a little more favorable at about 58%, as 19 out of 33 found something to like. These scores definitely go against the trend we've seen from Damon, who has made some really good choices throughout his career. In the last seven years, Damon has only slipped beneath the 60% rating at RottenTomatoes three times, in The Good Shepherd (56% fresh), The Brothers Grimm (37% fresh) and Ocean's Twelve (56% fresh). Surprisingly, this is Damon's third consecutive box office disappointment, coming on the heels of Invictus, which wasn't a complete disaster. It earned $33 million at the domestic box office, but had a $116 million worldwide total and earned Damon a Supporting Actor Osar nomination. Prior to Invictus was The Informant!, one of two Soderberg films that failed for Damon, the other being Che: Part Two. The Informant! earned $33 million, while both Che films barely registered or saw a release. Next up for Damon is Margaret, from writer/director Kenneth Lonegran (You Can Count on Me, Gangs of New York screenplay), and somewhat further into the future is Hereafter from director Clint Eastwood, and True Grit, the remake starring Jeff Bridges and directed by the Coen Brothers.

Finishing a third is She's Out of My League, which had a fairly strong weekend, considering it doesn't have much of a cast, and is aimed at teens despite being R-rated. She's Out of My League earned an okay $9.6 million from 2,956 venues, and it earned an average of $3,248. This Paramount release was likely made for a song, so if it can manage a 2.75 overall multiplier, this one should make money for its studio. Starring Jay Baruchel (Knocked Up, Tropic Thunder), She's Out of My League is your typical R-rated comedy; however, this one managed better reviews than most of its brethren, coming in at 51% fresh. Whoever decided to schedule this one against Remember Me should be taken to the Green Zone, as it feels like League could have been one of those summer surprises. Baruchel already has a summer date, though, as he will be showing up in The Sorcerer's Apprentice opposite Nicolas Cage.

Fourth place goes to Remember Me, the new romantic drama starring heartthrob-of-the-week, and franchise flavor of the half-decade, Robert Pattinson. Remember Me, which is likely about sadness, or looking sad, or not shaving very well, earned $8.3 million from 2,212 venues. The Summit release had a venue average of $3,744. Remember Me was the expected loser in the review department this weekend, coming in at 28% fresh. Any money made off this one has to be attributed to Pattinson, as he draws a tiny slice of his Twilight audience. Twi-hards, if you're going to check this one out, you better move quickly.

Marty Scorsese's Shutter Island manages another okay hold this weekend despite the basket full of new films this weekend. The Leo DiCaprio starrer earned $8.1 million in its fourth weekend and was off 38%. Shutter Island has now seen drops of 45%, 42% and now 38% since opening to $41 million a few weekends ago. This weekend's gross was enough to take Shutter Island past the $100 million mark, making this Scorsese's third film to do so. Shutter now has a running gross of $108 million, and should see $130 million before all is said and done.

Our last new opener, Our Family Wedding, takes sixth spot. The Fox Searchlight release earned $7.6 million over its opening frame from only 1,605 venues. While this looks like an art film and is from an art film distributor, critics say there is no "art" involved. Our Family Wedding was the low earner in the review department this weekend as well, scoring only a 17% fresh rating at RottenTomatoes. It's too bad, as this one sports a strong cast that includes a much slimmed down Forest Whitaker, America Ferrera, Regina King and Taye Diggs.

Back to holding strong this weekend is Avatar, after having to re-adjust last weekend against Alice, and seeing a 41% drop, by far the biggest of its run. Now in its 13th frame, Avatar earned $6.6 million from its 1,718 venues, and sees a much better drop of only 19%. As an aside, when talking about potential sequels to Avatar, James Cameron said he thought they had left "hundreds of millions" on the table due to the amount of 3D screens and having to make way for Alice in Wonderland (if you believe that, I have some oceanfront property to sell you in Iowa). This weekend's tally gives Avatar a total so far of $730.3 million.

Eighth goes to last weekend's "other" opener, Brooklyn's Finest, which managed to finish second last weekend (!). Brooklyn's Finest earned $4.3 million and fell a staggering 68%. The $17 million crime drama now has a running total of $21.4 million.

Ninth goes to Cop Out, the Bruce Willis/Tracy Morgan comedy from Kevin Smith. Cop Out slides five spots from fourth last weekend, earning only $4.2 million. The $30 million Warner Bros. "effort" dropped 54%, and has earned $39.4 million so far.

Tenth goes to Overture's horror remake The Crazies, which is actually one of the better reviewed films in the top ten at 72% fresh. The Crazies earned $3.7 million in its third frame, and dropped 48%. The Crazies was made for $20 million and has brought in $33.4 million so far.

As far as Oscar bumps are concerned, I think we are taking a year off. Avatar may have arguably been the biggest winner, but Crazy Heart managed a weekend gross of $3.1 million, right on par with last weekend, and The Blind Side, now in its 17th weekend, earned $1.5 million, an increase of 24%. The Sandra Bullock flick now has an amazing total of $252.7 million.

Overall, the box office is red hot, thanks in large part to Alice in Wonderland. The top 12 this weekend earned a fantastic $135.2 million, an increase of 54% over last year's total of $87.8 million, when The Race to Witch Mountain opened. Next weekend is a bit of wild card, as The Bounty Hunter with Jennifer Aniston could be huge, but it also stars Gerard Butler. Other openers include Repo Men with Jude Law, and Diary of Wimpy Kid from Fox.