Weekend Forecast for March 12-14, 2010
By Reagen Sulewski
March 12, 2010
BoxOfficeProphets.com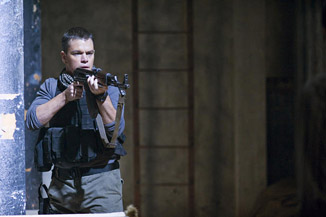 ---
There's no $100 million-plus surprises awaiting in this weekend's box office (I don't think), but we do have a weekend chock-full of new films ranging from action to comedy to romance, and each utilizing their own definitions of star power.

Green Zone leads, the way, directed by Paul Greengrass and starring Matt Damon. That pairing should be familiar to most action fans as the one responsible for the last two Bourne films, and the ones responsible for turning that franchise into one of the bigger one of the last decade. After talks about a fourth Bourne film broke down and with Greengrass admitting he didn't have any strong ideas for another film, they've moved on to a different plan.

Movies about the Iraq War and/or terrorism have at best been minor box office hits, with the odd critical darling in the mix that audiences ignored. The Kingdom (only tangentially about Iraq) and The Hurt Locker have really been the only two notable successes. In the case of the latter, it's only after a huge push by guilds and critics' organizations, and it will probably earn most of its money through DVD sales.

Green Zone brings a potent combination of star power and action that we haven't seen in a movie of this type recently. Lions for Lambs had Tom Cruise but little action; The Kingdom had lots of action but only mid-level stars. The biggest question for this film is whether the public's attitude to films about Iraq has changed – or was it just that the films that we did make about them were overly preachy and boring?

I tend to lean towards the latter – films about Vietnam came out just years after that war ended and were popular, and that was no less unpopular a conflict. Many of the films people point to as examples of how movie goers aren't willing to watch movies about Iraq, like Stop Loss and Rendition, simply aren't the kind of films that are ever going to be blockbusters. Green Zone has Damon combating deceptive government agents and military contractors in the search for WMDs – but with far more emphasis on action and espionage than any of the previous films about this war.

It's pretty unlikely that Green Zone will pick up right where the Bourne movies left off – you can't beat name recognition for one thing, and the ads are necessarily less slick, as befitting the fact that this isn't a techno-thriller. It should, however, start off better than the first Bourne movie did. Opening at a little over 3,000 venues, Green Zone should have an opening weekend of about $31 million.

You kind of wonder what Robert Pattinson has done to someone at Summit Entertainment. They've apparently purchased a lifetime contract on him and decided to use it up by putting him in the worst crap ever. This week it's Remember Me, a sub-Sparksian romance about 20-somethings in New York City.

There's not much to this one outside of the presence of Pattinson and Lost's Emilie de Ravin making kissy-faces and getting out of their parents' shadows, dammit! Okay, that's not entirely true – there's a twist ending to the film that's floating out on the web that's just outrageous in nature that it's almost worth seeing. Almost.

Here, everyone's wondering just how many of Pattison's Twilight fans will follow him to non-vampire fare. I don't think he should count on too much from that, judging by other actors who found themselves in smash hits based on other material. Daniel Craig still has yet to interest audiences in non-James Bond movies, Gerard Butler has had a string of mostly disappointments since 300 and Pattinson's own co-star Kristen Stewart had Adventureland flop hard. In short, it's the material, not the actor. Opening at around 2,200 venues, this should find an audience to the tune of around $11 million this weekend.

Also aiming at romance this weekend, but also adding some comedy, is She's Out Of My League, the first real lead role for Jay Baruchel, the gawky supporting actor from Tropic Thunder and Undeclared. A sort of Apatow-lite, the film stars Baruchel as an awkward 20-something who meets up with a beautiful woman at the airport as she inexplicably takes a liking to him. Their disparity in looks seems impossible for his friends to get over, and tension arises as he's convinced he's about to get dumped at any moment. Can a relationship really happen between a 5 and a 10?

Hearkening back to some of the 1980s-style sex comedies in the Savage Steve Holland oeuvre, She's Out of My League has to be aiming just modestly at box office, especially considering its star. While Baruchel's been very funny in a number of films and TV shows, he's no one's idea of a big star, or even a breakout guy like Seth Rogan. The hook of this isn't anywhere as good as with 40 Year-Old Virgin or Knocked Up, and ads haven't been nearly as present for this film. This will be more the film that lays groundwork for future success, or as is more likely given its reviews, cements him as a supporting guy. Give it about $6 million this weekend.

Finally, there's Our Family Wedding, a sitcomish film starring America Ferrara and Carlos Mencia. I'll give you time to run screaming... okay, welcome back. Also starring Forest Whitaker, Regina King and Lance Gross from Tyler Perry's House of Payne, it's a film about two wacky, high-strung families coming together for a wedding, to trade clichéd barbs and have food fights with wedding cake. Managing just one positive review at Rotten Tomatoes, this doesn't feel like that brand of hyper-targeted film that breaks out in one or two smaller demographics despite limited screens, a la the Tyler Perry movies. Instead, I think we're looking at the kind that's best forgotten. Give it just $5 million this weekend.

Barring a gigantic surprise, Alice in Wonderland will still lead the way for the second straight weekend. A rather monumental shocker with $116 million last weekend, Tim Burton's take on the Lewis Carroll fantasy tale benefited tremendously from IMAX and 3D screenings, as well as Burton's rather unique visual sensibility. Word-of-mouth, however, was decidedly lukewarm and may trump the novelty of 3D for this second weekend. While we're in relatively uncharted territory for what kind of drop off huge 3D blockbusters will have, I don't foresee poorly received films as having too much of a buoying effect from this. Mediocrity is still mediocrity, after all. Look for a second weekend of about $56 million.

Martin Scorsese's Shutter Island is set to cross the $100 million mark as of Friday, after a third weekend that brought it $13 million. That'll easily put it past The Aviator this weekend, and put it striking range to be the highest grossing Scorsese film ever, chasing down The Departed at $133 million. Look for another $8 million this weekend.

Brooklyn's Finest, aka Training Day 2: Train Harder, managed a $13 million weekend on the backs of Richard Gere, Ethan Hawke, Don Cheadle and Wesley Snipes. I bet you didn't even know this came out last weekend. In a way, that makes that figure kind of impressive. Its luck runs out this weekend, though, and it should drop to around $6 million.

Finally, we have the effect of Oscars. Only three films remain in significant numbers of screens that could see a bump from the awards – Avatar, Crazy Heart and The Blind Side, with only Crazy Heart having a good shot at seeing improvement over last weekend's figures. No one's really been on the fence about Avatar and it's lost a bunch of its 3D screens to Alice in Wonderland and The Blind Side has similarly run its course. Crazy Heart, with Best Actor winner Jeff Bridges, has earned over $25 million since Bridges won the Golden Globe and has continued to be the big winner of Oscar season. There might be a slight uptick this weekend to about $3.5 million, with a decent shot at $45 million total.